This is often the hardest thing to know or be aware of when you're learning horsemanship…..what are you looking for when playing/training/riding? To have an end result or goal is one way of looking at it, but another way is to use the training techniques to achieve something far more important….a well balanced horse….physically, mentally AND emotionally.
My main aim when working with a horse is first and foremost for the horse to be RELAXED. Calmness helps find curiosity and with those two things the horse is very teachable because he/she can take things in well and remember good experiences. If the horse is worried or fearful he/she will also be bracey in it's body and mind and won't remember anything good apart from how it felt when something was being done to it so relaxation is my first and last criteria of any session. To see relaxation in the horse we also see confidence and rhythm in it's paces, these two are missing with a fearful horse.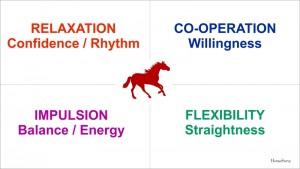 The next criteria on my list is COOPERATION, which is shown through the horse being willing to accept my requests and to enjoy interacting with me.
My third criteria when working with a horse is IMPULSION. This isn't impulsiveness and doesn't mean the horse runs around without stopping, it means the horse has the same amount of whoa and go, that it can stop lightly and nicely just as easily as it goes forward in any gait and is all about balance. When the balance of whoa and go are good then you'll see the horse be more balanced in it's own body, it's core will be more engaged and so will his hindquarters. This is pure athletic energy that allows the horse to go or stop with a whisper.
And my last criteria is FLEXIBILITY and this means that the horse is equal on it's left and right sides and is as  symmetrical as possible. This way the horse can go in a straight line without the reins holding it in place. All horses (and humans) are born A-symmetrical and we all need working on to help become more symmetrical. Once we're more symmetrical  we're straighter and our aids become lighter, our reins can be lighter and not have to be used for keeping the horse straight and we can start to ride the dance of horsemanship.
While working through the HS Criteria list I often go back to RELAXATION when a horse needs me to help find that, this is the most important of all the criteria as without this one ingredient good learning doesn't occur SO make sure it's there at the beginning of the session and at the end. I also move around working on one or more of the criteria using my Horsemanship Techniques and work out what each horse needs on each particular day.
A horse that is fearful may just need calming to find that relaxation with me from the start. A horse that is more of an alpha may need me to help it find relaxation and willingness when playing with some techniques. Some horses may need to be working more on willingness and impulsion and others may need lots of flexibility play whilst still trying to find relaxation.
So, each time I handle a horse I am thinking of what the horse needs at that moment, what it needs to progress and what the owner wants to learn or where it's training is leading to. Having the criteria to make sure whatever I do helps keeps the horse RELAXED, WILLING, FLEXIBLE with balanced IMPULSION is the key to progressing without any brace…brace in it's body, brace in it's mind or brace emotionally.
Learning should always be done through relaxation, confidence, curiosity and FUN.