The Partnership between horse/human is delicate and like all good friends you have to take time to really listen to what each other has to say, this way you learn to truly have a conversation and each party of the partnership can learn to enjoy and trust their friend more and more.
In these pics I am having a conversation with Big Storm. There is absolutely no way I am going, nor want, to argue with my friend but I also want to help him to learn to listen and trust me in new situations more (or even situations he's not recently familiar with).
The saying 'take his idea, make it your idea, trust together' is the one that goes around my head all the time when with my horses (also with my husband and friends!
~~~~~~~~~~~~~~~~~~~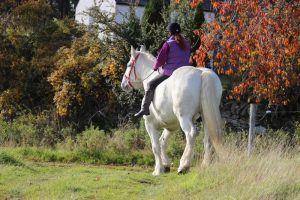 Stormy decided he needed to back off from something it was the noise of the stream going under the road at this point). I took his idea of going backwards and asked him to do it a wee bit faster than he was thereby making it MY idea and he relaxed and when I asked him to move forward he did so nicely.
I'd understood his point of view, took it, worked it and allowed him to change his mind and follow my idea .
Here I asked him to turn right, he wanted to turn left so I took his idea of going left and asked him to do it faster and a full circle thereby coming back to the starting point of my original request of going right which he did easily.
It's almost a distraction technique by using their thoughts, allowing them to fulfil that thought and be free to take my request/thought more easily. With horses that have a strong will, which can also be a sense of worry, allowing them to have a say in the interaction you can dispel that worry about something (which would lead to a worry about you and your partnership/leadership).
The pics below show our 2nd ride from above and us going away from home and his herd mate Tara and we see a huge buzzard flying from post to post along a fence. I acknowledge what he has seen (pic 1) and then turn away from it to release any tension (pic 2). After a bit I turn him purposefully around using a hindquarter yield and go back towards where we turned the first time and the buzzard area and we go further this time and because we have more trust we manage to turn another way, over a stream and jump back all with relaxation, confidence and a good connection :