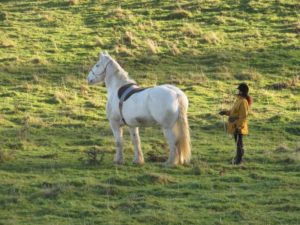 Part 1
Helping a horse that is 'herd bound' is challenging as we need to help the horse grow it's trust in us and it's comfort zone area so that it feels safe going out alone. Easier said than done for some horses.
Our Stormy has been the member of our herd since 11 months old, he's been surrounded by 4 other members to start with but now at the age of 15 he is just one of two left in our herd. He is happy to go out and about with other herd members and has done that throughout his life but the other horse left now is our aged Tara who can do small bits of in-hand/riding work but really is retired and a bit slow and doddery  SO, how do I help Stormy learn to be brave enough to go out alone?
Our first session was mostly walking in the field next to the horses home field. Walked and played some games to help his brain think, these games were slow backup and sideways moves. He was okay for a while but I could feel he was worried about going further down the steep part of the hill SO I retreated with him back towards the home field, this allowed him to breathe and think, to respond and not react BUT he had a couple of slips on the hill where it has been raining heavily and is now muddy and also touched his leg onto a thistle and he rushed off back home to the gateway….his reaction was quick and although mud and thistles don't normally worry him I could see this would make him react if he wasn't totally connected to me first SO I got him back and did a small bit of walking about near the gateway to their field to end on a good note.