Since doing CZT last year from the horses regular field we have moved the herd to their Winter grazing by our house. They are used to the change and often get snowed in at this point BUT recently the weather has been mild so there is the wonderful opportunity to walk the horses out here, with the hope to ride too soon. Last year there were 4 in our herd, this is the first year with just 3 horses SO walking one out at a time is a good way to start as the 2 boys are a little herd bound.
First solo walk out….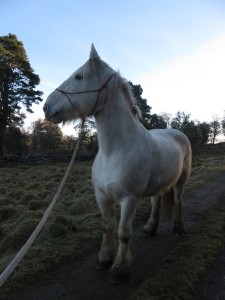 Both boys were a little sceptical at first, Heads were up, stopping to look and unfocused on me. I regained their focus with regular grazing spots of their favourite grasses and waiting for them to 're-connect' to me.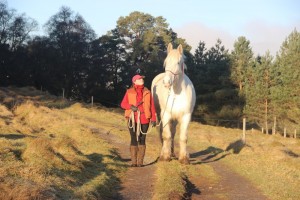 When Solly was out Stormy whinneyed and Solly whinneyed when Stormy was out. Tara was introvered and kept her own company.
**************
Next day, 2nd walk out…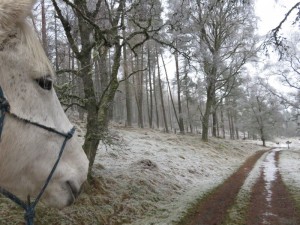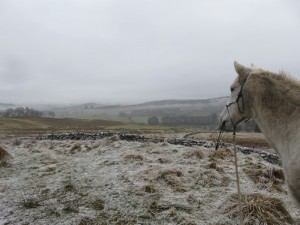 Today was SO much better for the boys. Lower heads showing signs of relaxation, less stopping showing signs of confidence in environment and more games (transitions, touch it) showing signs of a better connection to me. This was great too as we had a few distractions such as a herd of deer running twice across the track and sheep in the field near where we turn around.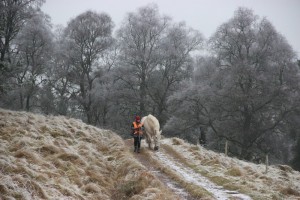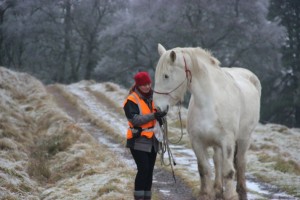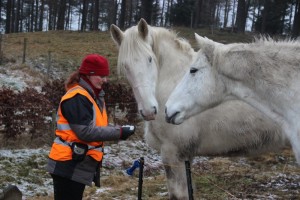 There was also less whinneying from the boy left in the paddock each time which was good, much more  confidence all around.
A couple of oatcakes as treats for being such good boys on their walks today.
**************
Day 3…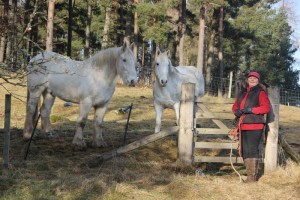 Today went really well.
Just half an hour to walk both horses out.
Less whinneying from boy at home 😉
Solly: relaxed, head down, only stopped at point where we turn to come home and we even had some nice walk/trot transitions on the way back.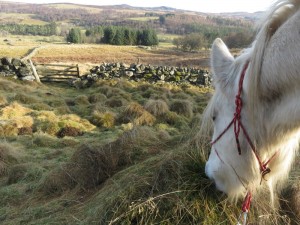 Stormy:  he too was relaxed, walked forward nicely, only one stop on the way down and then a grazing stop before heading for home. Lovely trot transitions on way home too. Fab.
**************
Day 4 – Each day that passes our walking out gets better, easier, calmer and more fun 😉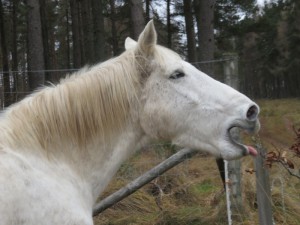 Solly yawns and yawns when he see's Stormy coming home. There are a lot of theories why horses yawn, for me in this instance I feel it's Solly coming off adrenaline after being stressed due to Stormy being away.
**************
Day 5…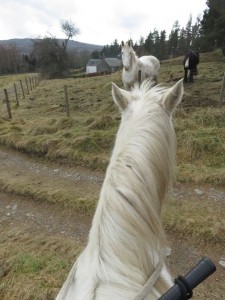 Solly:  Walked to turning point easily and calmly. At turning point I let him graze for a reward and then we played sidle up to the 'hillock' as if I were going to get on. We also played with 'ground tying'. Went well and we had fun.
I mounted him at the large stone mounting block near home when I knew 'we' were totally relaxed and had a short ride home which felt great.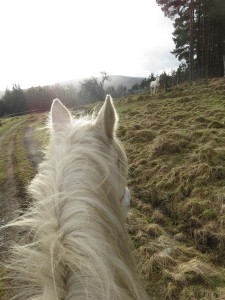 Stormy: Down to turning point on track easy peasy. Allowed some grazing and then mounted at the 'hillock' and rode home. FAB 😉
****
Sessions now will continue until I decide to change route and when I do that I will return to walking the boys out and building to where we can ride it. CZT is a continuous mission of teaching each horse to relax and be rideable.