SO, what has been happening on session 4 with some consistent CZT?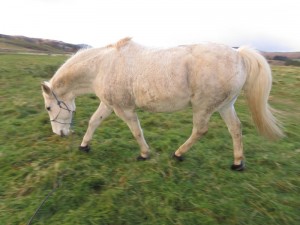 Well, we took our techniques and relaxation to another part of the field and repeated everything, working towards widening our CZ to another area still in the main field. This day we not only tested our relationship in an area we'd not been working in for a while but also with barefoot 'boots' on, which isn't normal, AND just before dinnertime so it was getting to be twighlight-ish…something we rarely do SO….we've pushed our CZ in three new ways from the beginning of the week!
This is huge progress, it just felt right to do it and the circumstances allowed for it as I started off trimming his feet in our Agility arena area rather than where we've been feeding them recently SO this was a change of area already and I used this opportunity to start here rather than go back to where we'd been working beforehand.
We did quite a lot of ground work to start with and were together from the offset. Checked his relaxation by circling around the field using transitions and changes of direction (COD) all the time, this helps me see if he's still with me and checking in to my requests or ignoring them because he's switched off or focused on something else. Popped him over a few jumps to check willingness is there and then some fig 8's around some thistles which checks flexibility on both sides. All went well. To check true impulsion I asked him to do halt to trot and halt to canter transitions going onto some circles and he did them really well SO I could see he was listening, relaxed, willing, flexible from front to back and on left and right sides……a good time to praise well, treat for effort and saddle up.
The riding was very good, our impulsion was much better and our connection through breathing and focus was much better on my part too. What I compromised on was not riding away from our 'base' too far, so we did lots of transitions, turns and fig 8's in a smaller area than normal but that was a good compromise as it felt the right thing to do as Solly has not worn his barefoot 'boots' for years and it only takes one thing to be different sometimes with him.
So…all going well so far with our CZT. I will do a couple more days in this 'new' area of the field, maybe cover the whole base area too and then it'll be time to incorporate the field gate and outside of the gate into the next field on our next 7 day session.