GROUND WORK LESSONS , LIBERTY LESSONS .  AGILITY  FUN . BITLESS RIDING LESSONS
TEACHING HORSEMANSHIP IN SCOTLAND SINCE 2004
Join the HorseSavvy FB group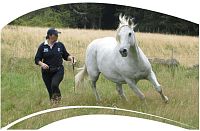 Horsemanship training is for those wanting a good bond/connection with their horse. By finding out how each horse thinks and applying methods that work for them as an individual. This helps work towards the horse being more balanced, confident, co-ordinated and more connected from his brain to his feet and to their human.
Once started on this journey I introduce non-dominant, partnership phases of intent to bring about a more balanced, light relationship that has almost invisible communication.
My four strategies of training are: Relaxation, Co-operation, Impulsion and Flexibility and these work in combination in the area's of confidence, rhythm, balance, energy and straightness.
EFFECTIVE COMMUNICATION
Horsemanship can help with safety and confidence issues, for the horse and human, and starts basic training from the ground so that a good foundation is established. This communication can then be used effectively when in the saddle. Working towards lightness, relaxation and impulsion from the ground first can make ridden work more enjoyable and understandable for you and your horse. I teach online, liberty and ridden classes and specialise in helping horses and riders to go bitless so that they can stay bitless or so that when they go back to being bitted they are using their weight/legs/seat/hand connection effectively.
A CLOSER RELATIONSHIP WITH YOUR HORSE
Each step is a step towards having a confident, happy horse and rider that work together in a willing harmonious partnership. As the horse/human relationship grows things like barging, biting, kicking and unhappy trailer loading will disappear and it will show you the techniques for riding without a bit. I work throughout Scotland on a one-to-one basis.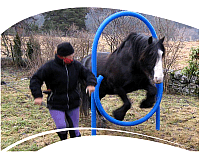 HORSE AGILITY
I hold regular HorseSavvy Agility clinics for between 4-6 students at a time. Agility is a lot of fun and helps to  habituate horses to strange things that they go over, under or through.
My clinic's involve tuition to start with, lunch break and then a competition over 10 obstacles with points being awarded for horsemanship and harmony with the horse and remainder points for trying the task. Rosettes from 1-4th place and 'well done' rosettes for others. Competitions are used to better ourselves and to gently progress your horsemanship.
I am a Horse Agility Accredited Trainer (HAAT) for the International Horse Agility Club which does monthly online video competitions (OLHA)  www.thehorseagilityclub.com
I am also a Recognised Agility Instructor with the 'Equine Agility UK' group which also holds online video competitions www.equineagilityuk.com