Mon 1st March
Out to see horses this afternoon and tried out a bit of Online then Liberty play with Bella in the round pens.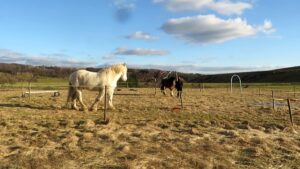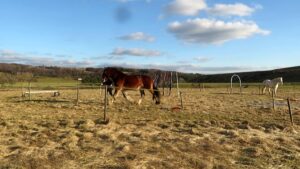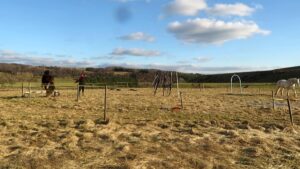 Tues 2nd March
Another fine day for a play session with Bella and also Stormy. Mark came down too and took some fab pictures 😉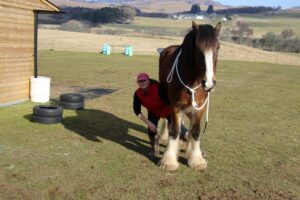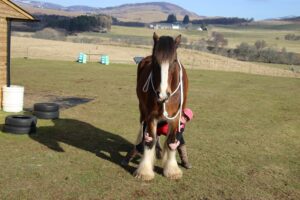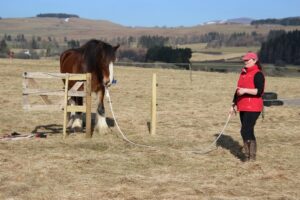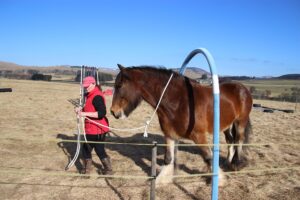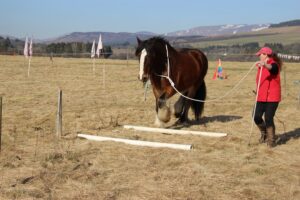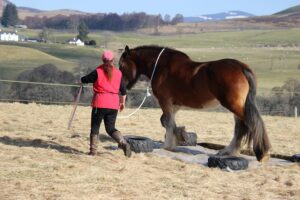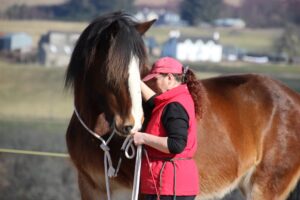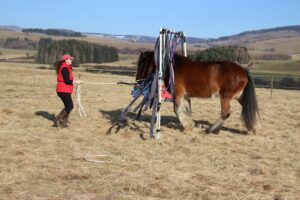 First did some xtreme familiarisation….
going under Bella's tummy. She was a supastar
We started off working with a neck rope and she did so well, backing through the roundpen gate, going under the arch…
…over the trot poles and tarp too…
…and not bad through the curtain.
Enjoyed some scratches, treats and lots of stops to help her think about it all.
Then we tried some liberty but she mostly had a spring-time yeehaa so just let her do that before anything else….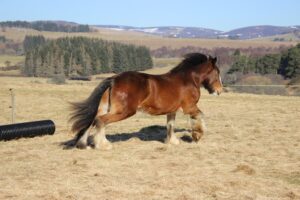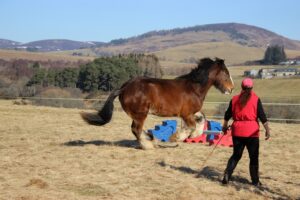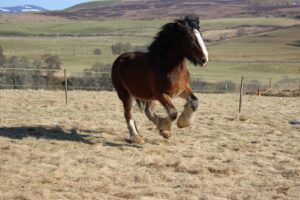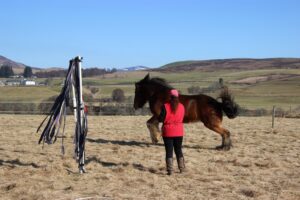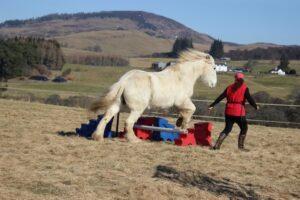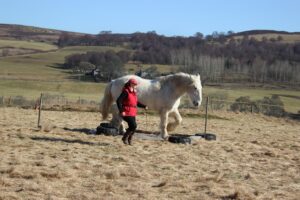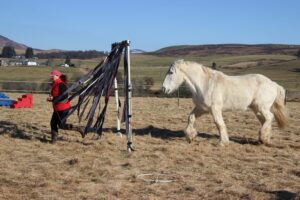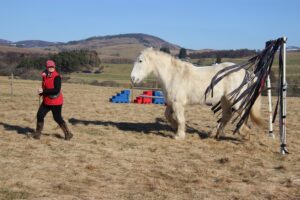 Then I gave Bella a rest and played at liberty with big Stormy who really enjoyed it and did a great job 😉
THEN….I played with Bella at liberty a bit and also ended online to finish on a solid good note 😉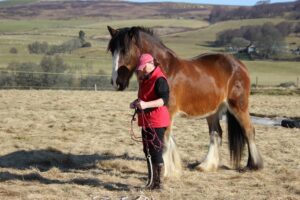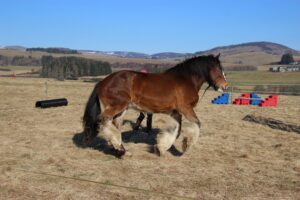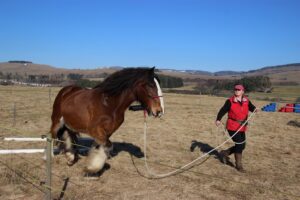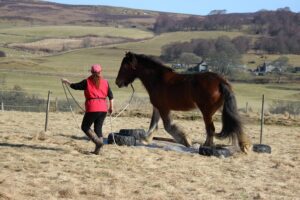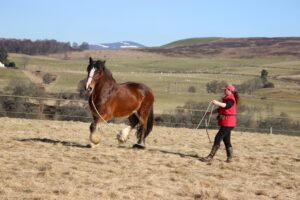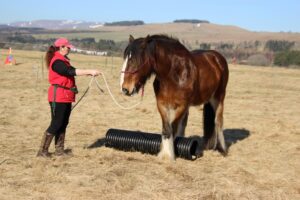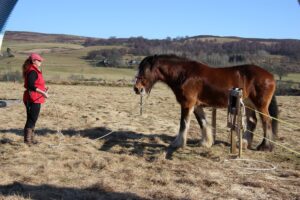 < Waiting to be haltered
Draw through the curtain >
< Nice jump
Canter circle >
< Trot poles
Trot over tarp >
< Circle with nice bend in body
Canter over tarp >
< Through curtain again for good measure
Sidepass over drainpipe >
< Sidepass other way
Back up through narrow gateway >
Weds 3rd March
Today I had a game plan….to work through agility again online and then at 'half-liberty'…which meant that our liberty session would be without the lead rope but leaving the halter on.
I tried this as I know Bella works really well in-hand/online but has never done liberty work and when I set her free she often has a lot of yeehaa time, which I don't mind, but we loose our 'focus-connetion'. SO the idea that she can be free to move away if she wants to but still haltered where she understands to 'stay with me' is a compromise I think we can work on until we keep that important 'focus-connection' for longer. It is a bit of a 'learned behaviour' to do as asked haltered but it's better to work one step at a time for her confidence and not blow yeehaa's everytime her halter is off or that learned behaviour will stay.
Here's some pics I took while she went around the agility at 'half-liberty'….she did really well 😉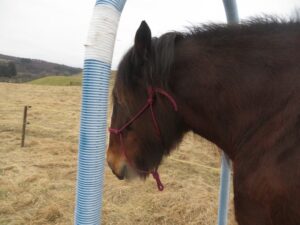 < Nice draw over trot poles
Easily under the arch >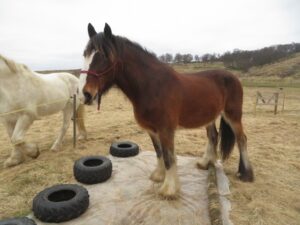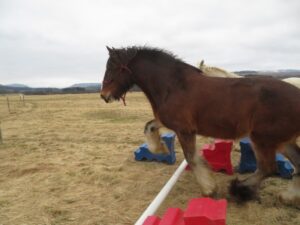 < Walked onto/over the tarp
Nice trot/jump >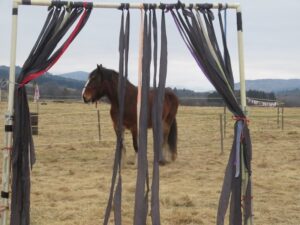 < Asked her to draw through the curtain…
after she thought about it for a while she did so beautifully at a trot >
Thurs 4th March
Chilly day but managed to ride Stormy and play with Bella at liberty again (with halter….which is working really well) here's some pics…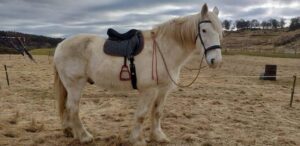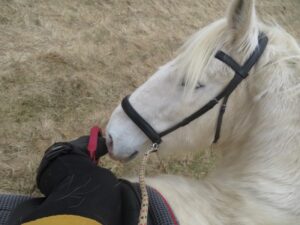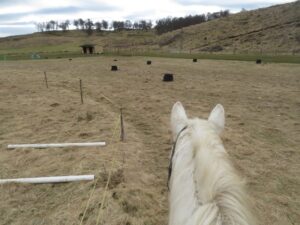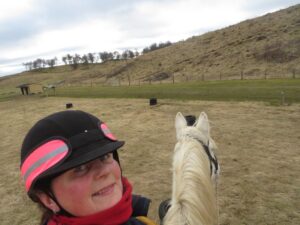 Groomed and saddled, ready to rock and roll
Ride the rain circles using 'cowboy' reins…meaning I used one hand and worked with neck reining and loose reins.
Nice Lateral Flex and then onto some clover leaf…taking it all in walk to start with.
Enjoying Big Storm..he's always a nice ride
Onto some trot P2P's between cones scattered around the field 😉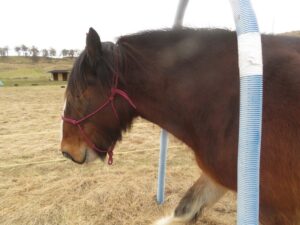 Bella working so well at liberty with halter on, our connection stays better and so does her concentration…through arch, over tarp…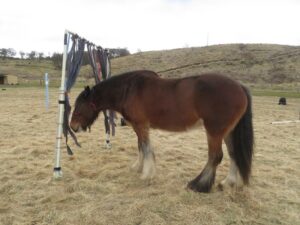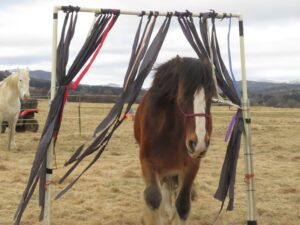 Finding curiosity with the curtain and going through it very well and multiple times…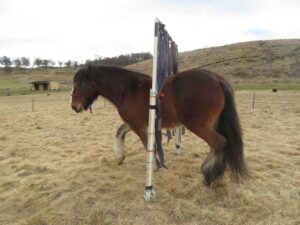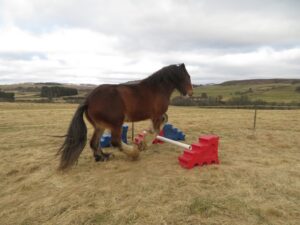 …and again 🙂 clever girl
Jump was good too, had distant communication which is a first and she turned and drew back to me immediatley after the jump today 🙂
Here is a short video of her with the curtain today:
Sat 6th March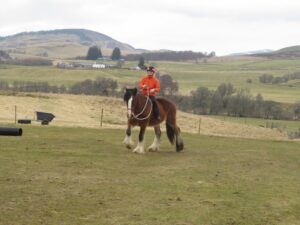 Today was hoof trimming day. Mark trimmed Stormy and I did Bella's front feet (back one's tomorrow…saves my bad back from being sore) and then I had a very short, sweet, bareback plod around on Bella just for a bit of fun together 😉