Thu 2nd April
Bit windy to do any much today but we practised for our 2nd obstacle challenge which we have a week to practise, this week the obstacle is one POLE 🙂
For a bit of fun after practising pole work I took Bella to the pedestal. She has a very solid front feet up on it now and today I asked her back right up with a rope and when she left that there for a while I went over the other side, she shifted her weight forward and picked up her last hoof up onto the ped…I was over the moon….AND she kept it there while I rewarded her big time for this effort 😉
Here's the video of her doing her FIRST 4 feet on pedestal….
Sat 4th April
Today we had another FIRST for Bella today….a short 'walk out' with Stormy. Hopefully this will help her familiarise to things outside her field and get her ready for hacking out later on. For our first walk out we went out of the lower gate, down a small hillock, over the wooden bridge and into the big field called 'the haugh'. The field is quite big so we just walked straight across it to the edge of the river….we all rested a bit, Mark found a stone wall to climb onto to mount Stormy and we walk back to the bridge. Then I give Bella's lead rope to Mark and he ponied her back to the field while I took my time walking.
Me and our beauties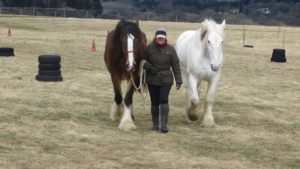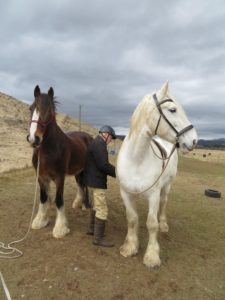 < getting Storm's bareback pad and bridle on..all ready to go
Bella led for the first half, Stormy wanted to graze, Bella doesn't know that's allowed 😉 >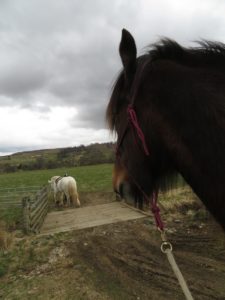 < B watching S go across the wooden bridge
Me and B crossing the bridge nice and calmly >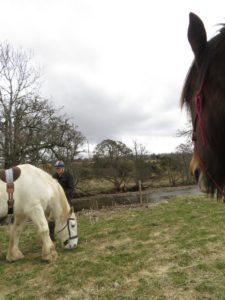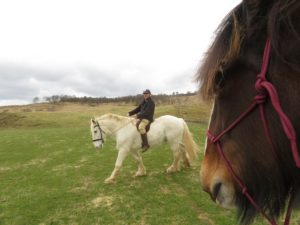 < all the way to the river 😉
On the way back we walk calmly and Mark walks Stormy in circles around us >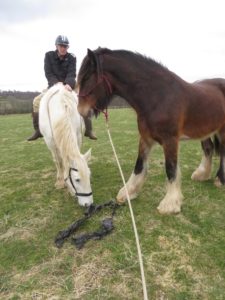 < Bella really connected to me even though Stormy circling us
Stormy showing that a piece of silage plastic is nothing to be worried about, Bella says 'I'm not worried but I don't want to touch a piece of old plastic thank you' >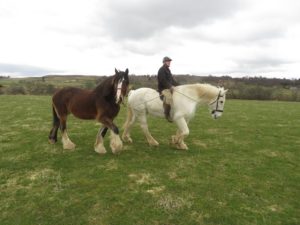 < Big hill coming up, I can walk it slowly and Mark can lead Bella off Storm 😉
Easy over the bridge together >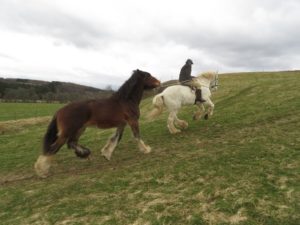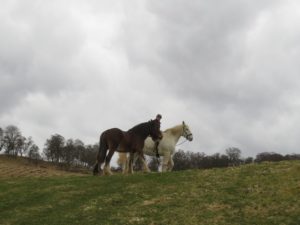 < Storm like to canter up this hill…Bella keeps up with her huge trot
waiting for me to catch up..both calm and happy >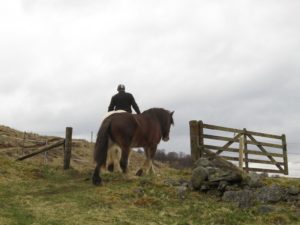 < last trot to the gate for home >
This is the route we took, there and back 🙂
Sun 5th April
Today we went out and I played with Bella already saddled up and then rode her for a bit. It was a bit windy and she was good but had sticky feet a bit to start with but then got going ok. I'm thinking of making a rectangular or square arena to ride in, it might be a bit more interesting for her….we'll see 😉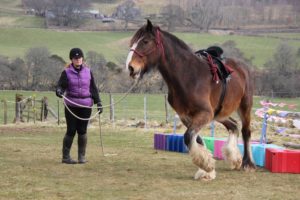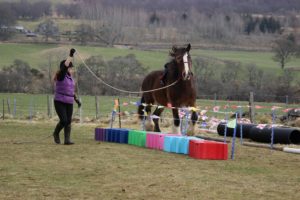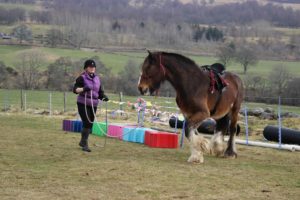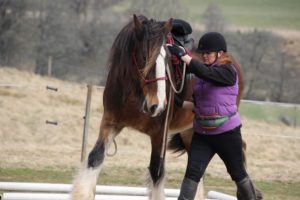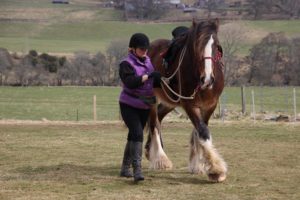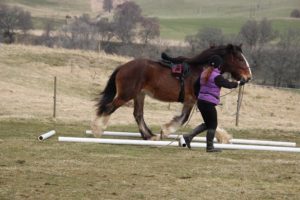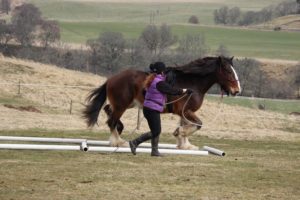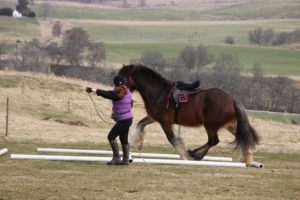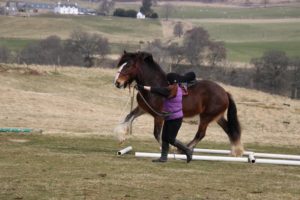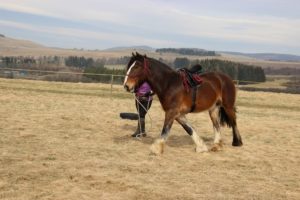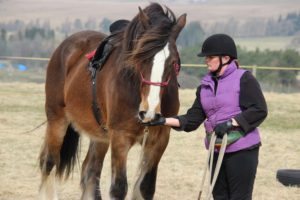 We are working on more movement in the games now so half circles and circles I don't stay static in one place but walk about a bit so she gets different obstacles or space to walk or trot in.
Her leg yields on a circle with 'feel' game (hadn on her side to represent my heel when riding) are coming along nicely and we even had some leg yields with 'focus' game too (this is where I use my 'focus and intent' to move her over at a distance)
Circles on the move where we came up to the scattered poles…she was fab over them, really looking and knowing where her feet and energy was 🙂
Getting ready to ride and a bit treat after her play session.
I then had a nice ride in the round pen with a FIRST of getting on her from the right side 😉 She didn't bat an eyelid about it and that's one thing about her, she has no previous training so doesn't have any hangups about doing things that the rest of the horsey world find strange 😉 It was a nice ride, some sticky feet to start with but let her have her stops, her rests and time to think then asked again and continued for a bit longer today. Her Lateral Flexions to left and right are really nice and getting light and soft, she needs some more work on her DHQ's left and right as she thinks about bracing every time I ask SO I have to find a way to ask even nicer for her so she doesn't think about that and does some nice hindquarter moves. All going in the right direction.