JULY 2019
BELLA ((Isobella)- details:
Shire broodmare (we've been told she was ridden by a previous owner)
17.2hh and 10 yrs old.
Thursday 11th July – Bella was delivered to us today and Mark walked her the mile along tracks to our field where she will now rest up, get used to us and our routines and start to feel at home. Soon she will be in with Big Storm and we hope they will be the best if friends.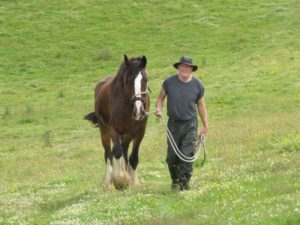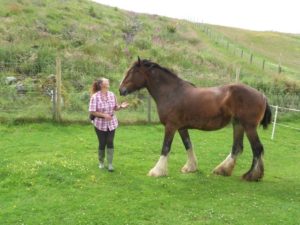 < Walking towards new home with Mark
With me in her new field >
First day: Friday 12 July
Bella was a little sceptical today but I just made sure she felt safe and not pressured to do anything at all. She was nicely curious about things like the grooming kit the halter and rope on the floor, the quad bike and me too 🙂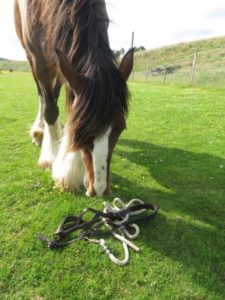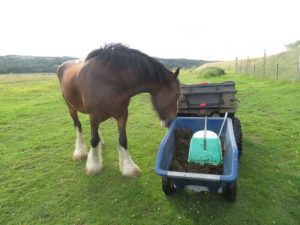 Allowing her curiosity will help her feel at home
She's also enjoying her meals….starting off small and just forage it will help her settle and help us connect with her quickly.
In the afternoon we spent some time faltering her, grooming her, fly spraying her and getting the tangles out if her name and tail.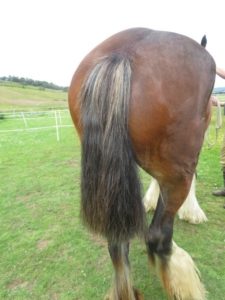 it's a short tail at the moment but is fabulously thick and will be glorious once its grown again 🙂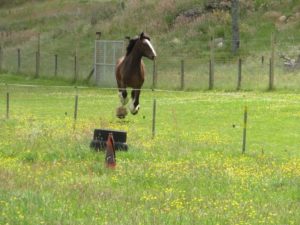 Bella stretched her legs this afternoon too when Mark rode Stormy nearby in the field. She has lovely gaits and I can see why she was a broodmare for a couple of years, her babies must have been lovely.
Sat 13th July 
Lovely sunny day for Mark and I to hang out with the herd. We're taking things very slowly with Bella so that she learns to trust us and finds confidence in our routines, it must be weird for her to have been taken from all she knows to a place and people she's never met before SO first in my mind is for her to find relaxation in the small basic's we do, things like feeding, haltering, grooming, fly spraying etc. Once she's used to those things then we can start with more training.
Today it was lovely to see her curious enough to follow Mark about as he did things in her part of the field, working at liberty with these small things allows her to know she can move away if she feels she needs to and to come to us if she feels she can 🙂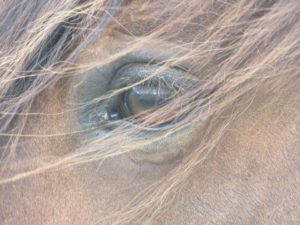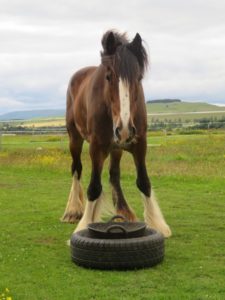 < Following Mark
Watching Mark >
< Bella's beautiful soft eye
Loving her grub >
Sunday 14th July
Today's session started with Bella moving away when I asked to halter her….no problem as she is allowed her opinion and it allowed us to have a conversation. That conversation consisted of me following her in  a 'neutral' way (ie. not pushing her or driving her, just following and her leading). When she got to an open area she turned her head and put her ear towards me, I stopped, lowered my eyes and rested so that she could think about her next move. She didn't move SO I walked forward but giving her a wide berth and took my focus onto a barrel on it's side. When I reached the barrel I sat down and thought about anything other than Bella. She stood for a while and then came over to me, this is the curiosity I want to encourage, that gives her the confidence to come to me and to know I'm okay to be around 🙂
I started off by allowing her to smell my hand, then I stood up and stroked her neck/shoulder and started walking off with my hand at her nose. She followed me in a lovely Stick 2 Me (S2M) at Liberty. I then stroked her neck again and haltered her  and we managed some nice halt/walk breath transitions together 🙂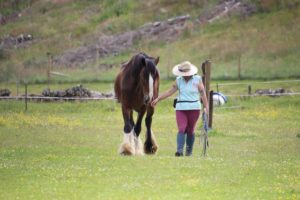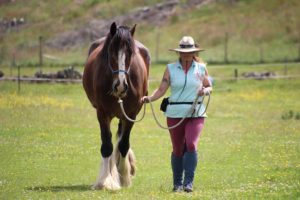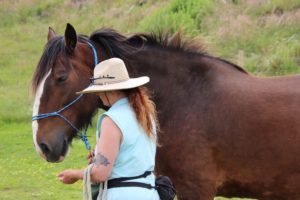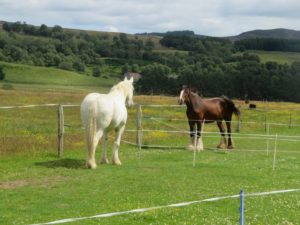 < Liberty S2M
Haltered S2M >
Next we repeated the haltering process…on/off/on/off with me asking for relaxation, head down and towards me to halter. I used +R treat training to help her know she's doing well.
After a nice session we took one electric fence away from Storm and Bella, now they are about 8′ away from each other, can see and smell each other more. This is the start of their relationship….they were curious about each other but not prancing about nor running away. We will make sure Bella is ready to be friends with Storm before we let them loose together, it has to be on her terms, when she's confident and happy about being with him.
Thurs 18th July
Managed to get out with Bella today. Mark did a quick flare trim on her hooves as they were quite bad. Wil do a proper trim next week but today we wanted to make sure she was ok being trimmed and ok putting each for up on the stand. She did really well. After the trim I decided to just start with a couple of basic HS moved to see how she reacts/responds to things.
Here is what I did:
1) Familiarisation: hands all over, patting and moving around her with some energy (much better than when she first arrived)
2) Feel: moved her hq's and fh away (good on hq's, sticky on fh but only because she didn't understand the first time, second time much easier…learns quickly)
3) Focus: moved hq's 180′ (easy and fluid-nice)
I look forward to having more play sessions but have to remind myself that she is a real beginner so slow and gentle is the way ahead and to not do too much at once. Mark talked to the original breeder of Bella this morning, be owned her from birth to about 7yrs old. She was bred with and gave him 2-3 foals. The last owner, who we purchased her from, also took 2 foals from her so I am treating her like a youngster to keep her confidence and earn her trust.
Mon 22nd July
Mark moved the horses fences closer today so that instead of being 8′ apart they are now only a couple of feet apart 🙂
Tues 23rd July
Today our two Shires went in together. They've had enough time to get used to each other and recently touch noses and they're both wanting to be in together SO we opened up Bella's fencing and let them get to know each other more.
At first Bella went and checked out Storm's bachelor pad and Storm checked out Bella's area which was very interesting, then slowly they started interacting and it was really nice to watch. They respected each other's space, no pushing or rushing, no biting, kicking, running, bolting or legs in the air…phew 😉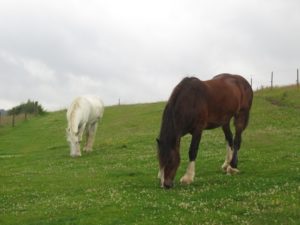 Wed 24th July
Today was our 2nd small play session. Keeping all of the games short and sweet so she has time to understand things and is happy to come back and do more next time. we did the same as on the 18th but managed to do 2 steps on each if the games this time and added the beginnings of wiggling the rope for a backup and a soft draw towards.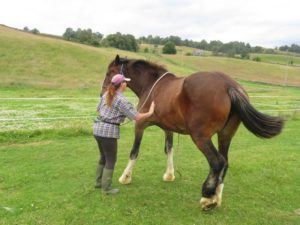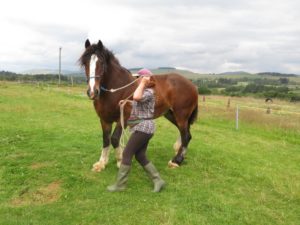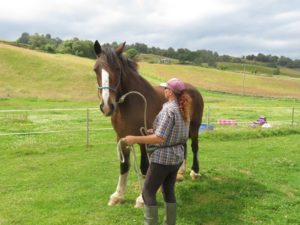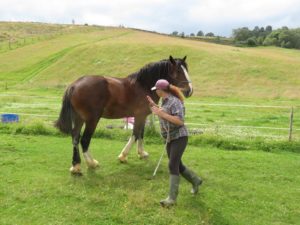 < Familiarisation
Moving hq's >
< Move forehand
Move forehand >
< Move fh towards
Wiggle to halt/backup >
< Move hq's
Head down >
Fri 26th July
3rd session today, all going well and building up the time we play now.
Mark is also riding Stormy daily (when he can) to get him fit and Bella is keeping him company which is great to see.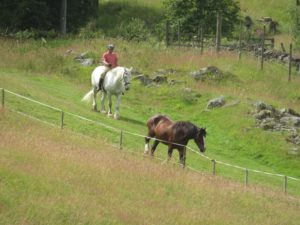 Sat 27th July
Another nice session with Bella, after dinner time today 🙂 We did same as before, more steps and more lightness which is fab, I also added her first 1/2 circle through a gateway. We also managed to film our 'Lesson 1' which I have put up on the Category to the right called "Bella's Lesson Video's" 🙂
Storm and Bella are really starting to enjoy each other more now with lots of mutual grooming going on….
Sun 28th July
Well we've had Bella 2 1/2 weeks now… Such a short time but it feels like she's been a part of our lives for a long time she's fitted in so well.
SO…Today was our 5th session and we practised our basics on our FIRST Agility session. It was a lot of fun and it was great to see Bella understanding what we were doing and it was helped by us watching Storm do his session first…. He learned by watching our horses Holly and Tara at the time and now it's his turn to teach.
Here are some pics of her first Agility session….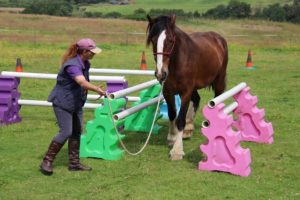 < squeeze through narrow gap
Walk over large tube >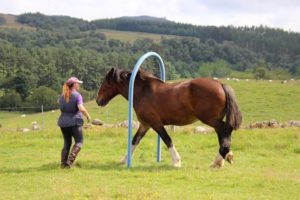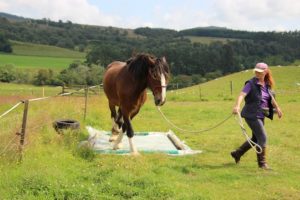 < walk under arch
Walk over tarpaulin >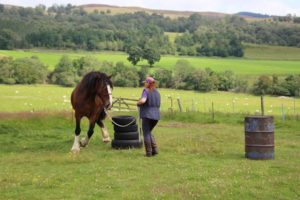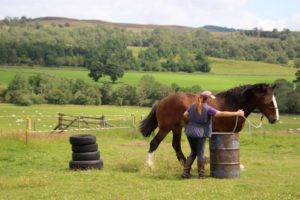 < Fig 8
Fig 8 >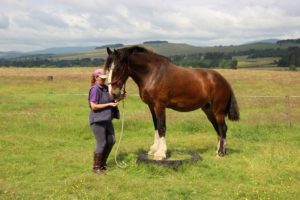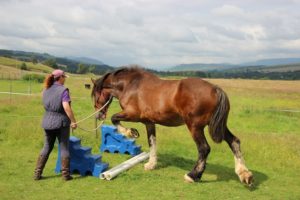 < 2 feet on pedestal
Walk over poles >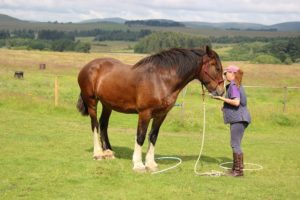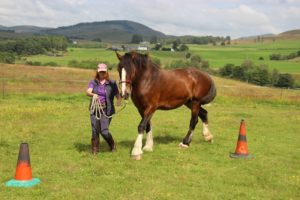 < Feet on/in hulahoop
Weave through cones >
< End where we began at the narrow gap 🙂
Me with our 2 beauties Bella and Storm >