Tues 1st Dec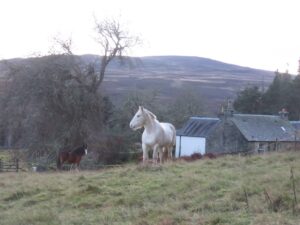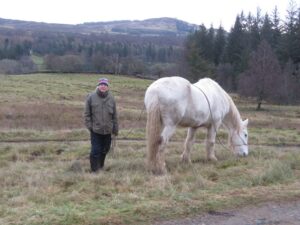 < Lovely to have the horses outside the door this morning 😉
Waiting for the farrier >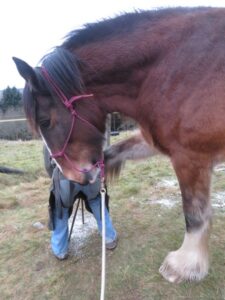 < Feet all trimmed up today. Farrier does a standard 'pasture trim' and we put a barefoot mustang roll on the next day or so, it saves our backs a bit with the general trimming.
Back in their field while we have our breakfast >
Later on we rode them back to the big field which was another lovely hack for us  😉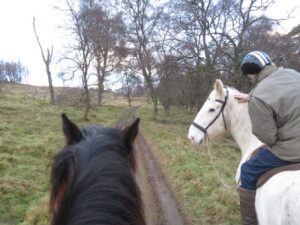 Nice to have some side-by-side riding 😉
What have they seen??? oh yes, it's the cattle so we give them time to watch and assess them before going through the field. Again, I walk Bella 😉
Sidling up to the gate for me to get back on after the cattle field 🙂 Such a good girlie 😉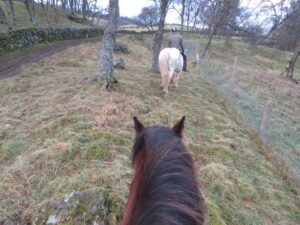 Mark and Stormy waiting for me to remount…then back to following for me and Bella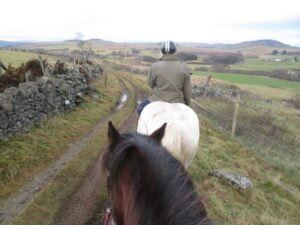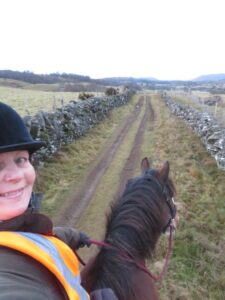 The last part of the ride…..I can see the field gate from here 😉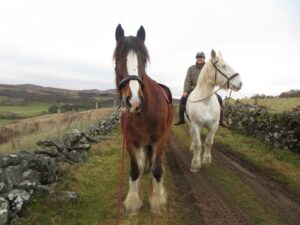 Dismounted ready to open the gate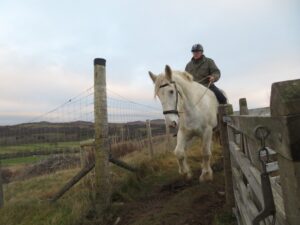 Mark and Stormy ride through the gate
carefully…a bit muddy/slippery there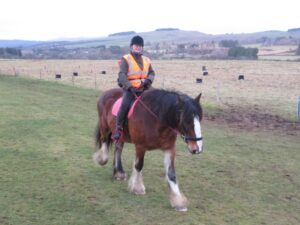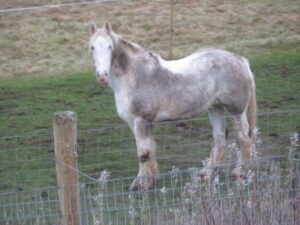 In the field, riding the track to the shelter
Stormy deciding that he needed to roll BIG TIME……going to be fun cleaning that tomorrow 😉 lol
Thurs 3rd Dec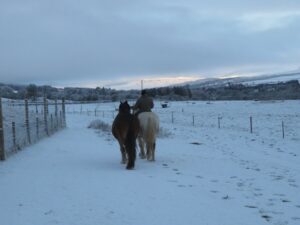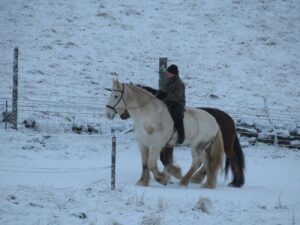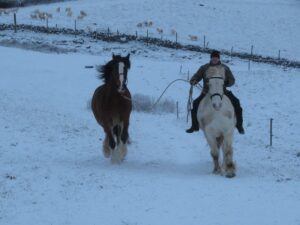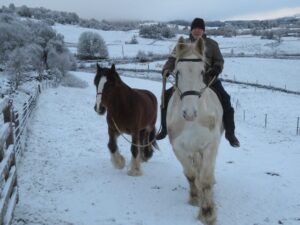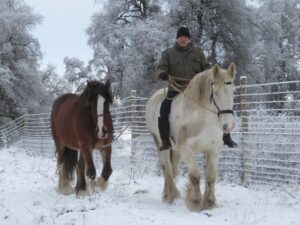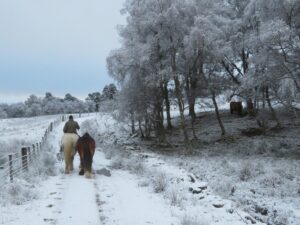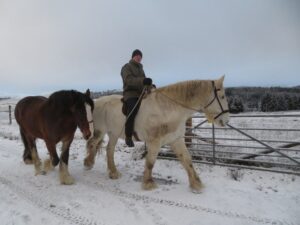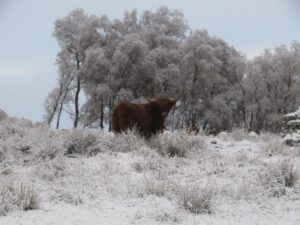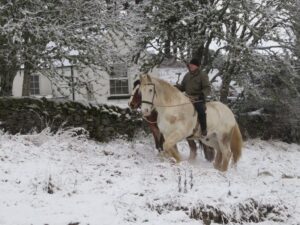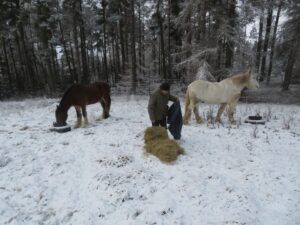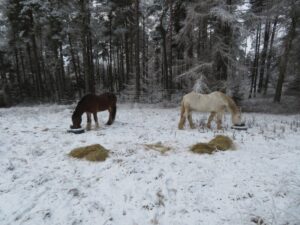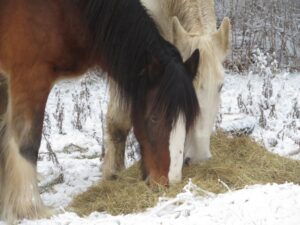 WELL…OOPS…this is what we woke up to today…not much snow but with a forecast of more we decided to bring them home again
It's a mile walk to the horses and I decided it was easier to get Mark there on the quad and he could ride/lead them home, which he did beautifully as always
Bella did keep looking back at me which was really sweet
It was a lovely ride back for Storm, Bella and Mark
< a Highland cow in the trees on the right here….they were fine with it and it moved away to be with it's herd. It was nice to be able to open all the gates for them
Highland watching us pass by 😉
Last leg for home
Mark enjoying his ride back home 😉
And safely back home
and what they were looking for…breakfast and hay 😉
Nom, Nom, Nom 😉
Fri 4th Dec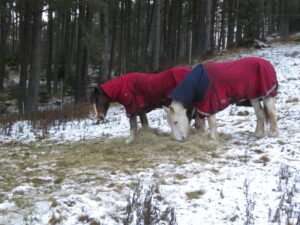 Supposedly snow today although we actually only had rain and wind so rugs on last night (we had thunder/lightning here), rugs off for breakfast but an hour later we put them back on, minus the neck pieces, for the whole day and then neck bits back on for the cold, cold night again 😉
Sat 5th Dec
Weather settled so horses back to the big field…and I got to take them back riding Stormy bareback and leading Bella 😉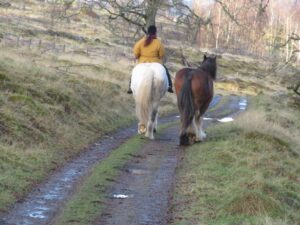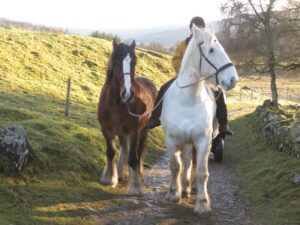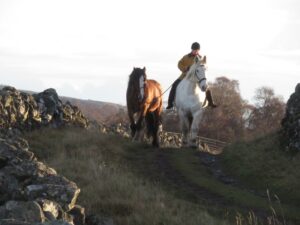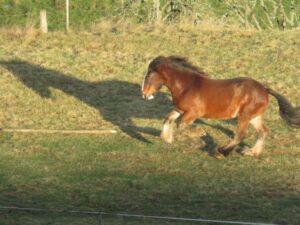 Walking together to the mounting block
Mounted and off we go
Nice to be back on big Stormy for a ride
Both doing very well, just walked through the field of Highland cows…no problem 😉
off the track onto some nice grass
Last leg and the field gate is in sight 😉
Just a really nice ride this faternoon
Stormy doing what he likes best and Bella doing her thing too…both happy to be back in the big field where they can stretch their legs 😉
After their run and roll they settled down to happy grazing 😉 🙂
Thu 10th Dec
Been drizzling and raining for days but got out to have some pony hugs and try out the horses new Mane Charms and Feather that I made for them 🙂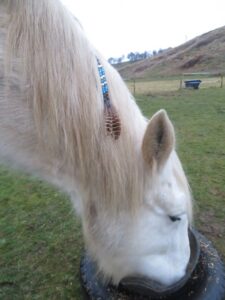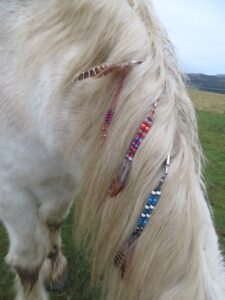 Stormy's lovely blue Mane charm really suits him….he tested Bella's red ones too 😉
Bella with her red/orange/purple charm and fab feather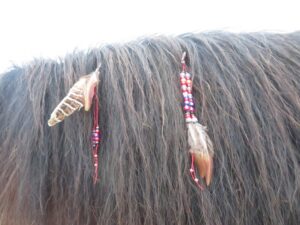 Sat 12th Dec
Well it's really been a wet, wet, wet beginning to the month and today it's still drizzling BUT so desperate to be with the horses, connect and hug them SO out we go for a bit of a play 😉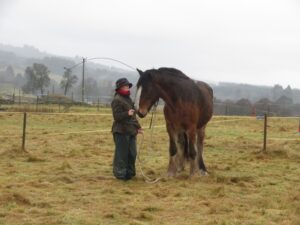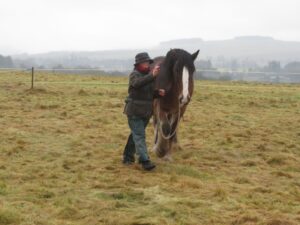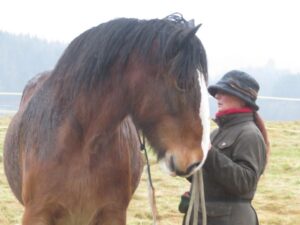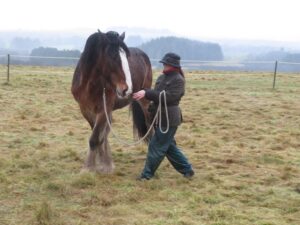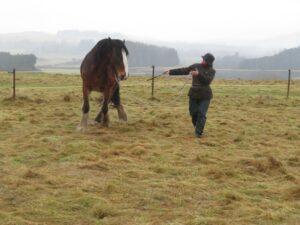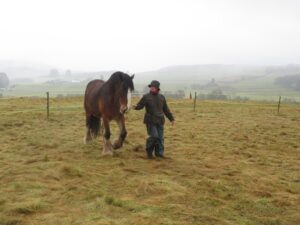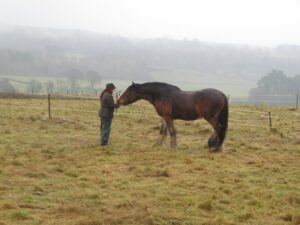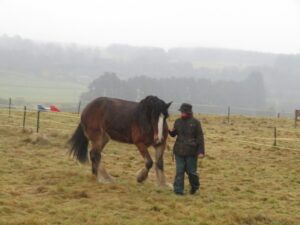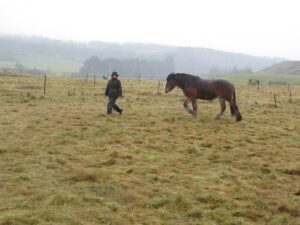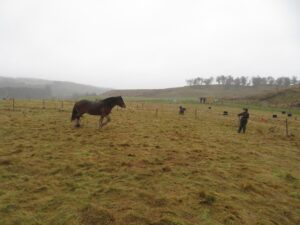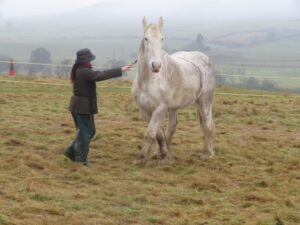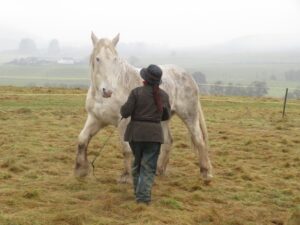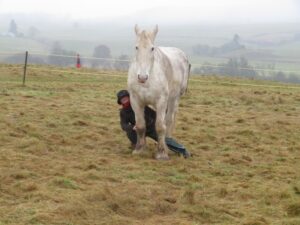 Started off connecting with a neck rope and in the large round pen. All the basic moves were there and we connected quickly and easily.
I think she's missed me as much as I've missed her.
Beautiful sideways both ways
Lovely circles with some soft fig 8's and basic COD's….then I asked for a bit more 'bend' in her ribs to make the arc more balanced
Then we went to Liberty…basic moves done really well and some nice draw too
S2M always good on both sides, w/t
Turns towards and away good
Following and draw good
Her big halt/draw was fab 😉
Then did some nice play at liberty with Storm.
Lovely sideways towards
Some nice bend on a circle and some fab familiarisation 😉
How to stay dry when it's drizzling????
Get under a big horse 😉 🙂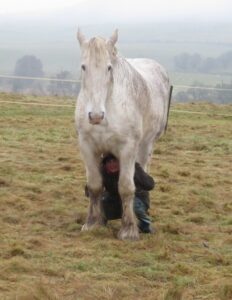 Thu 17th Dec
Well…it's been 16 days since riding Bella and since then it's been wet, wet, wet. Today thankfully it's dry at last and I couldn't wait to get out and be with my big girlie 🙂 Here's some pics of our fun togetherness today…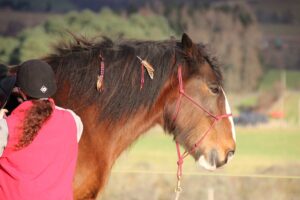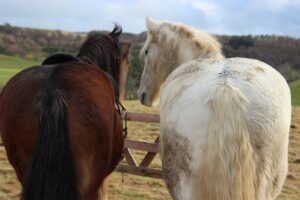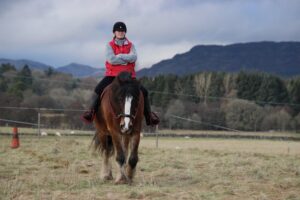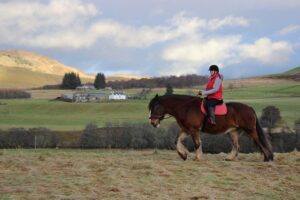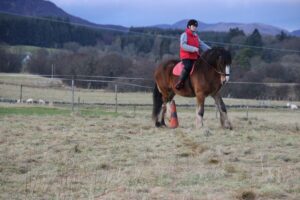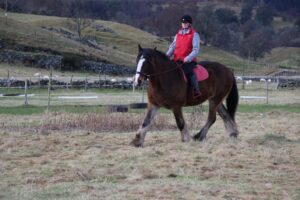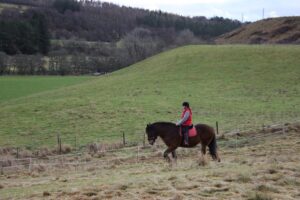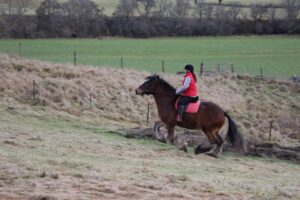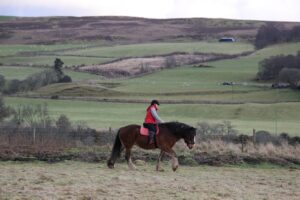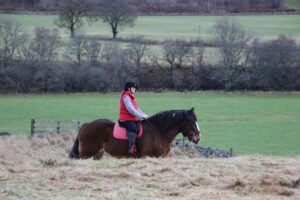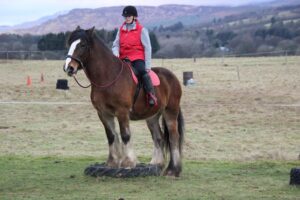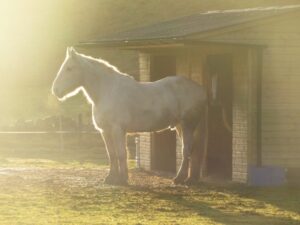 Mane Feather Charms in her hair today
Stormy watching me putting her bridle on
Focus whilst doing no reins P2Ps
Light loose rein with longer P2Ps
Lovely to put bum in saddle today
Sidepass over cone both ways, so light
Working on slow, gentle arc in ribs on circles
Just enjoying the ride today
Walked nicely down the hillock and then canter back up
Canter
Nice connection after 3 weeks off
Going back down the hillock and then 2 feet on pedestal 😉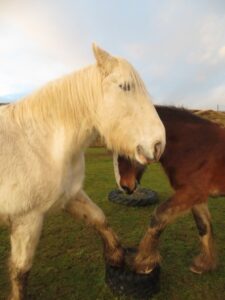 Earlier in the day they decided to put one foot each on the medium pedestal 😉
Lovely morning light with sun coming up, horses enjoying the shelter with hay in it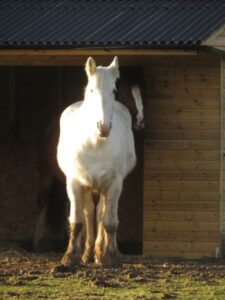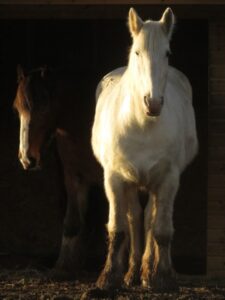 🙂 😉 Stormy and Bella in the shelter this morning 😉 🙂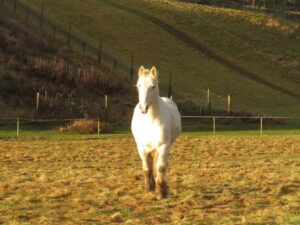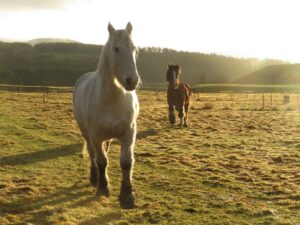 Called the horses from half way across the paddock today…they both came beautifully
Bella's draw was a fabulous fast canter…she had to swoop to her right to avoid stopping on me 😉 lol
Weds 23rd Dec
Well we've had a day of dry weather and the ground is hard and easy to walk on today SO I brought the horses home for Xmas. Love having them at home, to be able to pop in and out to see them, maybe a wee ride and back to the big field later on if the weather holds. So, here I am riding Stormy bareback and leading Bella home today. Stormy was a bit reluctant at one point, think he thought he was missing out on breakfast in the big field, but realised once we were half way that breakfast was in the home paddock and he started to walk forward more 😉 Bella, as always, was a dream, she lead without any hitches, kept to her space by Storm's hip and kept up with us all the way, even when Mr Stormy went into a small trot and canter 😉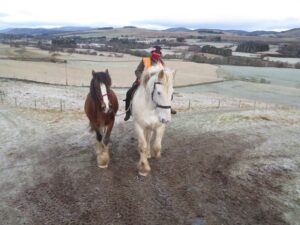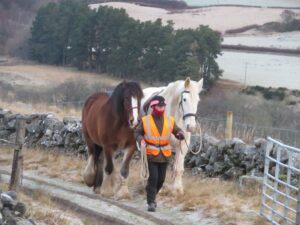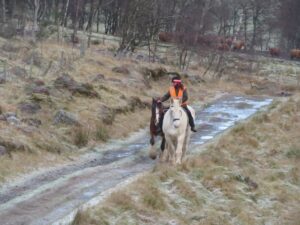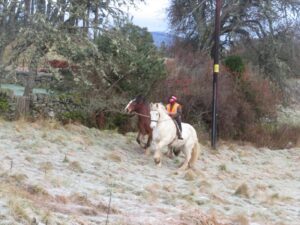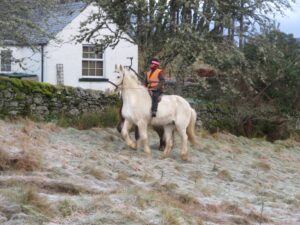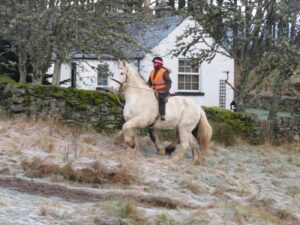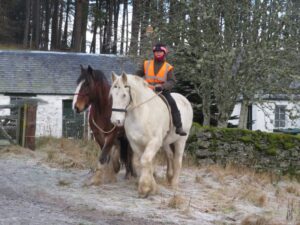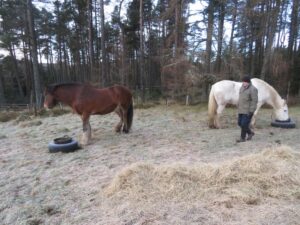 Thurs 24th Dec
Trimmed Ms Bella's hooves today 🙂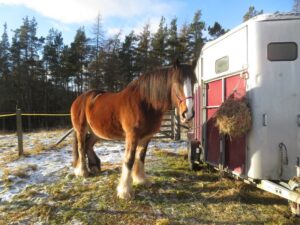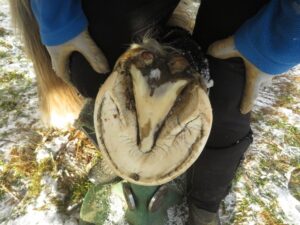 Her feet are getting better since I've gone back to trimming her myself…they're smaller with a tighter white line, no flare and splits are going 🙂
Fri 25th Dec
Horses are rugged at night and without them during the day at the moment enjoying their hay and wait patiently for Spring 😉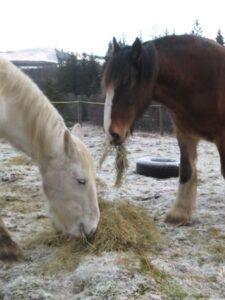 Tues 29th Dec
Not a bad day weather today…cold but dry and a good day to take the horses out for a wee walk and play 😉
So lovely to be  out and about for a while with Bella. Did some fun bits like going between tree trunks…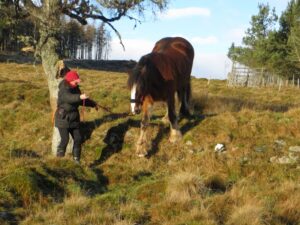 ,,,up on a small hillock and she managed a nice, calm decent from it too…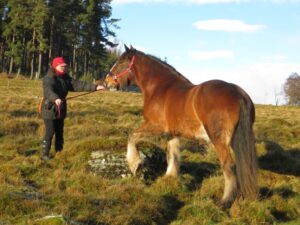 …also managed a nice foot on the pedestal and then she decided it was easier to just get up on the whole rock 😉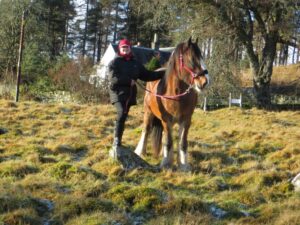 …Lovely job of walking calmly across the small stream and whenever I stood on a rock she sidled over readying for me to mount if I wanted to 😉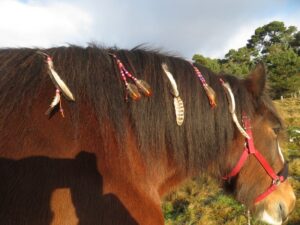 Love her new 'mane feathers'. I made them myself with our favourite colours which are burgundy, orange, silver and some purple 😉
SO…that's the end of 2020. It's been a hard year with the Covid-19 pandemic all around. I've not been able to work at all and I've missed my fabulous students and horses BUT I have managed to have a fabulous time really putting on a great foundation on Bella with almost daily ground work, agility bits and riding and it's all paying off beautifully now 😉
Happy New Year and may 2021 be a better one for us all 😉
* Shelley – HorseSavvy