Fri 1st Jan 2021
Wow, well we're into the New Year. It's bright but cold here and with it being dry it's good to take the horses out for a walk on the grass opposite their field 😉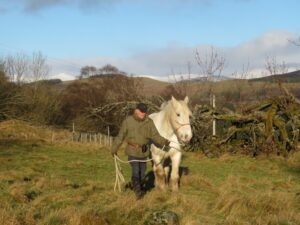 Sun 3rd Jan
Another lovely, albeit cold, day here. An opportunity to have a very wee ride/sit on Bella before the weather, and the tracks, become icy, as they do this time of year.
Weds 6th Jan
Today is 'worming' day. Throughout the year we do worm counts and only worm when necessary, then the worm counts say that there are worms or tapeworms present. At this time of year though we need to worm for encysted red worms, those that are hiding and small, that don't get detected in worm counts SO, today is worming day…..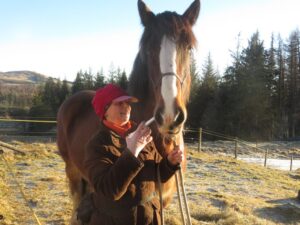 I give Bella a syringe or two of apple sauce before worming, then the wormer and then repeat some apple sauce.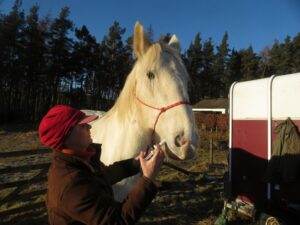 I do exactly the same with Stormy, he LOVES his apple sauce syringes.
I am going to do the apple sauce syringes a couple of time during the year too so that they get the treat without any wormer so it's not 'about' the worming 😉
Sun 10th Jan
The temperature has come up a bit (it was -10 two nights ago) and although the tracks are icy the main grassland across from our house is free from snow SO time to take horses out again for some much needed change of scenery and some grass munching time 😉
Lovely to see her grazing on our walkabouts now 😉
They enjoy the long grass.
Bella did a great job sidling up to anything I stood on, ready to mount if wanted 😉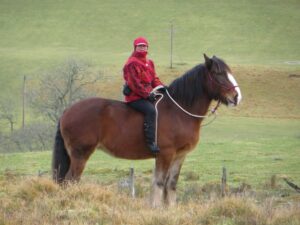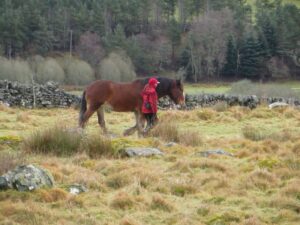 Managed to find a big enough stone to actually mount her from. No riding, but just a mounting exercise. Nice to just walk about together in harmony.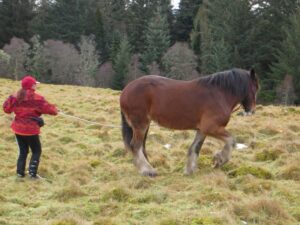 First time tossing the rope over her head from her hip…and a lovely rope around spin too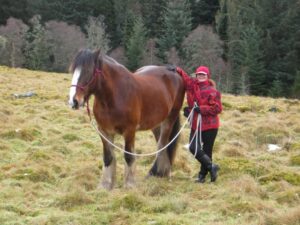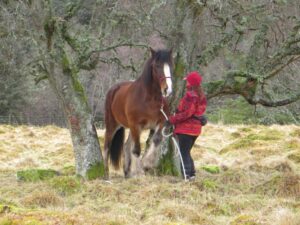 Nice to be able to hang out at her hip without her turning to face me….relaxed undemanding time.
Through the narrow trees was good today…
she also backed up through them which is not easy feat 😉
Sidling up to anything I stand on was great, here I stood on a wall and she remembered to swing her hips over to me with a gentle tap of the rope on her off side 😉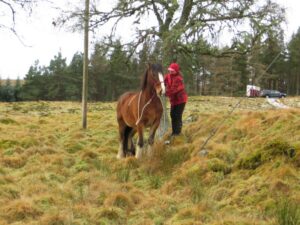 Fab sidle to mount and so relaxed and still for me to mount for a couple of seconds then off again 😉
(I won't ride unless with a hard hat)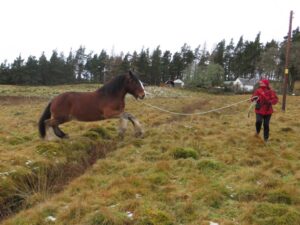 She got up on the hill and was really calm going down it too…quite steep
She followed me around the paddock and over the stream too….I asked her to try a wider stretch and she managed a nice, controlled jump over it 😉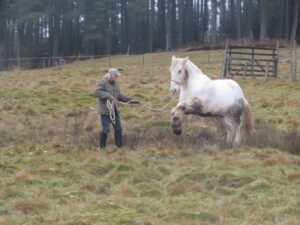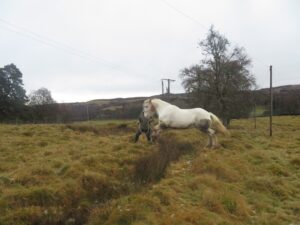 Mark and Stormy….great jumping over the stream in two different places today 😉
Mon 11th Jan
Mild-ish day today so out for a walk/graze/play session. No riding as the ground is hard and still a bit icy/slippery.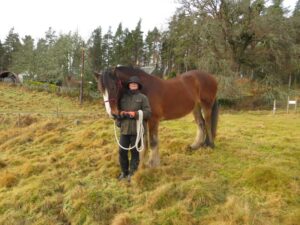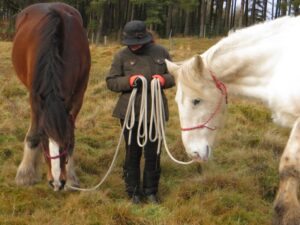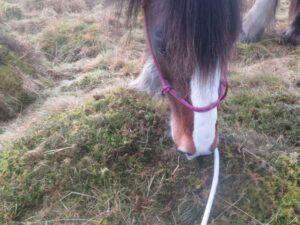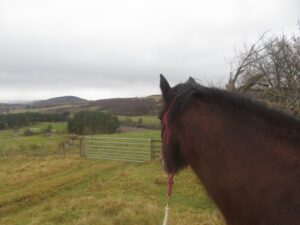 Bella and me and Stormy
Bella enjoyed munching on heather and the roots
Mark and Stormy enjoying time together
Bella also enjoyed some 'soft rushes', lovely to offer some different bits to graze on at this time of year
Looking at the beautiful scenery 🙂
Tue 12th Jan
Sunshine and blue skies today, albeit pretty darn cold still. What better way to spend a couple of hours than with your buddies out in some stunning scenery 😉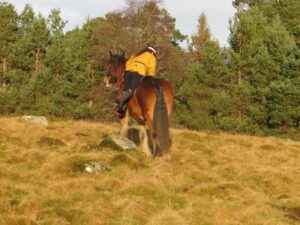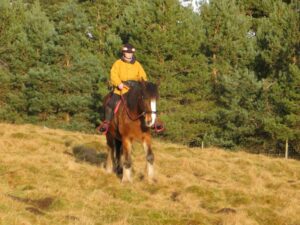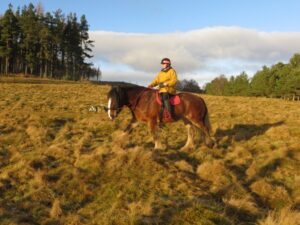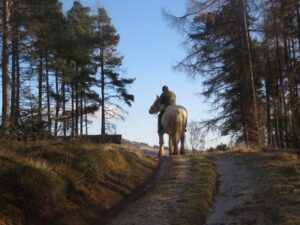 Lovely ride up the hill behind our house…bit windy up the top 😉
Cold but really enjoyable
Got off going downhill as didn't want to Bella to slip on the track
Use a stone to remount Bella on lower ground and enjoyed a potter about the pasture
Such a beautiful place to ride
Bella had some grazing time too
Bella getting used to the very rough ground now 😉
Mark and Stormy enjoyed the hack out too 🙂
Thu 14th Jan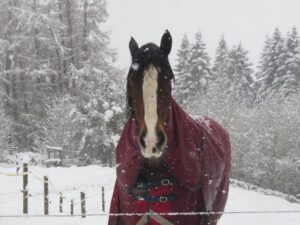 Fri 15th Jan
Just feeding and hanging with the gang at moment as snow so deep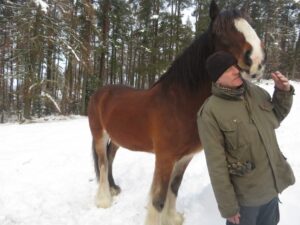 Sun 17th Jan
Well today it's not quite so cold out and about and the snow is soft and so we decide to have a very short walk out with the horses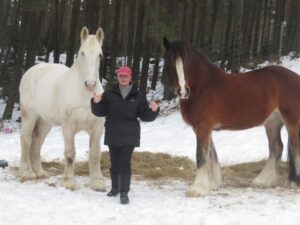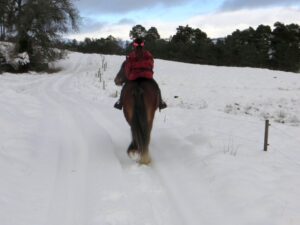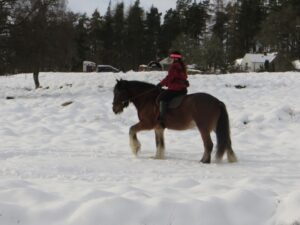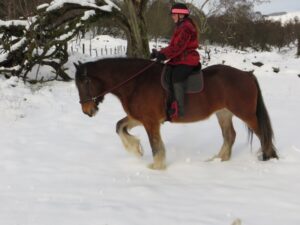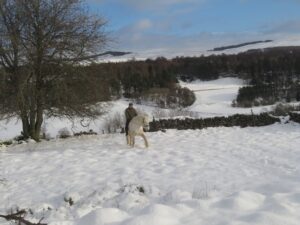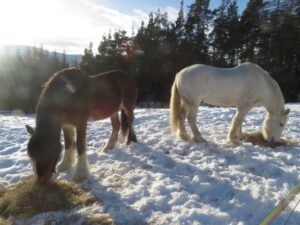 First snow ride with Bella and she did fabulously well…just took her time, looked where she was going and took care of me 😉
Lovely to have a different view for a short while and to find our riding connection.
Mark and Stormy enjoyed it too
What a lovely ride together today 😉
and a short video of our ride out….
Sat 23rd Jan
I'd been wracking my as to how to make a regular halter into a sidecue bitless bridle to help people to try bitless riding without having to spend a lot of money on a bridle before trying it SO I came up with this idea….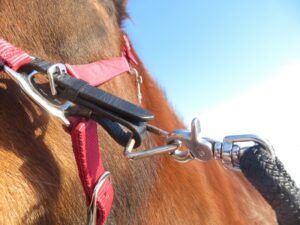 Putting some bit attachments around the middle metal parts of the halter noseband with a 'triangular' metal rein attachment (could have used 'D' rings or circular rings too…I found my ones in my 'odds and ends' bin which is filled with stuff from thrown out rugs etc) 🙂
Hopefully this idea will help to try bitless riding out 😉
Sun 24th Jan
Today the snow is still thick and has gone pretty crispy/icy so don't want to do much or the horses heels could get hurt….good time to do some NEW Mini Challenge videos. The first one is in the Mini Challenge category…check it out on the menu bar 😉