Sun 3rd Nov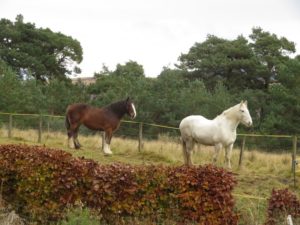 I'm out of action for a while after having heel surgery on Halloween but the horses needed to be taken back to their big field until Winter SO Mark took them back down there…Riding Storm bareback and leading Bella from him. He said they were very well behaved and really enjoyed a wee yeehaa when let off back into the big field. He also opened up the hill grass for Autumn, I'm sure they'll really enjoy that 🙂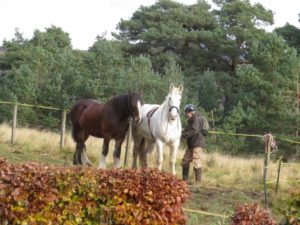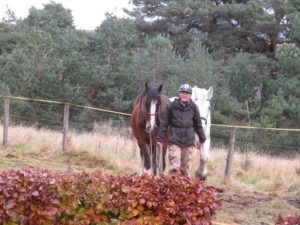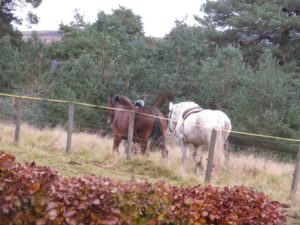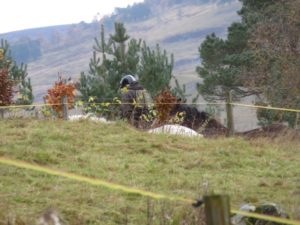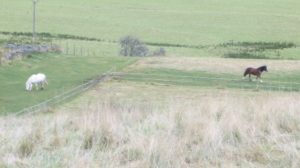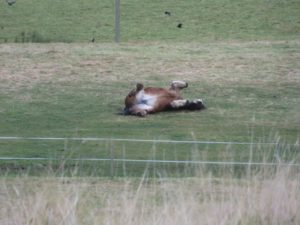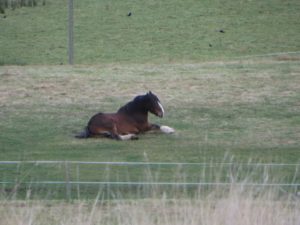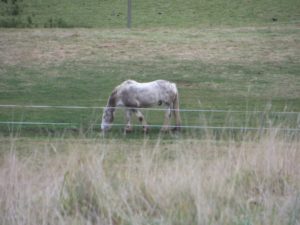 Stretching their legs in the big field feels GOOD…also having a lovely roll….mucky girl
Oh and a very muddy boy Stormy >
Weds 6th Nov
Am missing the horses a lot whiles not able to do anything at all for a while with foot out of action, even once I start to 'walk' again it will take quite a while to get my heel/leg back to normal SO Mark took me down to the big field to have some equine cuddles…..just what the doctor ordered 😉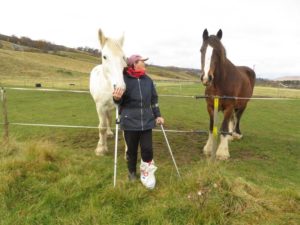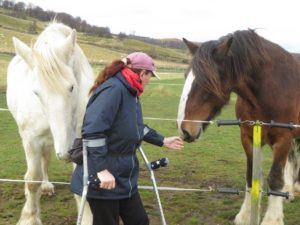 They didn't have any worries about my crutches, my wobbling walk or the plastic bag on my moonboot
Stormy wanted to check out the plastic bag on my foot….Bella was fine with it too but not so interested in it, well there was no food in it for her. lol.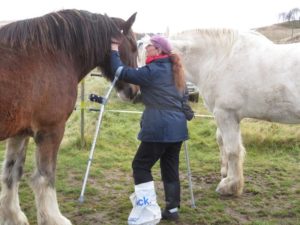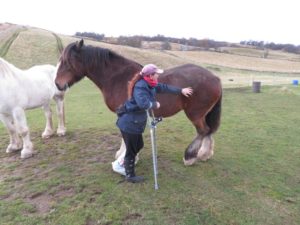 Bella was fine with me 'hand grooming' her, getting the dried mud off her neck, side and bum. I held onto her withers for stability and she was a very good girl standing still for me to hobble around her.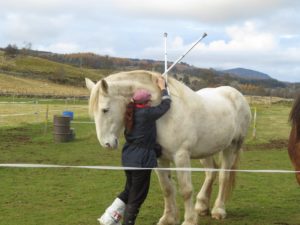 Such a good girl AND Stormy didn't bat an eyelid when I asked for a theraputic Storm-Hug with my crutches flailing over his back 🙂
And…last but not least Bella and I had some connection kisses <3 SO lovely to spend some time hanging out with them, it's going to be some time before I can ride again but hopefully once I start to get a bit better I can do some ground work play whilst sitting down 🙂
Thurs 14th Nov
While still not being able to walk without crutches I'm not able to see the horses everyday but Mark took me down to them today for a wee visit. They seemed genuinely happy to see me and think Bella has missed me and her play sessions quite a lot. It was lovely to have lots of hairy hugs and kisses and it was also fab to see Bella hasn't forgotten any of our training…she, and Stormy, were STARS.
First of all I groomed Bella and her 'Ground Tying' is coming along in leaps and bounds and made it possible for me to 'hobble' around her without her moving and without me having to hold her rope…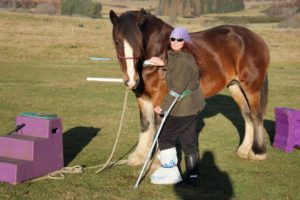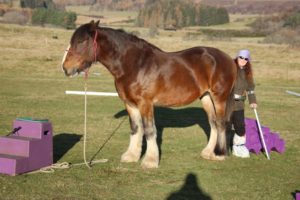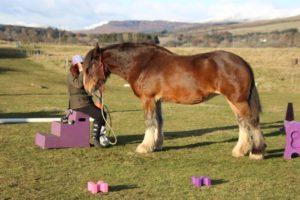 We then had a very very good play session with me sitting down on the mounting block and for the first time Bella had a 22′ rope on her, very proud of all she remembered and tried for me and how well our communication and connection was.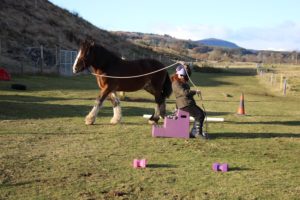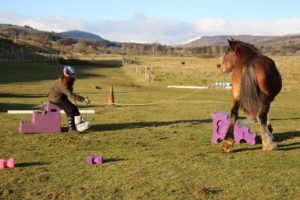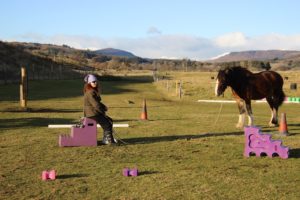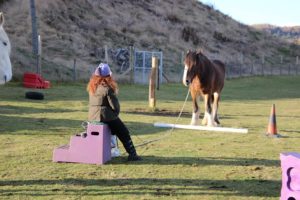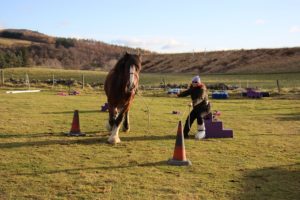 < Bella circling really nicely
She was good on moving out on the circle to go around a jump wing before coming back to me >
<FIRST ever backup on the 22′ line and she did it with smooth enthusiasm
Backup over a pole too went pretty well >
< Fabulous Fig 8's and I stayed sitting down the whole time >
Bella went up on the pedestal with front feet no problem today (pic below)
Bella was also extra special in helping me to 'hop' back to the mounting block…..I held onto her neck/withers and mane and she wasn't worried or spooked by my hanging onto her, the plastic bag on my 'boot' or my crutch…super star girlie 🙂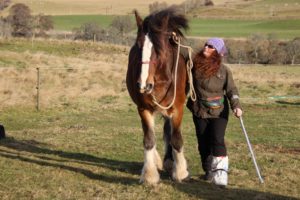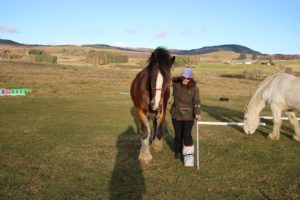 We also had some lovely 'moments' of connection and friendship today….with sweet Bella hanging out while I played with Stormy too…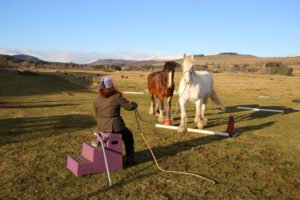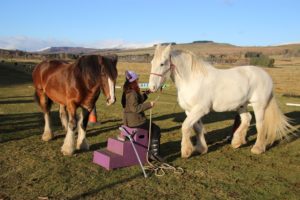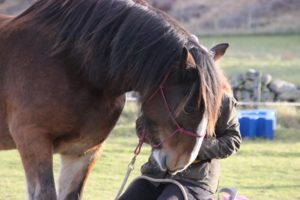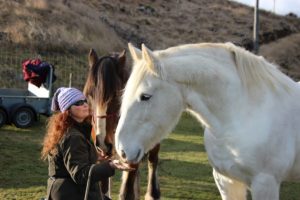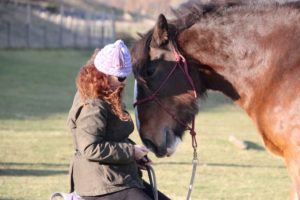 < Storm backing over pole…Bella watching intently from both sides >
< Bella hanging out with me while I play with Storm
Bella being super sweet with me >
< Both horses were precious today, hanging out, playing and being so gentle around me
A very special 'moment' with sweet Bella >
Sun 17th Nov
Bella has only just been with us for over 4 months and I love that Bella and Stormy are now so bonded. When Bella first came she was very hungry, slightly underweight  and orientated on feeding herself as if she had another baby inside to feed. We don't think she's ever had a bucket feed and we feed twice a day to give them something other than grass in their bellies so it's taken a while for her to understand we won't let her down on feeding and she can relax and not try to pinch Stormy's food too. So it's especially brilliant to see that our two beauties can eat together without fussing each other off the hay 🙂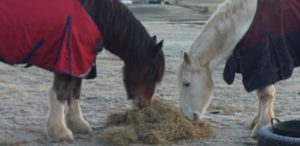 Wed 20th Nov
Slowly our track system has been expanded to allow the horses all of the hill grazing. Tonight, at their dinner time, Mark opened up the whole acreage to the horses, the new bit not having been grazed on all year so what we call 'standing hay' really and they're enjoying stretching their legs and eating the grass they've been looking at all year.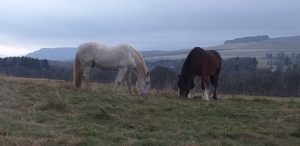 Thurs 28th Nov
Well today, after 2 weeks of not seeing horses due to recovery of heel operation and terrible wet weather I finally got down to see the dynamic duo for an hour or so and it was true therapy for my heart and soul. I found my SMILE again 😉 and I think they were pleased to see me too 🙂 🙂
As it had been quite a while since seeing/playing with Bella she was at first tentative but soon remembered all the good stuff she's learned but often times with some excitement involved so we spent some time on each request finding relaxation for her and TBH she remembered and found it pretty quickly today. Was fabulous to be with her again, she definitely missed me as much as I've missed her <3
Some pics from today, first playing with Bella, then some hug time and finally a naughty bareback 'sit' on big Stormy….I could not resist and as my back, hips, leg leg etc are all sore from not walking properly due to wearing moonboot he really helped work those parts of my body to restore some semblance of harmony for me…thanks Big Storm 🙂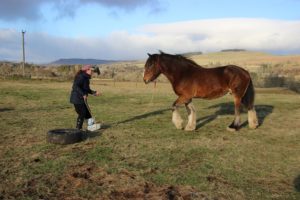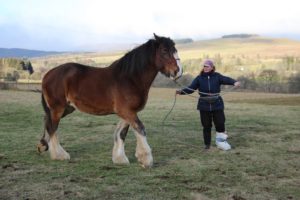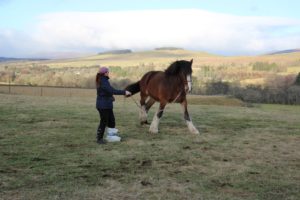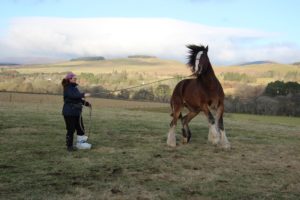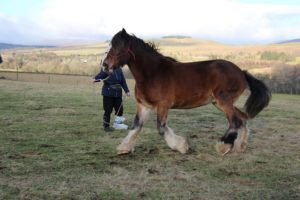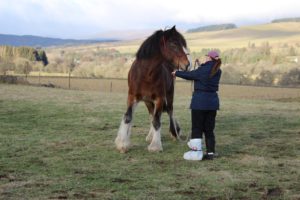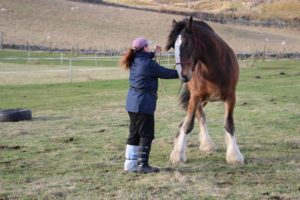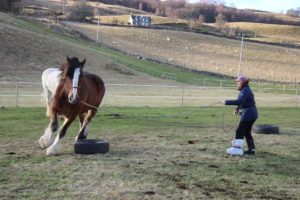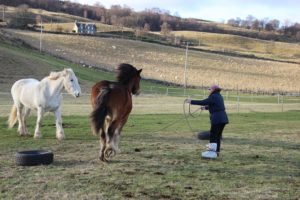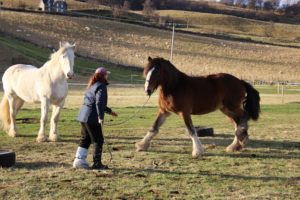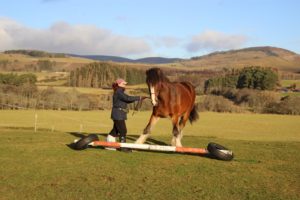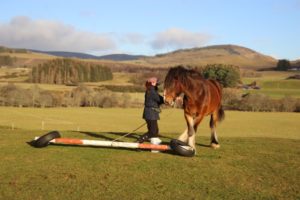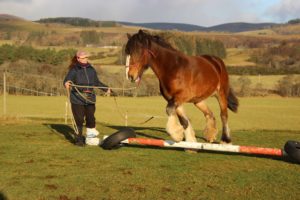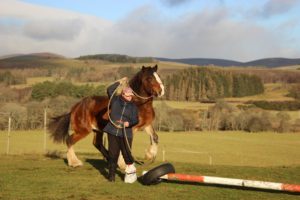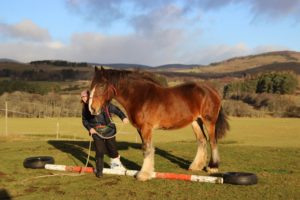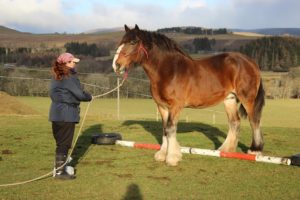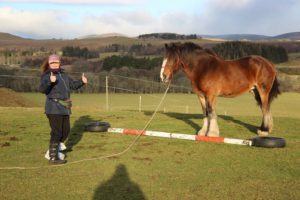 Draw & Drive and then some circling
Circles to right had some issues, she has got a bit sensitive on that side again and after some yeehaa moments she started to get over it quickly
Some fab sidepass circles with me pivoting today, she's not done much of this but she did it with softness and a light cue
Fig 8's remembered very well and in trot too
Ask for a draw towards off Fig 8's and you can see she was ready to repeat left part of Fig 8 here but came back to me quickly once she realised it was a draw. With not being able to move much due to foot in moonboot/bag my signals/cues were more subtle….great way to progress 😉 lol
Storm wanted to do a bit at liberty with us so I asked for them both to back up together 😉
Sidepass along a pole, a first for her today >
Such flexible limbs/body she has 🙂
Sidepass other way great too
Circle and half circle over raised pole. She was okay going to the right but going to the left (with me on hard right side) was difficult, she got over sensitive and had a yeehaa but we stuck with it until she found relaxation and balance with that energy before we halted.
Trying to find relaxation and balance again.
Feet over the pole, sometimes 1,2,3 or all 4 forward and then back again 🙂
And sidepass off a pole a first today too
Huggles….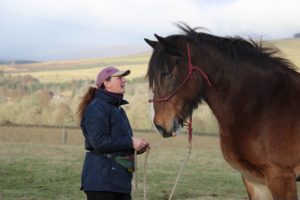 < Connecting nicely through play and relaxation >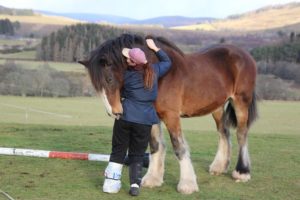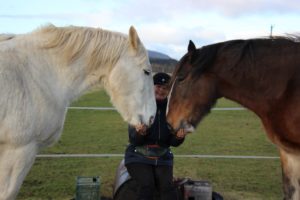 < Teaching Bella to 'hug' me 🙂
Coming for treats >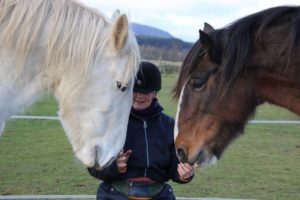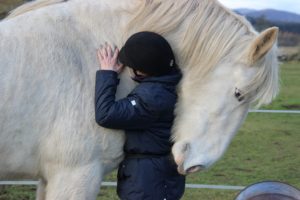 < My two beauties
Stormy giving me a really BIG HUG here, he knows how to squeeze so nicely >
So a great afternoon for me, my heart and soul renewed  with my beautiful big girl Bella but one thing remained…..to have a wee sit/plod on big Stormy. I am SO glad we've done tons of Familiarisation with plastic as my moonboot is in one at moment when out and about to save it getting dirty, he was fine with it. Am also really glad he's used to moving/stopping/turning from my breath/focus/weight cues as I wasn't going to use my legs as left one still very sore. He did brilliantly and as soon as I got on I realised how squint and sore I was on my left side due to hobbling about in moonboot for last month. My back, hip, leg was all very tense and achy but after just a few mins of just being a passenger on him I felt the benefits as I allowed his  movement to move me and soften up my whole body. Thanks Stormy, you and Bella are the BESTEST therapy a girl could have 🙂 <3 xxx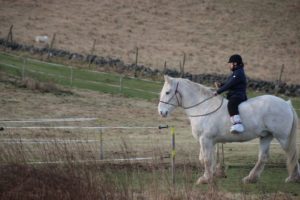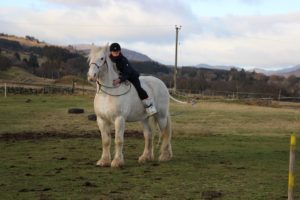 Sat 30th Nov
Well Mark bought the horses home this morning not because of bad weather, although it was about -9 to -10 last night, but because both our quad bike AND our 4×4 car wouldn't start (batteries we think)….totally gobsmacked but he walked the mile to their field and rode/walked them back home…at least I get to see them every day now which is a huge bonus as I'm just starting to walk about a bit now. SO for the last day of November Bella did exceptionally well walking back home with Storm and Mark and it definitely worked bringing them back earlier in the year as she was calm, quiet, happy to be in the paddocks and calmly using the bridge too 🙂
Here's some pics of them coming home and in the paddocks….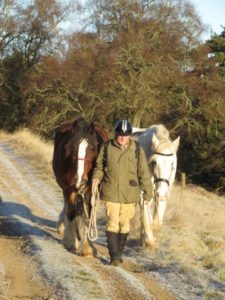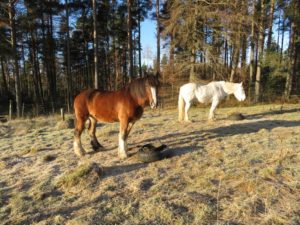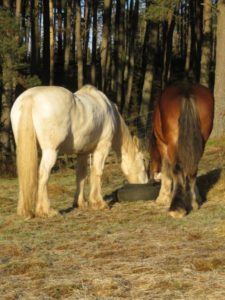 Lovely to see them using the bridge calmly and happily
Breakfast at home, Bella ate hers then went and pinched some of Stormy's too
And it was fabulous for me to potter about in the garden and see our two beauties watching me 🙂
Not sure if they'll stay at the house for the whole of December but it's nice to have them here for now 😉