Fri 3rd Jan
Made some apple sauce to get Bella ready for worming soon, she was hesitant to touch or take the syringe, which is how I thought she'd be, but hopefully a few days of apple saucing she'll be okay with the wormer. Video of this first attempt is on 'Bella's Lesson Video's'.
After the syringing Familiarisation I played with Storm & Bella together for a bit of fun. We did these few things:
Draw & Drive together
Half circling together, one in front of the other
S2M with a horse on either side of me
Enjoyed it a lot even though it was only a short play
Sat 4th Jan
Played with both horses today, it seems this is what my new 'thing' will be, playing and riding with two horses. They are so connected it's easier and a lot of fun to do. We played with the pedestal, circles, half circles and Bella did a little bit of liberty play for her dinner apple slices 🙂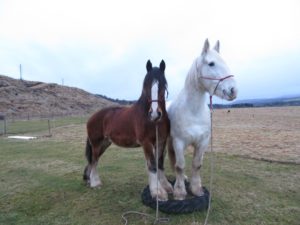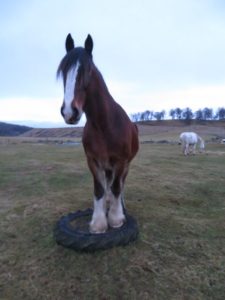 Sun 5th Jan
Managed to get out today with some good weather so we had a lovely play session first trying on some packs for Bella, making sure she was okay with them. Then playing with Bella & Storm together as it's quicker to play with both of them than individually…it's also good as Stormy gives Bella confidence. Here's some pics from the fun session…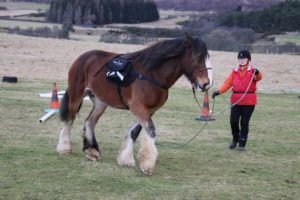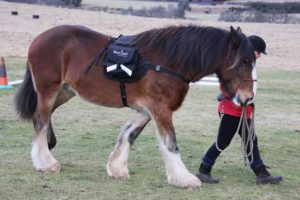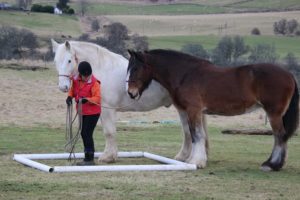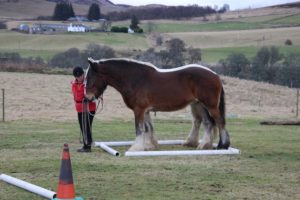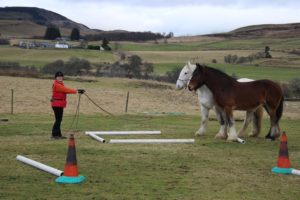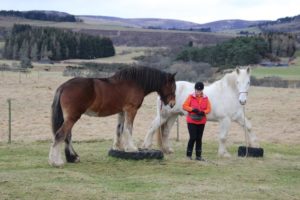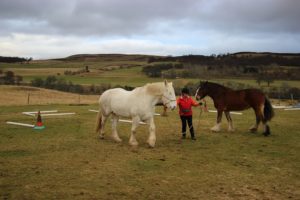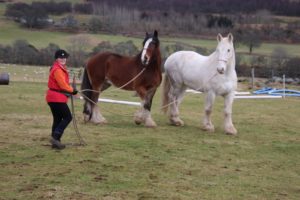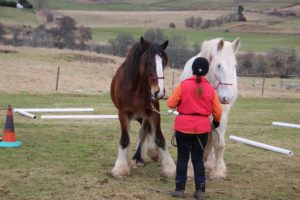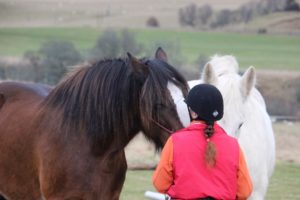 Wed 7th Jan
Weather has been a bit wild today. we've had mild to heavy wind, drizzle to heavy rain and mild temperatures. to help keep the hay from blowing into the next field full of sheep we put our hay into large buiilders bags, tie the loop handles over it all and the horses put their heads in and eat without loosing too much of it. Bella has been good at accepting this way of eating her hay 🙂
Fri 10th Jan
Well tonight has a full moon and that is great for worming as it's the moon of movement and cleansing SO we wormed Storm and Bella this afternoon with Equest for Encysted Red Worms (which can't be picked up on worm counts so needs doing in Winter regularly).
Since working on the apple sauce syringing I was over the moon when they both took the wormer, then some apple sauce, another wormer portion and a last apple saucing in their strides. They were calm, heads down, no dropping it out of their mouths, no tantrums with next syringe and finished with relaxation and an apple sauce taste in their mouths. I am SO proud of them and SO happy I took the time to apple sauce them for a few days beforehand. I will continue with the apple sauce I have left, no point in wasting it, and will do the apple saucing again maybe a couple of times during the year so it's not always about worming 🙂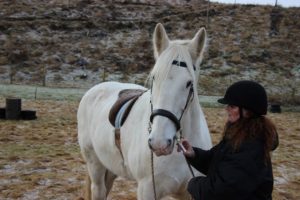 Stormy getting his wormer
(no pics of Bella unfortunately)
Mon 13th Jan
Bad weather forecast from Storm Brendan so we decide to bring the horses back to the house just in case. Here are pics of Mark doing a fab job bareback, bitless riding Storm home leading Bella who was easy, calm and happy to be led (might be a way of getting her and me riding more by using this method!! watch this space 😉 )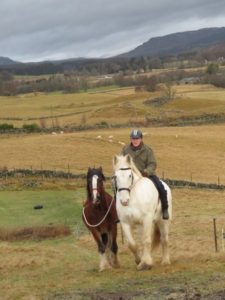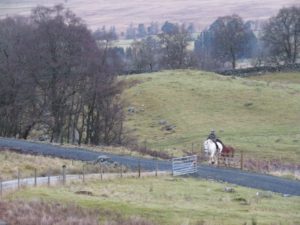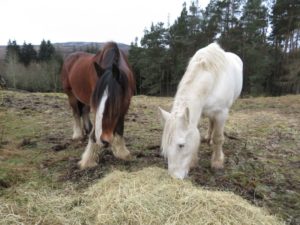 Friday 17th Jan
Today the rain and wind has stopped so we decide to take the horses back to their big field so that they can move about more, and stretch their legs. Mark rode Stormy bareback and bitless as normal and Bella's leading is becoming SO good…I think this is their 8th journey to and from our home now 🙂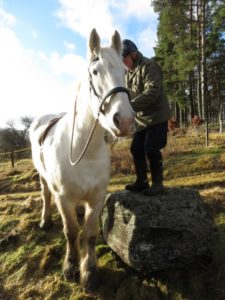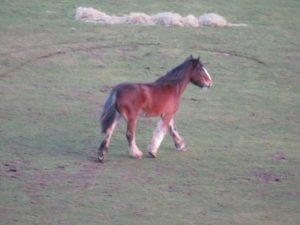 Large stone mounting block….fabulous when you have a big horse to get onto
On their way home, nice and steady together
Nearly there
Bella stretches her legs and straight to the hay
Stormy enjoys a long roll/scratch up and then they both eat hay together 🙂
Lovely vid showing last trot to big field. Love Mark's loose reins on Stormy and a lovely loose rope to Bella and how synchronised are these three…watch their trot to walk transition 😉 FAB, SMOOTH, CALM, CONNECTED 🙂
Sun 19th Jan
Yesterday I put together a new Agility course and today we just did it to see how we got on and to check what Bella has remembered since our last Agility play session, which was in October last year. Here are some pics of the 13 obstacles we did and the video of us doing it is on 'Bella's Agility Videos' which you can find on the Category section in the right hand border of the blog >>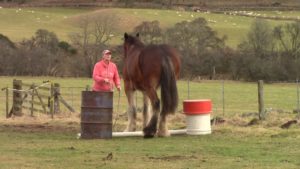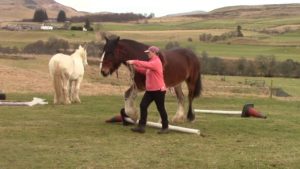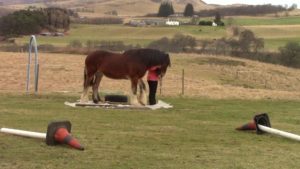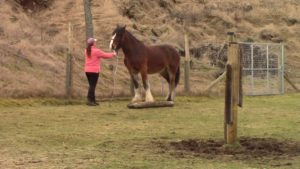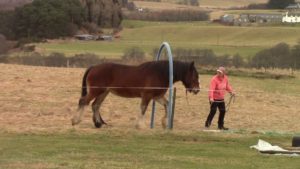 1. half circle through gateway
2. back over pole between barrels
3. weave through cones with poles
4. 2 feet on pedestal
5. walk on/halt/walk off tarp
6. trot poles
7. small jump
8. 2 feet in hulahoop
9. sidepass to the right
10. draw/drive between narrow lane
11. S2M  transitions (w/t/w/h/bk)
12. under arch
13. sidepass to the left
14. Familiarisation with flag
Mon 20th Jan
Today Mark did a bit with Stormy then lead Bella from him. She was really good and they started becoming so synchronised.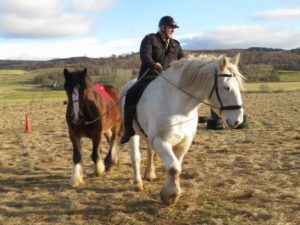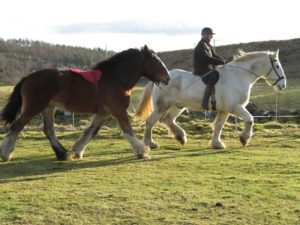 And then I sat on Bella for a wee bit, we moved backwards and we did some lateral flexion and walk forwards for a few steps. I didn't want to do more as my balance isn't great at the moment bareback and she's been off for Winter so will take it slowly getting back into things with her 🙂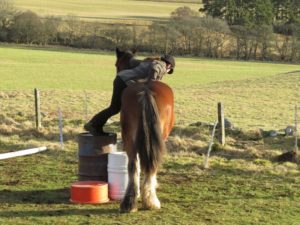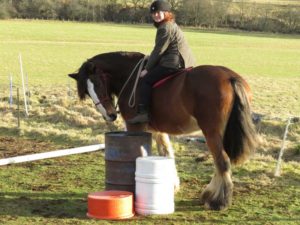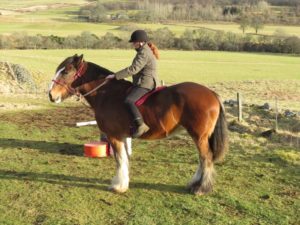 Was a good day and not too cold….will try to get out as much as we can while this lovely weather lasts 🙂
Thurs 23rd Jan
Today I went out with the idea of saddling Bella and seeing if she was up for a wee sit on…I'm SO glad we always take each day as it comes as she had Spring fever in her feet and it wasn't a day to get on her but she did a lovely leading from Stormy session with me (my first as Mark normally does it) and then played some half circles from Stormy to change sides with her. Really enjoyed the day even though I didn't do what I thought I was going to do….really good to have a Plan A, B & C to make the most of whatever the horse brings to the session and to not feel we didn't do something good even though my first plan didn't happen. This are her 'yeehaa' moments….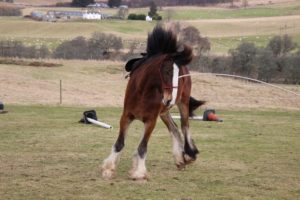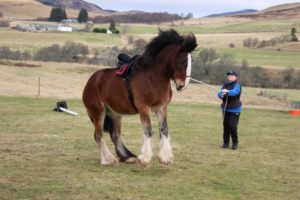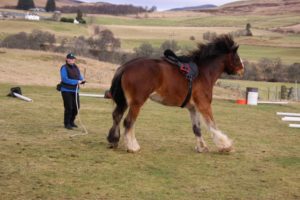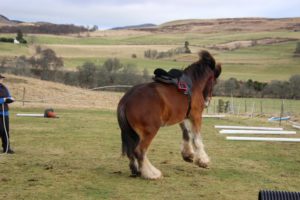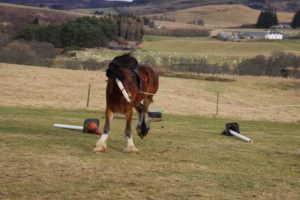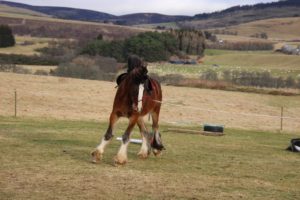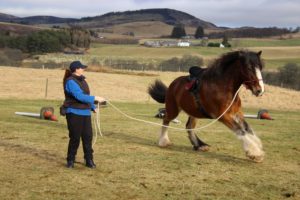 I didn't let her yeehaa's get to me, just calmly waited for her to find her own calmness out of them to start with and then when she offered some sidepass I took it and asked her for more. After that I put her exuberance into something that used to worry her….a small jump or two, which she had no bother doing well today 🙂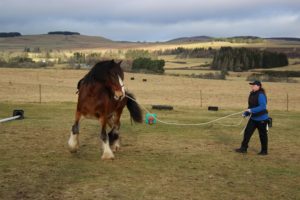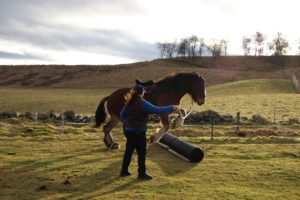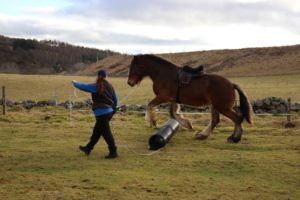 I then enjoyed leading Bella whilst riding Stormy, this was my first time with Bella doing this as Mark has been doing it. I've done other horses but this was my first time with her 😉 It went really well and I also did some nice half circling game with her whilst sitting on Stormy, Stormy was super good standing so still while I threw the rope over his head while she moved around 😉
Fri 24th Jan
Today I decided to go out and stick to the similar plan from yesterday, play, play with saddle then lead Bella from Stormy and I'm going to continue this plan until I start to see more relaxation with the saddled games (or if the bareback pad works but saddle doesn't to figure out why….it might be the noise of everything with the saddle!). I'm also finding that after her initial yeehaa that she is quite balanced and confident so I'm allowing her behaviour but then asking for more thereby taking her idea and making it mine. I did a lot of this with Stormy (and others) as a youngster and although Bella is now 11yrs old we are doing stuff that is normally done with a 3-5yr old so I'll take that as her 'riding age' 🙂
Some pics from today…first play with yeehaa, 2nd play with saddle and very balanced yeehaa and then Mark leading her off Stormy which she did brilliantly.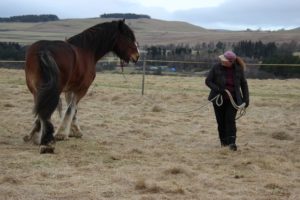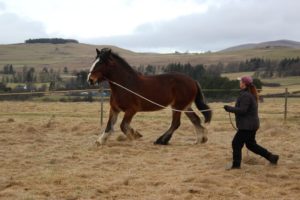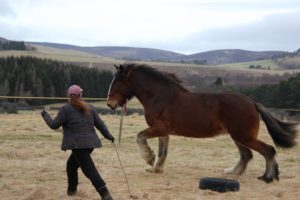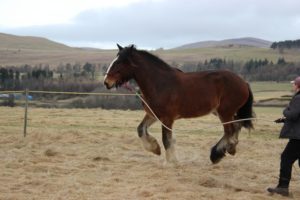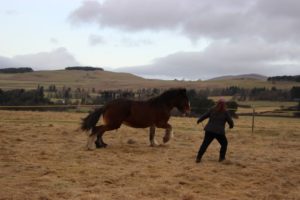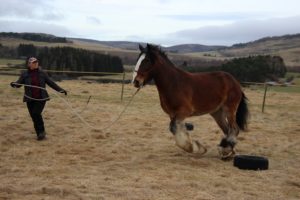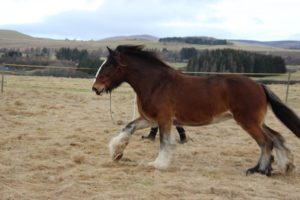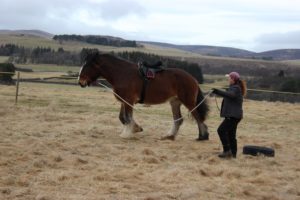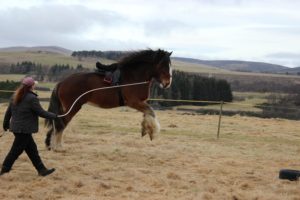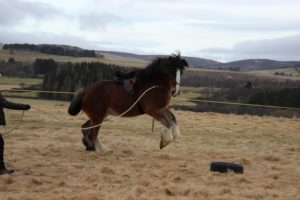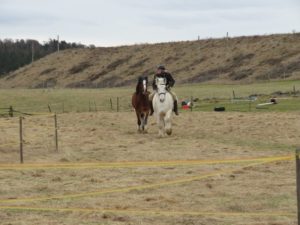 Sat 25th Jan
Today was the 3rd day of play/circling with Bella. First we do some basic online play and then with a saddle pad on. The first day with saddle had some big yeehaa/spring fever in her feet, yesterday she still had some yeehaa in her feet but today she was much calmer and slightly more attentive. Next play session i will try the saddle again.Here's a video from today…
Sun 27th Jan
AND today we have had warnings of snow and ice for tomorrow SO Mark rode Stormy and led Bella back to the house paddocks again. Lovely bit of exercise and they were both stars. They are now tucked up in rugs ready for the weather (if it comes).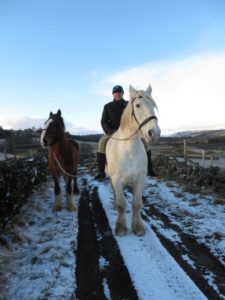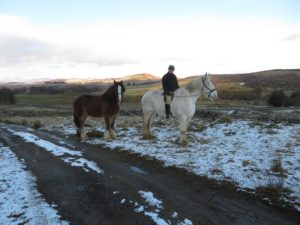 Fri 30th Jan
And today the horses went back to the big field again, the snow came and went and it's now drizzly and windy so going to the big field helps to save the small home paddock from getting extremely muddy.