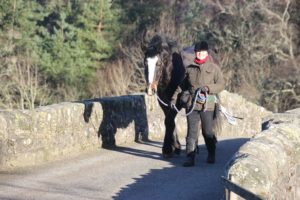 WEEK 1
SO…this is SPIRIT, he arrived at 12.30 today (17/1/19) on a Gillies big lorry.
His details are:
Free Spirit
Clydesdale x Friesian x Hanovarian x Cob
16 hh at moment (but very bum high so expecting 16.2-17hh when 8yrs old)
5yrs old (born 2/6/2013)
Barefoot
Apart from his breeder he has had one lovely caring home before me and sold only due to the young lady being at University and working hard with her job and recently finding out she's going to have a baby this year 🙂
I will be taking him slowly and at his own pace through my HorseSavvy Horsemanship training, working through some fun Agility and teaching him to be ridden bitless so that we can have a long, fun relationship together.  This is the beginning of our journey together and I hope you enjoy reading about our adventures  🙂
Day 1:
Here are some pics of him arriving, the walk to his new home/field and having his first dinner with us.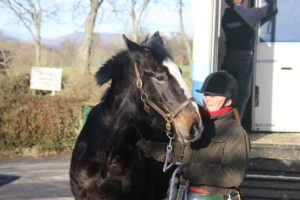 Just off Gillies lorry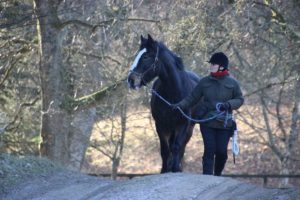 Very calm walk to the field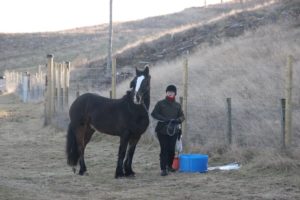 In own paddock for first night or two to help him settle and not be bossed around by Stormy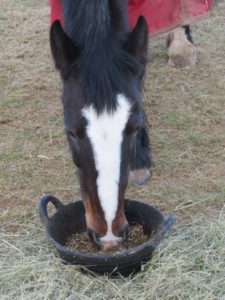 Rugged for the cold night and some dinner with plenty of hay and fresh water
He is very  calm and happy to just looking at our two older horses Stormy and Tara. We had them separated by two electric fences over night. This is to help Spirit get his bearings, feel safe and to settle in calmly but also to allow our two to get used to him in their field. it worked out very nicely, all calm within an hour or so, Stormy pacing a bit and pooing his territory but Spirit just keeping his head down and eating his hay. They all ate their dinners calmly and we left them for the night.
DAY 2:
Everything going really well, Spirit has such a lovely nature and Storm and Tara very calm so we opened up our big horses field to allow Storm and Spirit to touch noses over just one fence (made sure electric off so they don't get zapped whilst being nice to each other). It went so well. Calm and Spirit giving calming/baby signals to Stormy (lowering of head, licking/chewing, following and mirroring him and turning head away). After a while they stopped parallel to each other so I put hay in front of both of them and they happily munched away at the hay. Tara stayed at the breakfast station eating hay, she will visit Spirit in her own time and when she knows the boys are friends and isn't in the way of male bonding…wise girl 😉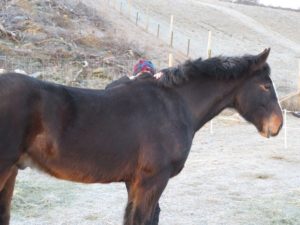 Standing about 16 hh at moment, very bottom high which means his withers are playing catch up, he will fully mature around 8yrs old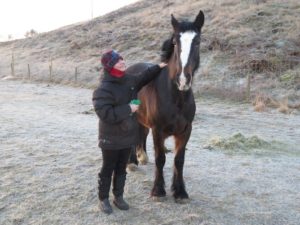 Enjoying a wither scratch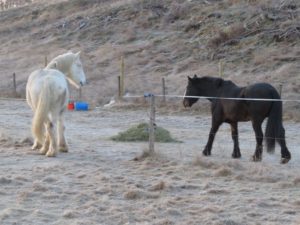 Stormy goes to meet Spirit when we let him out to say hello, keeping one fence between them allows Spirit to move away if he feels he needs to but also allows them to smell each other and get used to one another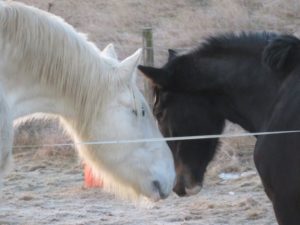 Nose to nose…this is how horses greet and meet each other 🙂
After parallel following and mirroring each other they stand for a while next to each other SO I give them both some hay and they're happy to eat next to each other with the fence between them
AFTERNOON: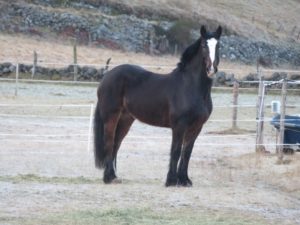 Go down to see Spirit for a while before dinner and he looked happy to see me and even started walking towards me when I called his name, what a nice boy he is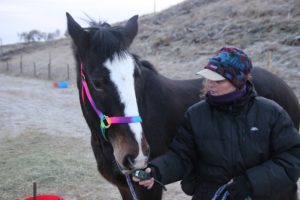 Wanted to measure his height SO started off some Horsemanship Familiarisation, first with the tape measure. He wasn't sure at first but quickly realised it was okay, this is a great way to build trust and get our connection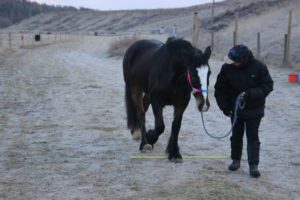 I then put the tape opened up a bit on the floor and after sniffing it when I bent to touch it he quietly and easily walked over it. This is teaching me a lot about his responses and reactions to things so we can start having more 'conversations' about things, energy, motion, noise etc.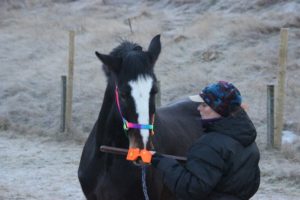 Here I ask him to touch the 'spirit level' that I use with the tape measure to measure his height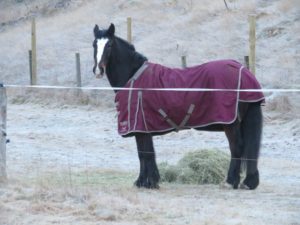 Fed, watered, plenty of hay for the night and rugged so nice and snuggly
as going to be a bitterly cold night tonight.  Nitey nite Spirit, sleep tight 😉
DAY 3: 
Today we put Spirit in with Stormy and it was such a calm, happy event it was really a non-event 😉 We kept Tara separate for now to help the boys bond, she'll be in with them tomorrow 🙂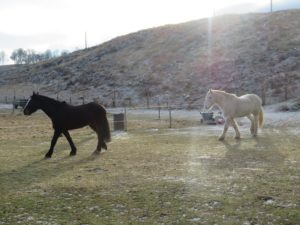 Stormy following Spirit (or is he moving him on? 😉
Spirit checking out the fab views. He can see horses across the glen, sheep in the field below, cars on the road, houses, lights, noises and smells…big views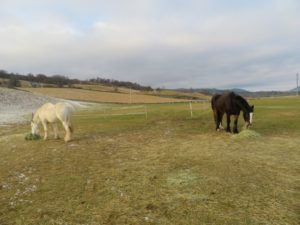 Storm and Spirit eating hay peacefully near each other 😉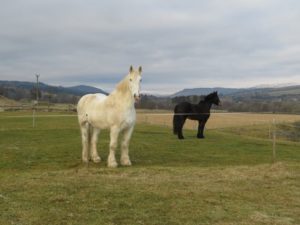 Storm and Spirit, a view I will never tire of
A little bit of 'liberty play':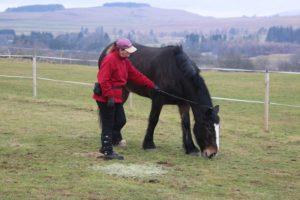 Familiarisation: getting Spirit used to being touched with the training arm/stick and string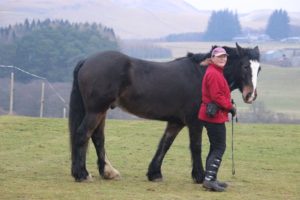 Touching with hands is very important, Spirit likes being touched and around humans which is super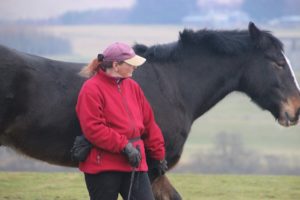 Hanging out together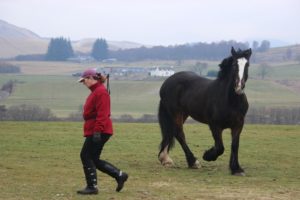 Familiarisation of energy: this is a hard one at liberty but I wanted to see how my energy/skipping about affected him, he wasn't overly worried but will get this better once I start working on line
DAY 4:
Today after breakfast I let the boys and Tara out together, opened up all the fences so they can meet each other properly and have enough space to get out of each others way if necessary. Spirit and Tara exchanged breath, which is how horses meet each other, and Stormy and Tara taught him some of the 'house rules' that horses do to make sure everyone knows their place in the herd. Spirit is so non-confrontational and has such good social skills that all went really well. He also was confident enough in himself to check out the whole bottom area of the field, poo piles, hay piles, put his nose onto the cones and into the tyre stacks. Loving his confidence, calmness and the every now and then he looked to me for a 'good boy' too.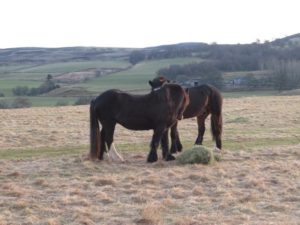 Spirit and Tara 'nose to nose' greeting
So photogenic against the beautiful Perthshire hills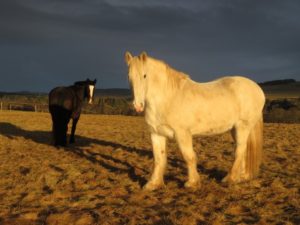 The BOYS 🙂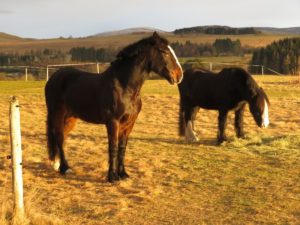 Spirit checking Tara out more, Tara lets him know where her personal space 'bubble' is and he stays on the edge of that out of respect 🙂
I hang out with the herd for a bit…I call this Undemanding Time where we all just hang out together
DAY 5: