Sun 1st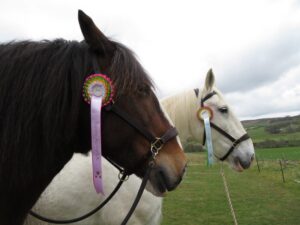 Bella got a 3rd place rosette and Stormy got a 5th place rosette in a recent wee Equine Agility UK Easter course that we entered for fun 😉 Lovely rosettes 😉
SO…today Bella and I did our 3rd session of Cloverleaf freestyle riding (loose reins)…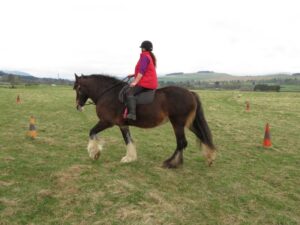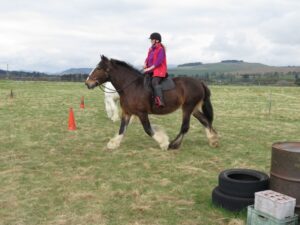 She did really well….remembered the pattern and we did one round to the right in walk followed by a nice round in trot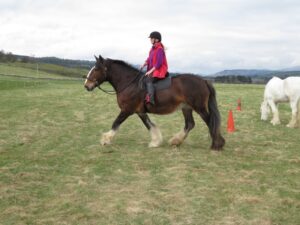 And then we did exactly the same to the left and she was amazing…brought her BIG TROT and I held my nerve by keeping on 'the buckle' of the reins allowing us to connect through our focus, breathing, seat weight and leg cues 😉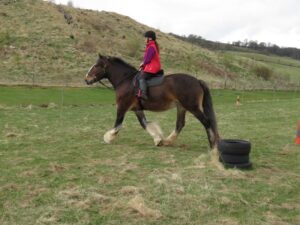 Fabulous to get more freestyle now….going to do a few more rounds before changing the pattern to RtR fig 8's 😉
Sat 7th
A nice bit of riding together with Mark and Stormy and also some ridden agility tasks. Fun day with neddies 😉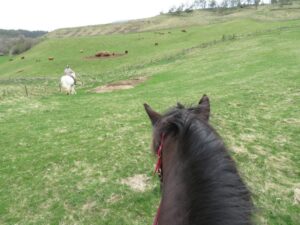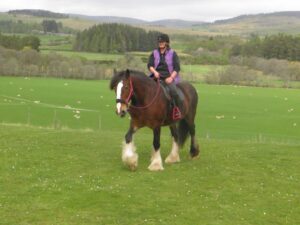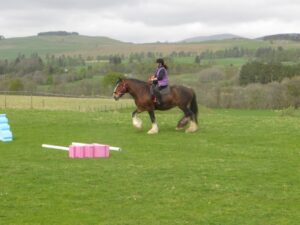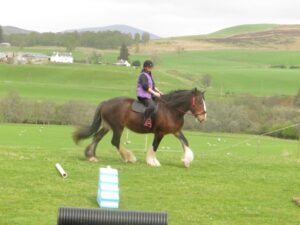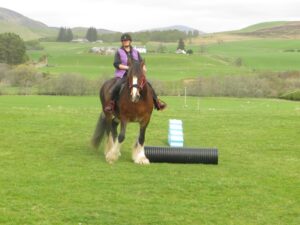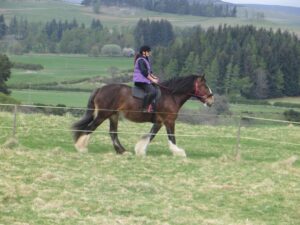 Sun 8th
And today Bella and I started our Canter P2P's…hope the weather stays with us so that we can get consistent with this 😉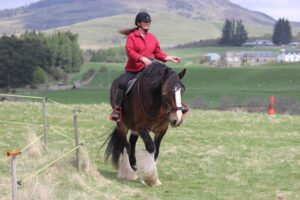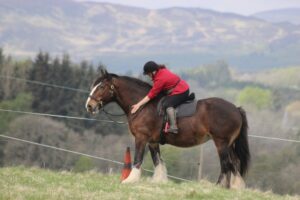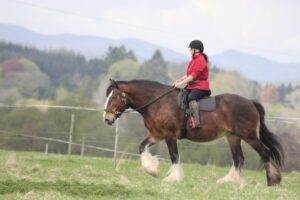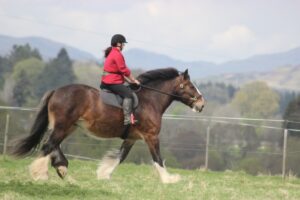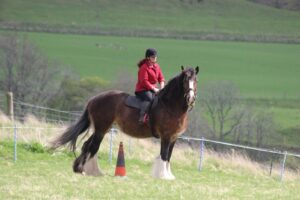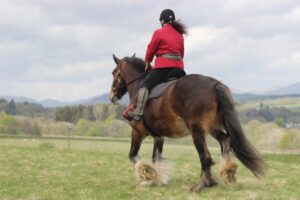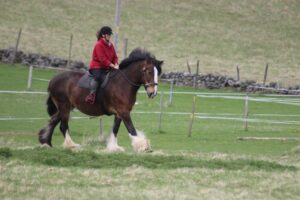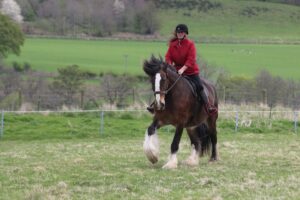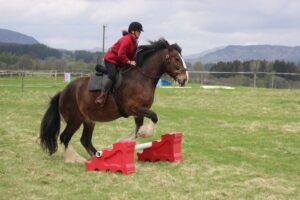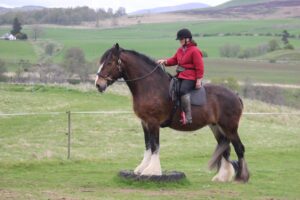 Thurs 12th
Today I trimmed Bella's hooves and then had a short ride, it started to rain and get windy so stopped before we all got too wet 😉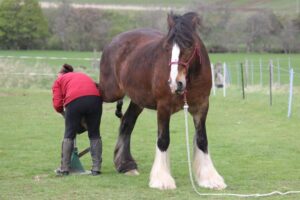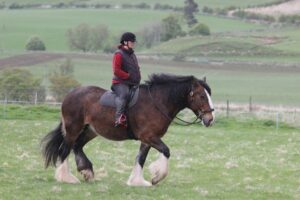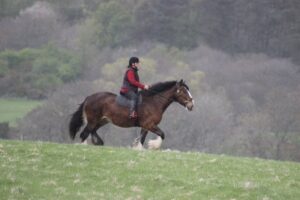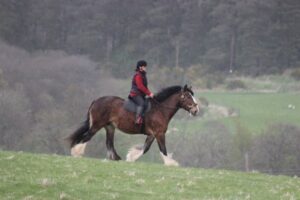 Fri 13th
Today there has been a nice breeze, mild with the odd drizzly shower and we managed to get out for a lovely hack to the house and back. It's not far, roughly 2 miles round trip, but it's a gorgeous track with hills, trees and great views and it was perfect for the day before I go away for a weekend Horse Agility Clinic in Aberdeenshire 😉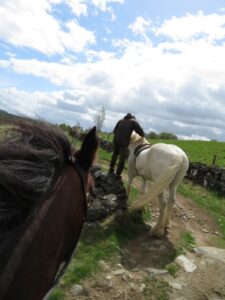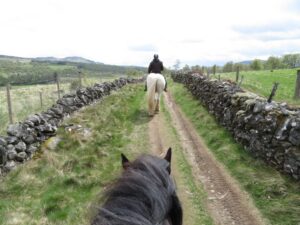 < Great that our horses will sidle up to anything to help us mount 😉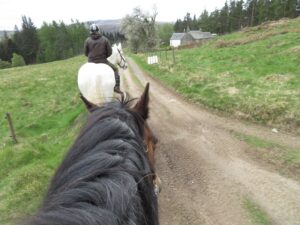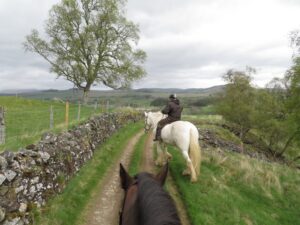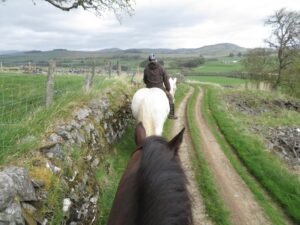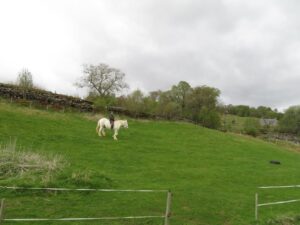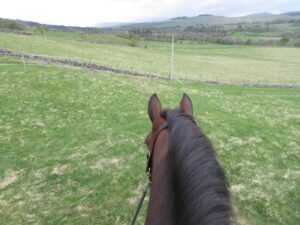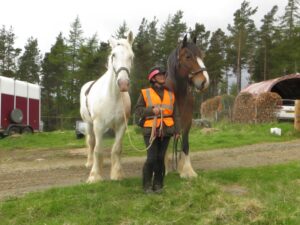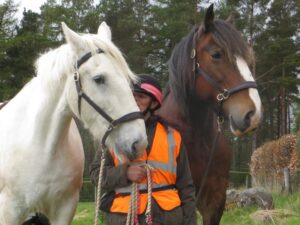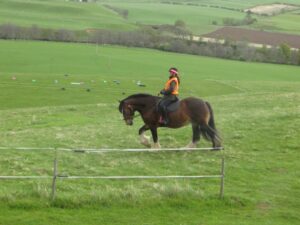 Huge log piles from the trees that fell in Storm Arwen >
< Home 😉
< Back past the log piles..last time we came this way there were huge logging lorries here, think Bella was looking for them today.
< Love the views going back to the field >
< Back in the field >
< Just LOVE these two beauties >
< Start of the way home
Back in the field  >
Thurs 19th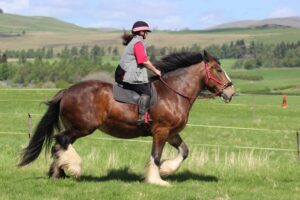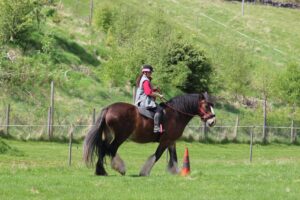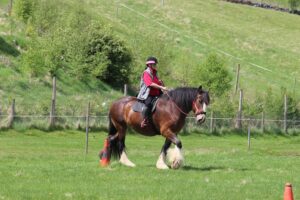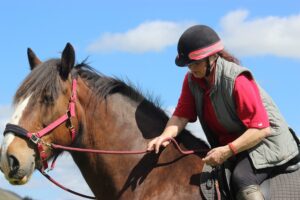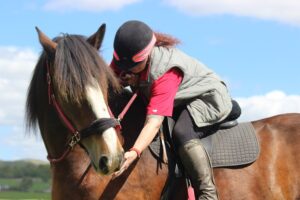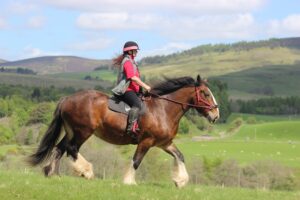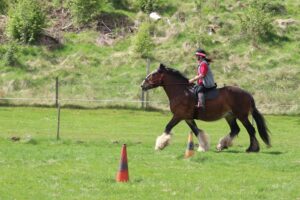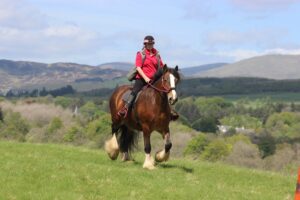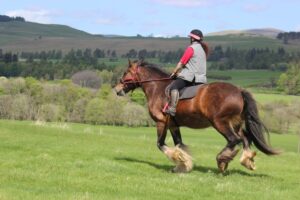 2nd day riding after being away. Yesterday was a bit sticky, our connection not quite back but today was much better and we got to where we were sort of back to where we were before I went away teaching 🙂
Nice loose rein connection around obstacles, started with the regular routine weave and then moved onto being a bit more individual to (1) see how Bella would cope and (2) to keep the lesson fun and focused 😉
Checking our light lateral flexion…a nice herbal treat for such a good girl.
Started on nice walk/trot transitions whilst Riding the Rail (RtR). We had a fabulously slow sittable trot AND her lovely BIG trot which I rise to.
Great big trot will help us both get fitter 😉
And to finish on we did a couple of short canters to bring us back to where we were before I went away 😉 🙂
Fri 20th
Another fab RtR w/Fig 8's day today 😉 Bella was fab with a lovely forward walk, slow and big trots and some more canter work. Really moving on with her training through progressive consistency 😉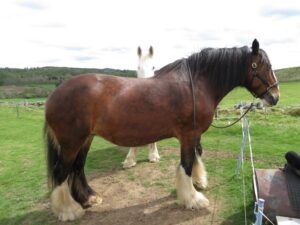 < Groomed, fly sprayed up and ready to rock'n'roll 🙂
Sat 21st
Today we had mild weather with a cool breeze…perfect for a nice wee hack out with Bella, Stormy, Mark and me 😉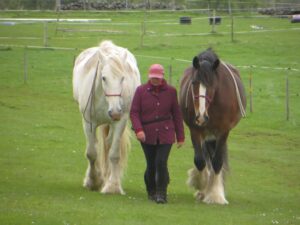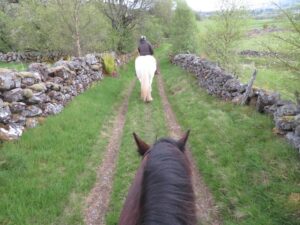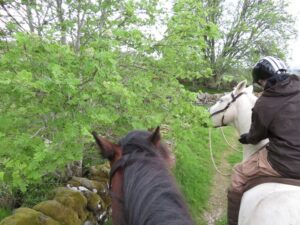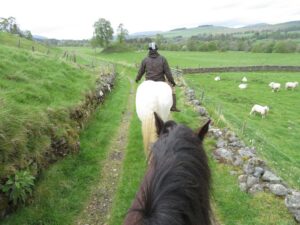 Haltered but ropes over necks they follow me to get groomed.
Off on the track for a hack
Horses love munching along the way, some silver birch, rowan and raspberry leaves today.
Stormy taking some grazing along the way
Bella out in front for a while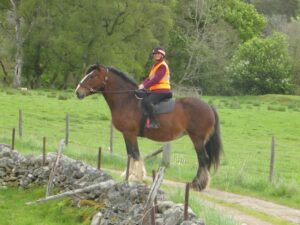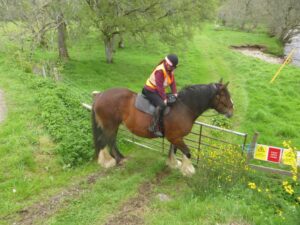 Waiting for Mark and Stormy to catch up, they followed grazing along the way.
I get off to take Bella over the bridge first, Stormy followed closely behind. Been a while since doing this ride so always allow them time to be confident.
Down a tight hill to a gate and Bella sidled up perfectly for me to remount 😉
Back on and ready to go again
Trotted back over the wooden bridge 😉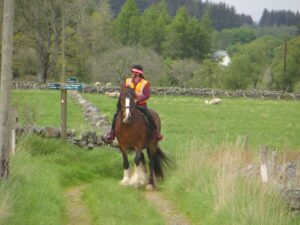 Really lovely to be able to ride this track
Bella and I stop to talk to a local along the way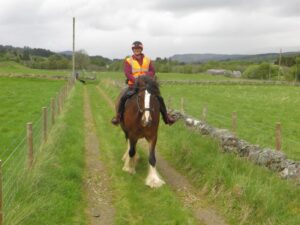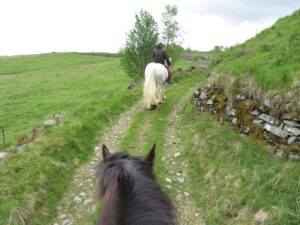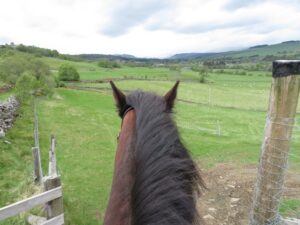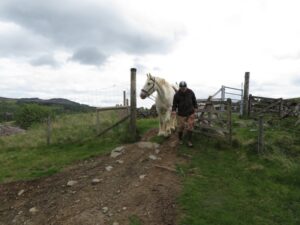 Trotted back to Mark who had waited for me then slowly trek up the last hill to home
Bella at the field gate surveying her kingdom
Mark followed closely behind, closed the gate and took Storm's bridle and pad off to wander down at his leisure 😉
Tues 24th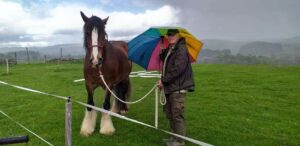 Today we've been trying to dodge rain today and managed to get to the field and groom B&S before the heaven's opened up with HAIL!!! BUT after that stopped I had two very nice sessions with them and the agility obstacles.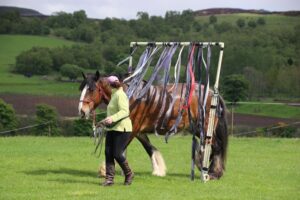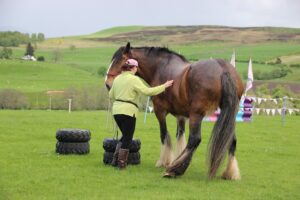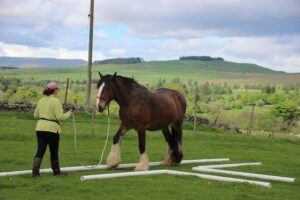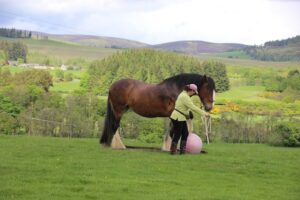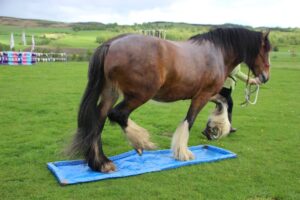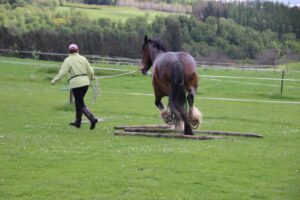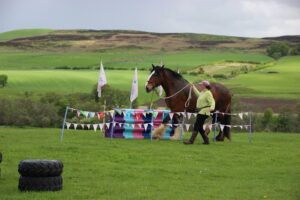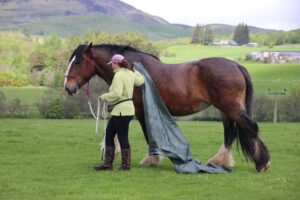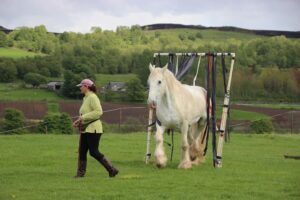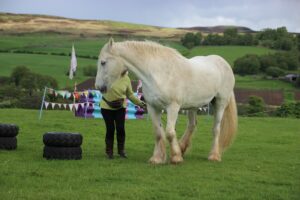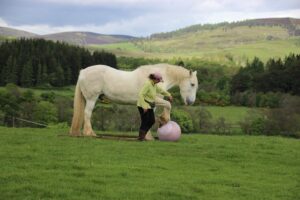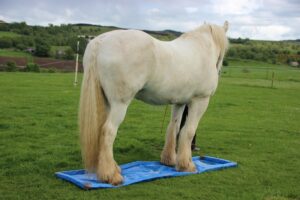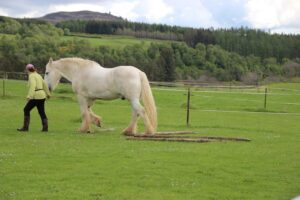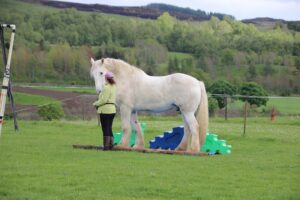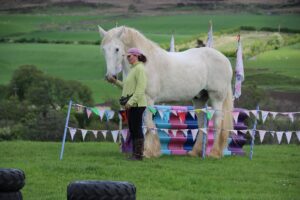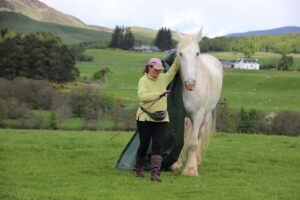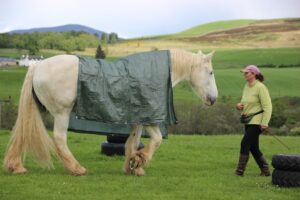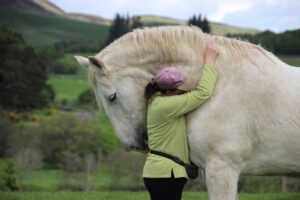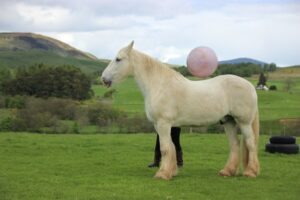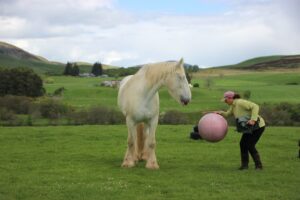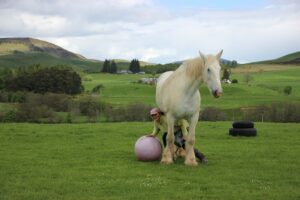 Curtain
Sidepass fig 8
3. Into and back out of 'T' shape
4. Push ball
5. Trot over water tray
6. Trot over corner poles
7. Trot over tarp
8. Trot and halt in bunting/flag lane
9. Drag tarp
10. Walk with tarp over
AND All the same with Stormy but he did it at LIBERTY 🙂 🙂
Storm gives the BESTEST big hugs 😉
Then I played around with the ball a bit…around Stormy bouncing it…
Then the ball over him and bounced off him
Finally both me and the ball under him 🙂 <3
Wed 25th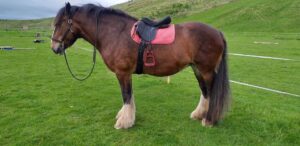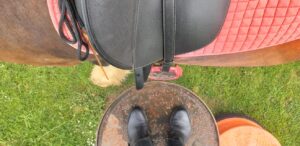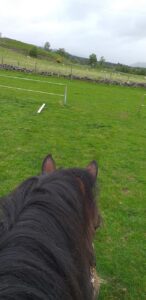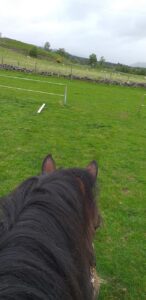 A lot of unsettled rainy days here at the moment SO trying to beat the weather I managed a nice half an hour session with Bella this morning after doing the poo picking 😉 SO
glad I did as just as I was untacking her the skies opened up AGAIN!
Fri 27th
Another lovely session with Bella, Storm and Mark 😉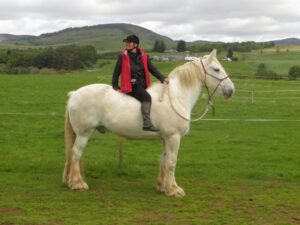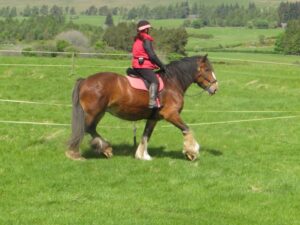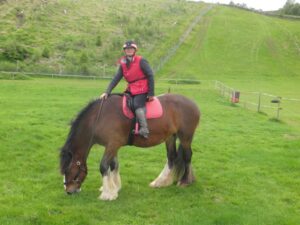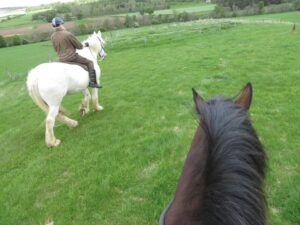 Sun 29th
Oh my gosh….Mark, Storm, Bella and I went out for a wee hack today. Intended to just go to the wooden bridge again and back BUT when we got to the bridge we decided to take a route across a couple of fields that we've seen locals walking. I got off Bella first to keep both our confidence in a strange place but got back on again after finding our way back to one of the village roads we know…but this was Bella's first time on this road. We got so far and she and Storm decided they didn't want to go any further SO I got off, Mark stayed riding.
We got a hundred yards further and past the village graveyard and past a tall hedge when a lovely wee black cob cantered over to his field fence and whinney'd. Stormy strutted over and sniffed noses with it and Bella waited patiently BUT before I knew it another mini Shetland pony galloped over to the fence, I was taken by surprise and Bella reacted very scared and spun around and sidepassed away from it. I don't think she's ever seen such a small fully grown horse and I've known other horses to find mini Shetlands worrying. I took her away from the field, hidden luckily by the big hedge and calmed her down…me too.
I didn't want to have to walk by the field with Bella so scared and not wanting to upset our nice ride we decided to walk around the field opposite the pony one to give us a field away from them and then behind some houses to the village shop…phew! it worked nicely and we had a nice walk along a lane they could nibble on some tree leaves and cow parsley. Although Bella was now and then looking in the pony field direction she was calm and as this was a new track for her to negotiate I stayed walking beside her.
We got to the village shop and the lady there gave us two apples for Bella and Stormy. It was a nice reward and quenched their mouths on what turned out to be quite a long 4 MILE hack out. This is the furthest Bella has been and the longest they've been out on a hack. They were a bit tired and we walked them a bit of the way home but got back on and plodded the rest of the way home. Wow, what a nice ride, eventful but nice to take a slightly different route…but I'll beware of that mini Shetland from now on! LOL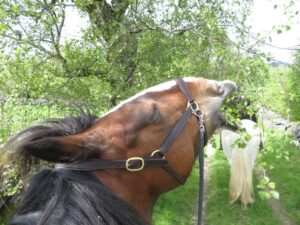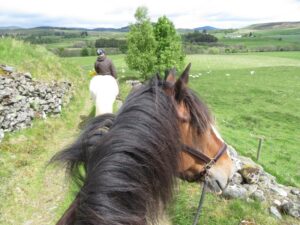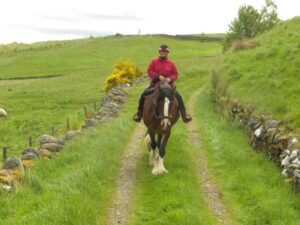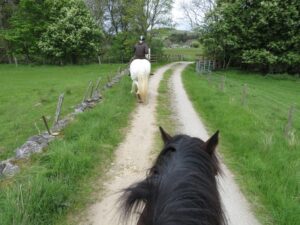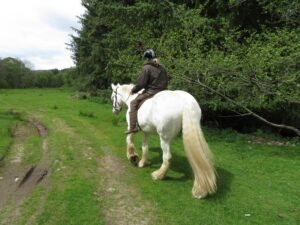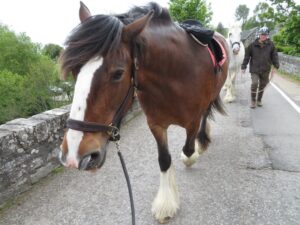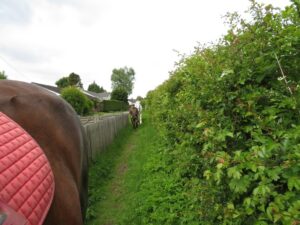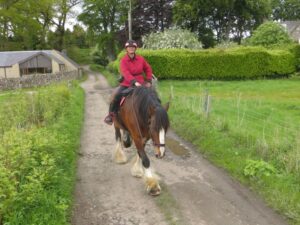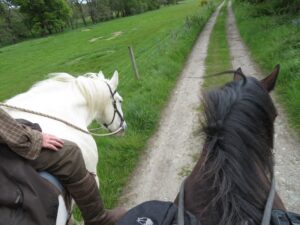 <3 Lovely ride out <3
Tues 31st
Well it's the end of May already and what have we achieved so far this year? Bella has started to be consistent in her 3 main gaits (walk, trot, canter), we've hacked out more and further and done some amazing agility courses in-hand and ridden. June will hopefully be a continuation of getting more stamina for good rides out with more canter work being progressively brought into the mix 😉
Today I trimmed her hooves and then had a nice short ride in the field. We're both still a bit tired from our big ride out the other day so slowly doing more will keep things fresh and not overdo things for either of us 😉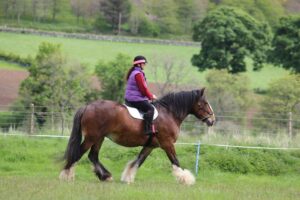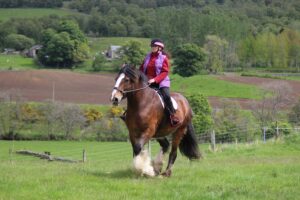 Trot then a few bits of short canter work 🙂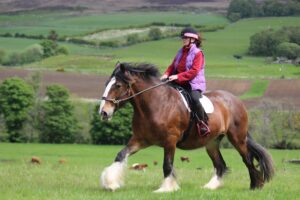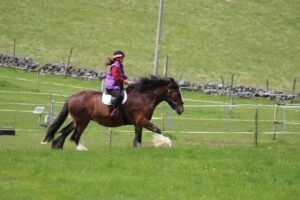 See you in June…yeehaa 🙂