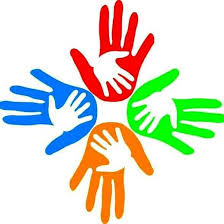 Here is a list of things you can and should try out with your Other Hand, make them part of a routine and get into working with both hands, using both sides of your body and brain. 
Stirring – Coffee, tea, dog/cat/horses feed. Cooking, 
Brushing – Your hair, your teeth, your dog/cat/horse, 
Horse stuff – Brush. Put on saddle or bridle from other side. Put on rugs from other side. Mount to ride from other side. Fill haynets. Carry buckets. Poo pick stable or field. Lead your horse from other side.
Writing & Computers – Computer mouse, using tablet or mobile phone screen. Writing notes or shopping lists. Turning the page on a book, 
Clothing – Putting on your jacket with other arm first. Putting on trousers with other foot first, 
Household skills – Carrying cups and plates. Sitting on sofa with legs tucked under you. Dishing out food onto plates. Washing up. Cleaning windows. Vacuuming. Sweeping a yard. Using a rake in the garden. Dusting or cleaning. 
Arts & Crafts – Painting a wall or a picture. Try sewing, 
And many many other tasks…keep finding things to try out.
Practise makes Progress. The more you try the easier it becomes.