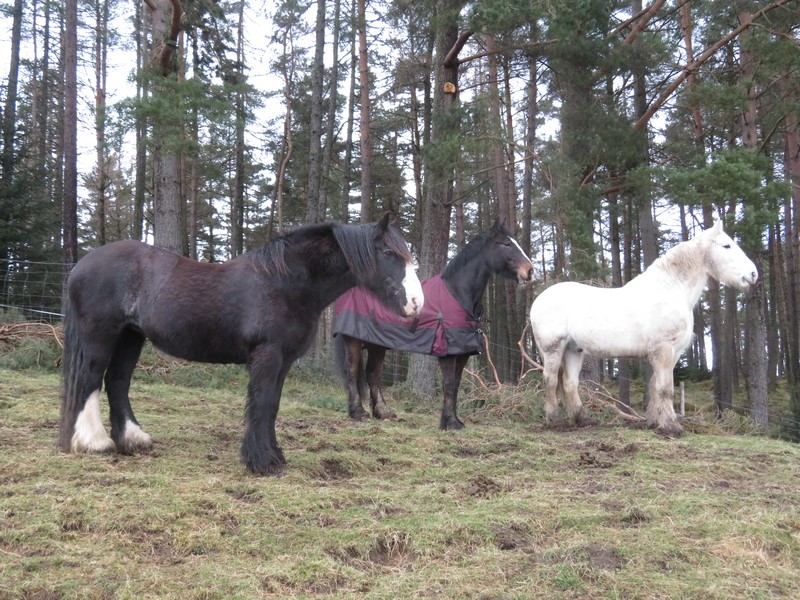 Tues 5th
The weather has been good/bad and on/off for a few days, we never seem to know what it's going to do so are relying on the forecasts from The Met Office and The BBC. Beginning of March supposidly coming in like a Lion so decided on the 5th to bring the herd back to the house in case of snow. If too much snow falls we have trouble getting the mile down the track to feed and tend them so safety first, get the horses back to the house and see what happens.
Sweet Spirit has also had a wee bit of a snotty nose so we brought in our vet and he's taking 5 days of antibiotics (also took bloods and snot swabs to rule out anything nasty). Being at the house we can keep an eye on him and make sure he's cosy and warm.
Because Tara is old now and she really walks slowly we decided that Mark would ride Stormy (bareback) and pony/lead Spirit from him, they have a similar pace and they have bonded really well. Tara and I walked companionably together at her pace (slow) and just enjoyed the walk rather than her having to try to keep up with the boys. It worked out really well and I was so proud of Stormy for stepping up and doing a great ponying job, he's only done it once before in the field, and for Spirit for being a good boy being lead when he's probably never done it before.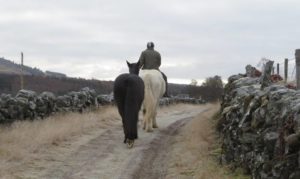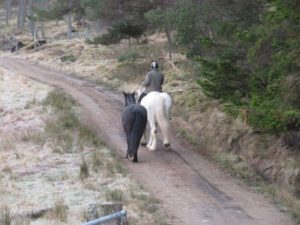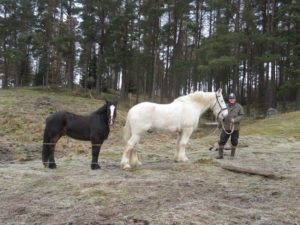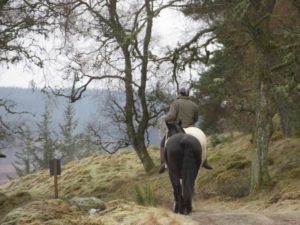 Thurs 7th

Well the weather really isn't being as bad as any of the forecasts are saying, the house paddocks are getting rather muddy and so we decided today to take them back to the big field. There is more old 'grazing' for them, more space, flat space for old Tara and no mud SO Mark takes Storm and Spirit back by riding/leading and Tara and I mosey on back in our own time behind them. Spirit's 'cold' seems to be clearing nicely with the antibiotics  🙂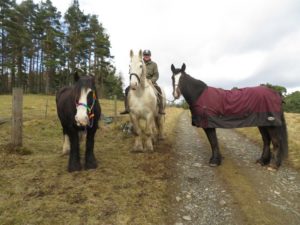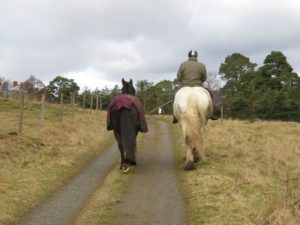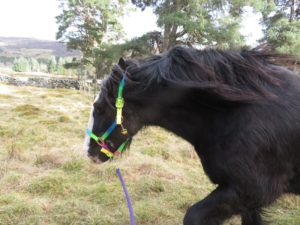 Really nice bit of leading and riding from Mark
Tara with me, taking our time on our walk together
~ ~ ~ ~ ~ ~ ~ 
Back to feed the herd in the late afternoon and found that Spirit's been working on some of his own extreme Familiarisation…flapping broken rug, energy, motion and noise…no problem 😉 lol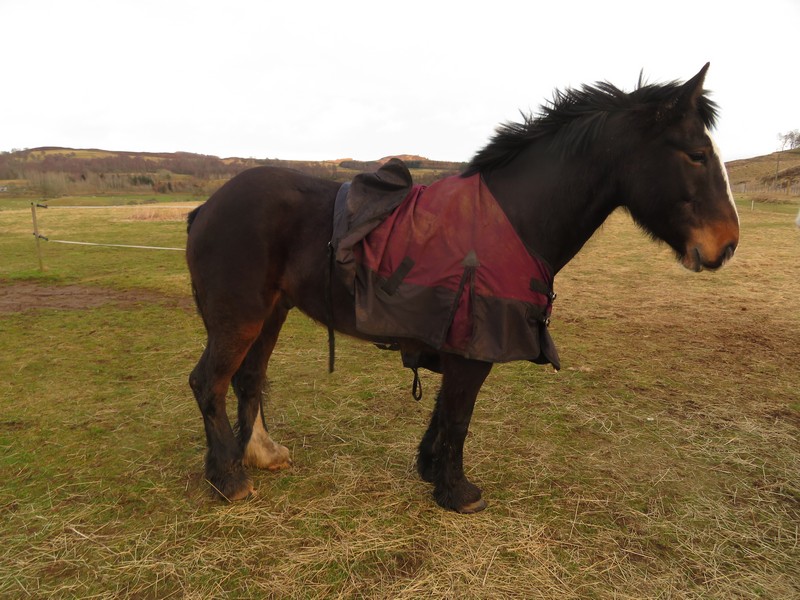 I changed Spirit's rug to his best one as I want to keep him cosy until the bad weather has passed, give him a chance to get rid of his 'cold' fully and because it was so windy we had to put their hay in their 'hay bags' tonight…..so pleased Spirit wasn't fazed by having to eat out of the flapping heavy duty plastic bag…Familiarisation comes in many forms 😉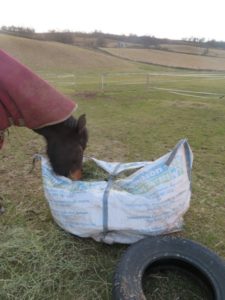 The herd from the top track..Spirit, Stormy and Tara…all with their individual hay sacks, happy, warm, contented and well fed 😉
Thurs 14th
We've had  awful weather this week so no play apart from small bits of draw and drive for a treat at feeding time, moving hq's over to turn, Stick 2 Me walking together to the hay etc. There is always something small we can work on which all helps with our connection.
BUT there was a lull in the bad weather and I took advantage of it by filming Spirit's update on his Lesson 2, you can see it on his video category, "Spirit – Training Video's", scroll down or up a  bit to find the Categories section in the right panel of this blog   >>>>>>>>>>>>
(here is the page if you can't find the Categories section: https://horsesavvy.co.uk/index.php/category/spirit-training-videos/
Mon 18th
A lovely day day weather wise so out to play with Spirit and we managed to film our Lesson 3, it is in the blog category "Spirit – Training Videos" where there is the collection of all our training sessions.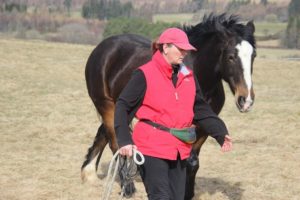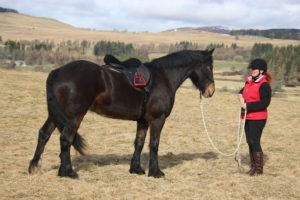 Spirit is learning very well and I'm enjoying being around him and teaching him. We now have seven practise days to do from Lesson 3 but I'm also thinking of doing Lesson 4 as it will be the beginning of his Bitless riding journey which is very exciting… Watch this space 🙂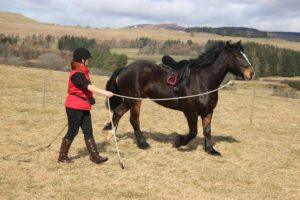 Weds 20th
Another nice day and a good training session. I filmed a Training Tip and also Spirit's Lesson 4 which is the start of his Bitless Riding Journey. Again it is on the right side of this blog, Category are 'Spirit – Training Videos' & 'Training Tip Videos'
Thurs 28th
Today I went out to saddle and ride Spirit to get more of the basic ridden stuff going but instead I ended up putting some agility obstacles out (for Mark to play with the horses whilst I'm away training next week) and low and behold all 3 horses came into the open area to see what I was doing…Stormy also made it quite clear that he wanted to PLAY and play now…here' s some pics from the afternoon of fun we had 🙂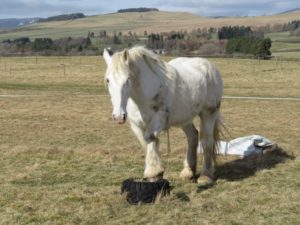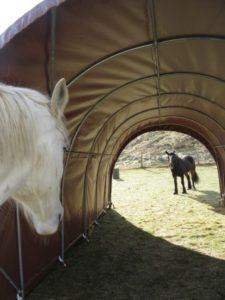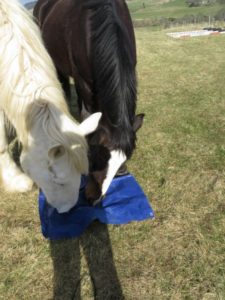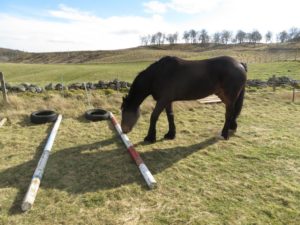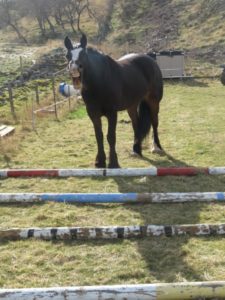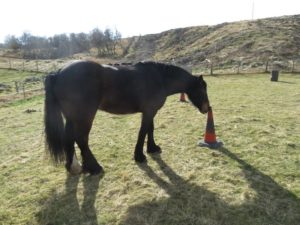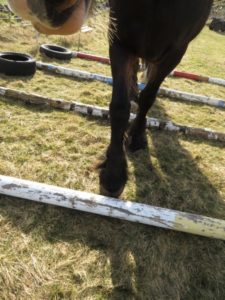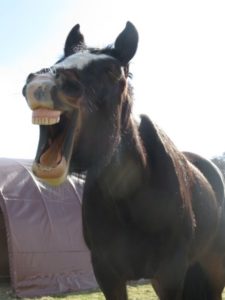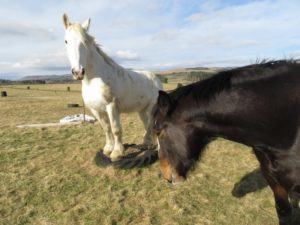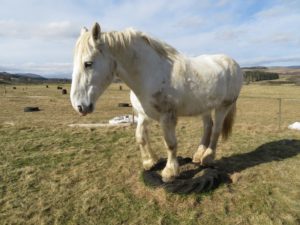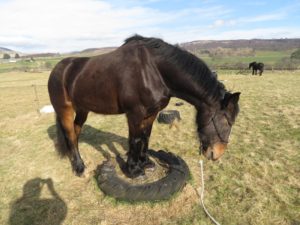 As you can see Spirit was quite happy to go and look at things, sniff them but found it harder to do stuff with them SO that's why at the end I put his halter/rope on to help him find that confidence to go onto the pedestal (his 2nd time…see Lesson 5 video), he's not being bad but almost respecting that he doesn't do something he thinks he shouldn't (unlike Stormy who pushes, pulls, rubs on and bites everything going. lol). Giving him the confidence to play online will help with playing at liberty and also his basic bravery when I ask him to do something with/for me which will create a stronger bond of trust between us. 
The end of the month: We have been practising our lessons regularly and things are really starting to come together. He learns well and is curious and happy to learn but I have to give him a lot of time before it settles into his every day routine and taking that time is well worth it so that he gains techniques, confidence with them and in himself and also it deepens our connection.