I've found, through my own journey as a student and now as an instructor, that breathing is one of the main things I think and talk about. Why, I hear you say? we all breathe so why do I need to talk about breathing? Well, funnily enough, quite often we forget to breathe, especially in a calm, soft, rhythmic way, in all sorts of situations such as:
Concentrating on learning something
Fear of something known coming up
Fear of something unknown coming up
Excitement
Intent focus on one thing
We go introverted and many other reasons.
Horses are very aware of breathing and if we hold our breath for any reason the horse feels this, our body changes from soft to slightly stiff. Holding our breath could be interpreted by a horse as us going introverted, thereby they need to start leading, it could be interpreted also as us in a freeze moment before flight and the horse goes on edge ready to flee with us, whatever the reason holding our breath isn't good. Irregular breathing isn't good either as it doesn't 'flow' well or give harmony to our movements.
What we need to do when around our horses is to remember to breathe, it helps to relax us and our horses and we can start using our breathing as a cue to what we want. To help us do this there is an exercise we can start doing on the ground that will help us to remember to breathe, start doing this as soon as you are confident and comfortable leading your horse around with the Stick 2 Me principle (see S2M article).
1) You at horses neck (or further back as your progress your Stick 2 Me exercise), horse working in a nice confident, rhythmic walk with you.
2) Get in time with your horses front feet, left to left, right to right.
3) Start counting footfalls, 1,2,3,4….1,2,3,4…..1,2,3,4.
4) Breathe in for the count of 4. Breathe out for the count of 4.
Once you start getting a good breath routine of 4 in, 4 out then start trying to relax your lungs and stomach and getting more breaths in/out without changing the rhythm of your footfalls. You will hopefully find that you can count to 5 in, 5 out very quickly, then 6 in, 6 out and onwards. See how far you can count BUT don't forget to play Stick 2 Me with your horse and walk lots of patterns to keep him/her interested. Don't become TOO focused on your breathing and forget other things. It may be good to start practising counting breaths whilst just walking without your horse, maybe while walking your dog or walking down the road. If you find you are forgetting to breathe a lot then maybe sing or whistle as you have to breath regularly to do these.
Start teaching stop/start cues with breathing. From halt to walk breathe in and bring your lungs/chest upwards and forwards for a walk on cue. Big Breathe out (make a noise like blowing out birthday candles) and bring your lungs/chest down for a halt.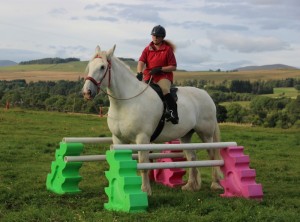 Big breath out to halt, using obstacles to refine this to perfection
Once you have the stop/start cues then you can start refining this to where you can breathe out slightly and continue breathing at that level for a transition down without a stop. Each horse/human finds their own levels of breathing in/out that they respond to so you must practice and find what works for your horse and you to become more in harmony. Just remember breathe out for slower/stopa nd breathe in for walk/trot/canter on.
Also remember to breathe and count steps when riding, this can really help you and your horse to relax, especially when doing  lateral moves or a dressage test and if you are doing a jumping course you will find you and your horse relax if you can teach yourself to remember to breathe OUT when going over the jump.
Again, as with all the exercises and principles I've written about, once you have thought about them, practised them and incorporated them into your way with your horse it becomes instinctive and only when you go somewhere new, or something unexpected happens, do you have to remember to breathe, and you can go straight to counting breaths to bring about relaxation again. All the principles can be refined and refined and refined again…remember, we're aiming for 'Invisible Horsemanship'