WOW…the last session of Unit 2, the time has gone quickly and because the weather has been dry and not too cold I've been able to get out with Solly regularly. It's really helping to keep our progress moving along nicely. Here is today's session 😉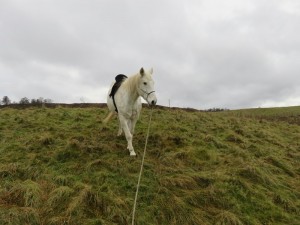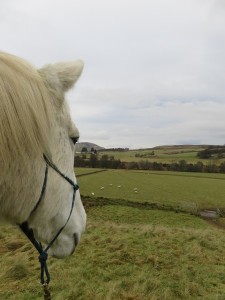 There were some new CZ area's  pushed today…
(1) being on our own
(2) walking whole lower field
(3) ride on own
(4) ride up hill back to main field
…oh golly gosh BUT have visualised this in my head since yesterday and know my strategies and my path SO….off we go.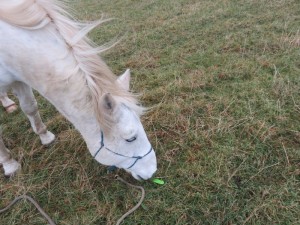 Into the flat lower field okay and walked around the periphery using some circling, cods, half circles on the move and also with Solly just following me or walking along side at a distance.
We even found some 'rubbish' that he was brave enough to 'touch' and which I put aside to collect later when going home.
Things went very well so at the gateway I asked Solly to sidle to the gate and I got on. We had a moment where we lost communication and he started going backwards but I just breathed out, sat deeper and asked for forward and all was well.  We worked on the same things as yesterday, approach/retreat to the gate using fig 8's and making sure each time out from the gate we made the fig 8 circles wider and this time to make them wider we put in a few nice leg yields. This helped prove to me that we were connected, Solly was listening and that I was calm enough to think too.
I was in two mind as to whether to get off and walk back to the horses field but had visualised riding up the hill back to the field so I stayed determined and went over the  bridge (wood/slippery…eek) which went okay and asked Sol to climb the hill. He decided it would be easier to trot (hard ground/slippery…eek) so I said to him out loud, 'thank you for that but walk is okay here' and as I breathed out he obliged by going down into walk.
As we got to the t
op of the hill we saw Stormy and Tara waiting by the gate for our return and both Solly and I breathed out and relaxed more. We got to the gate and I thought about doing a bit more but in the back of my brain was the niggle that I must always stop on a good note and don't try 'just one more' because often that is when something silly or a breakdown in connection happens….just stop where you visualised and said you were going to stop…SO we did and I dismounted.
I didn't realised how much this was going to affect me because it's something we just haven't done for ages and as I stood and hugged Solly I was shaking through relief of doing it. Trauma is a worrying thing and it felt good later on to know I'd done it but I still need to do it consistently so that it doesn't affect me like this again, so onwards I continue with our consistency CZT.