You may have heard about 'Comfort Zones' and to get out of your own to progress, this is true but there is also more to it. To progress you need to step out of your comfort zone but if you step too far you may get worried, out of your depth or plain put off going there again SO here is a quick outline of how to progress without going too far.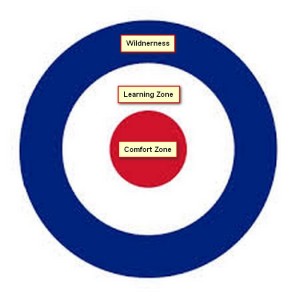 Here is a good image of your comfort zone, it has the learning zone just outside and the wilderness on the outer edge.
To learn anything you need to step out of and back into your comfort zone to the learning zone. Doing  this often  can help build your knowledge through consistency but you don't want to go too far through that section or you could find yourself in the wilderness zone where you could end up lost and too scared to go out of your comfort zone again, sometimes for a while and sometimes forever, so just keep dipping in and out of the learning section.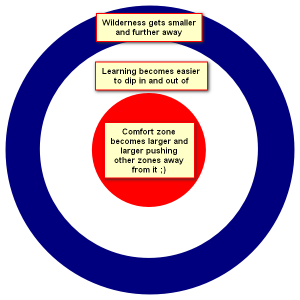 By stepping in and out of your comfort zone you will increase your confidence  and build a solid foundation of knowledge which will increase the size of your comfort zone. This then takes the learning zone further out so you have to go further for that but it also takes the wilderness zone miles away too.
I call this approach and retreat with learning, keeping your CZ safe. It's accumulative learning and works not just for us but for our horses too. Approach and retreat with scary objects, new learning and building confidence and knowledge at our and our horses own rate keeps things safe and calm and good learning can only happen when those are in place.
SO…keep your Comfort Zone safe but don't forget to dip into the Learning Zone to PROGRESS 🙂