February has been very cold up here with lots of rain and wind so not much playing going on but when I can I've been doing little bits of practise with Spirit in the field at liberty, things like asking for backup before putting his feed  bowl down, moving his hq's around when he's eating his hay, drawing him to me to get his apple treat and following me with transitions going to new hay piles. He's slowly understanding things which is lovely to see.
When we finally get some sunny days they are glorious and the horses take time out to rest together.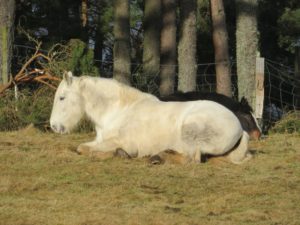 Spirit almost hidden sleeping behind Stormy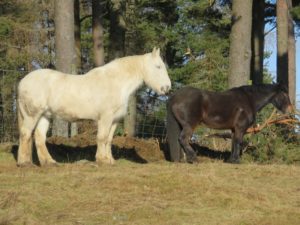 Another afternoon the boys sleep standing up really close together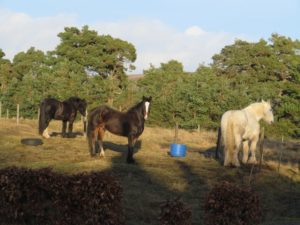 Spirit is always the first to look up with his cheeky face
Sunday 10th
Today was a really lovely sunny day so I took Spirit for a little walk to catch up on some practise on the games we already know. He's getting easier to connect with but it's not a deep connection yet. Here's how the games are going:
Familiarisation: very good with stick/string, rope over his back and today I took the rope around his rump and he did a 'simple spin' very nicely.
Feel: Moving his forehand and hindquarters over is getting lighter now and he is starting to step under himself more thereby stretching and flexing his pelvis and hips more. Backing him up off the halter is light and he understands the verbal cue much more now too. Right at the end of the session I tried out some sidepass off a hand cue at the girth and he took a second but got it pretty well on both sides.
Focus: Moving his forehand and hindquarters is very easy now, he will even change sides with the cue of my stick/string moving the energy by his shoulder when he's behind me, he's not worried by the stick/string and understands to move over in a calm manner……I think Stormy's been teaching  him well 🙂 He is understanding more about giving me a half circle which is further away from my feet and waiting and going through gateways is really lovely now.
I've also asked him again about crossing the small stream on our walks out. Today he figured out that he could do a small jump across a narrow section (the stream is lower than ground level and almost invisible to see in some places), he has not figured out how to step down into the stream to cross it at the place I walk but that will come when he has confidence in me more, jumping it is always an easier choice as it keeps his feet safe.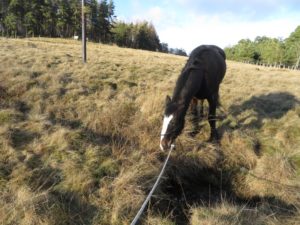 He lowers his head to see if the stream is safe to cross….easier to jump than to walk down into it and up the other side at the moment.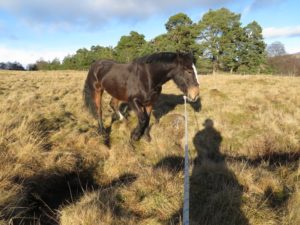 Spirit looks on the other side of the gap too, this is where he did a wee jump over it and then back again so successful river crossing today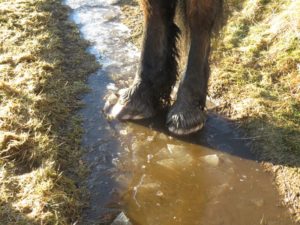 To help with me asking Spirit to move into and over things we have a bit of fun with an icy puddle….back feet into it no problem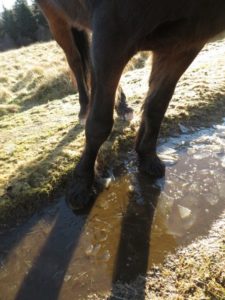 And front feet into it too after a small conversation about it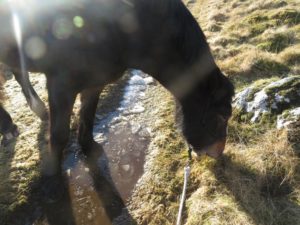 It always helps when there is grass to graze for a reward 🙂
Monday 11th
Another good day weather wise so out with Spirit after doing horsey chores. We walked further away from the paddocks and other horses today and we also spent quite a long time at the stream where eventually Spirit managed to not only jump a narrow bit with more confidence but also bravely went down into the stream and jumped out which is a big improvement of his confidence in me today. Hopefully over the next few days he will be able to just follow me down and out of the stream and then go into it on his own with a half circle game like I use for going through gateways. For today I'm very pleased with our progress to connect and communicate.
Testing the ground for going into the stream rather than jumping it
I spent a lot of time just standing and talking to him, walking in and out of the stream the way I wanted him to do it so he could see it was safe and then gently asking him to try walking into/out of it which he eventually did a couple of time but need it done more calmly next time.
We stopped on a good note and played games going back to the field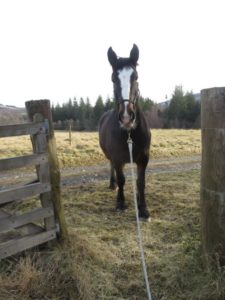 Spirit is really good at waiting for me to open both the paddock gates now on a voice cue before he moves through them on my request with a half circle squeeze and dhq's halt to face me while I close the gates safely behind us 😉
Wednesday 13th
Well today was a bit hard….we had some sheep wandering around the track but the horses could only see the slightest part of their backs passing their top field AND WIND!!! Spirit was paying more attention to what Stormy was doing than with me so a trying training session.
I had taken him out of the field and did a nice bit of walking to the furthest gateway, around on the long grassy bit and wanted to ask him to try the stream again…so far so good, nice bit of walk out and new bit walked 
 BUT Stormy decided this was the point the sheep were worrying and was moving Tara about…Spirit spotted it immediately and his head went right up (and that's a long way up with a Friesian!!) and he got a ewe neck and was SOLID…I tried asking for his head down, for him to acknowledge me and release some tension but he was like a rock….eyes and all SO I asked him to take one step back, crossed the stream and then asked him to gently jump it so that we could go back to where he needed to be…by Stormy and Tara. PHEW…he pushed on me a LOT…not dangerous per se but enough to make me have to connect with his inside shoulder to ask it to move out of my space. The closer we got to S&T the more he realised he was being asked something by me!
Once back in the field I decided to keep working on some relaxation and concentration on me and what I was asking from him. Still a bit high headed and pushing a LOT into my space I stuck with it until he was softer and paying attention to ME. phew, worn out from the concentration myself! lol
I first started asking him to do a nice half circle over a pole, it brought up his pushy shoulder more so we worked on that a bit more, asking him to keep his neck more to the inside and not allowing him to take his head away thereby pushing his shoulder into me. I then asked him to take that half circle into a full circle keeping an eye on what his 'shape' was doing, was his head inside, was his shoulder away, was he far enough away from me, was he relaxing or tensing up, was his head high or getting lower?
I then asked him to concentrate on walking over the pole with just his front feet and backing off (draw & drive) which he did nicely so I could tell he was listening to me more.
The obstacle wasn't the task really, the object was to use the games to help him learn to relax in a stressed situation, to listen to me, to trust me and to know what my 'ground rules' are.
My basic ground rules are:
1) Don't run me over (don't push into my space from the front or side)
2) Listen when I ask (so at least try if you can for me)
3) Keep an eye on me (keep your shoulder out of my space and circle with an arc in your body around me)
4) Learn to relax and listen when I'm talking to you (concentrate and connect)
5) Learn to trust me (this will take time and for me to keep working at his friendship/trust) 
😉
Once he did the pole nicely I let him off and walked down the track moving the sheep out of the way, back to their field (there's a hole in the stone wall!!). I then went back and caught Spirit and walked him up/down the track as far as he could go, when he stopped with head up I backed him up and approached a bit or turned his hq's and walked back to the paddock gate, rested then re-approached. We got quite far and I praised him for his effort and popped him back in the field. I then took Tara out and showed the boys how it's done, calmly, quietly and without hesitation, she and I went past the paddock and had some peaceful grazing, much to the boys annoyance! LOL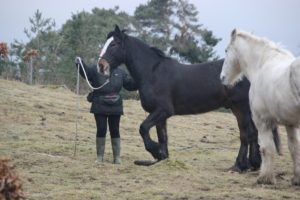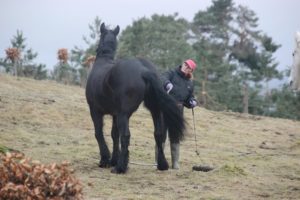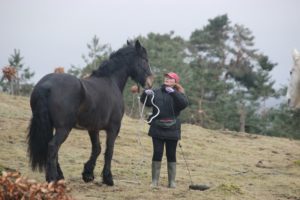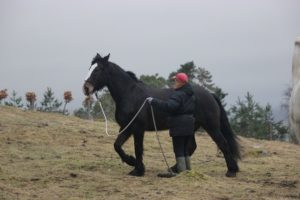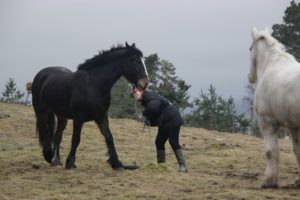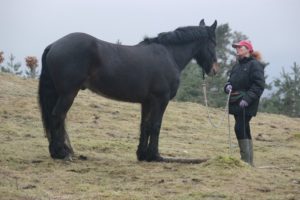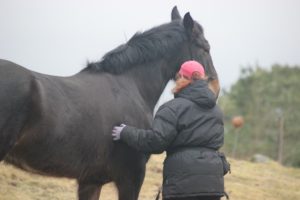 Saturday 16th
Really loving how the herd is coming together more and more