Weds 1st Aug
Working away at the first lesson games, today we worked with poles too so that she can see what the games are for. Here is how things are going….
1. More steps happening now
2. Lighter cues
3. Games working around obstacles
4. Upping energy and noise with familiarisation of stick/string
5. Understanding 'stay' after backing up
6. Back up wiggle is slowly getting lighter
7. Moving forehand is getting there
8. S2M is going well and she's slowly allowing me in her right more
Sat 4th Aug
Well today we worked on playing some games with POLES and also playing them whilst Mark rode Stormy away from us. Bella was a star, she kept an eye on where Storm went but was able to connect to me and play nicely too which is great. The pole work we have started on is:
walk over 4 trot poles without hitting them
walk over one pole just front feet and halt
back up off pole with front feet
We tried backing up over pole with back feet but she really doesn't get this…yet 🙂
I also did a huge amount of Familiarisation with our bareback pad, girthed it up and then played some games with her wearing it….it went very well, very pleased with her progress today, here's some pics from the bareback session….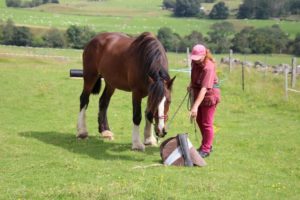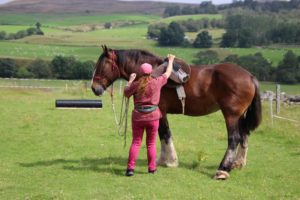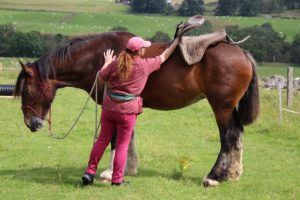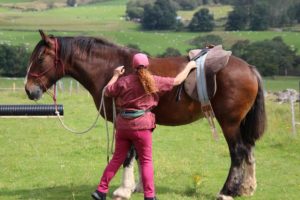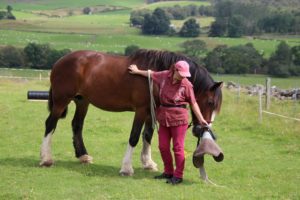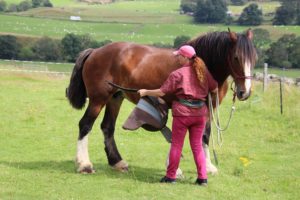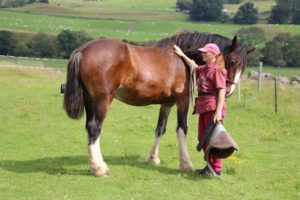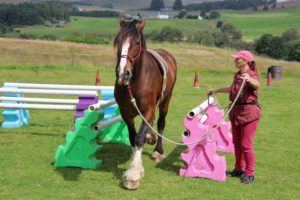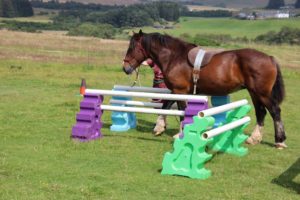 Tues 6th Aug
I've been continuing with the basic HS NH games over the last few days with Bella, introduced some half circle trot with calmness and also some Feel sidepass moves L&R which I was very surprised with how well that went. She's getting used to me being on her right more and I've also started asking her to lower her head with some 'manic butterfly' focus games building that more and more so that her face familiarisation is getting better. She can raise her head as if startled when a hand comes near her which isn't bad but I want her to be fine with hands near her face and to learn to lower her head instead of raising it and she is learning that lowering her head is good, brings about relaxation and that the worrying thing goes away when head is down…this also helps relieve her of any unnecessary negative adrenaline (-E) being around and so she falls in love with relaxation/head down and the endorphins it produces, just like the endorphins that are produced when grazing.
Today we also did more familiarisation with things on her back…..a sweat rug and a saddle with pad. I'm not sure at all if she's ever had these things on her or if she has whether it's been a positive experience BUT she took to both nicely and am going to build up time with these and a bareback pad and treat her as if she's a youngster being backed for the first time…better to be safe than sorry, for her and for me 🙂
Thurs 8th Aug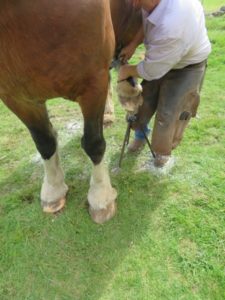 More Familiarisation for Bella today with a visit from the farrier.
She did very well but we realise she's not had this done as often as she should have and was feeling a wee bit unstable at times, even though farrier was quick, calm and kind and gave her LOTS of scratches.
SO…our job is to put her foot up on a stand every day for longer and longer periods, to make sure she feels happy and secure with her foot in the back and forward positions ready for her next trim.
Fri 9th Aug
Well the heavens have truly opened up today and Storm and Bella were getting soaked SO it was a great opportunity to Familiarise her to a rug. She was a bit sceptical but took it well, she was ok walking around in it and still happily in it a few hours later when we took it off as the rain stopped. By winter she'll be used to one no problem 🙂
Sun 11th Aug
Its been raining on and off for days and its been hard to try to get out with Bella and Storm for any length of time SO today when I went out to feed them their dinner at 5 o'clock and it was still drizzling I decided to put together a new Agility course and it was lovely that both of them came over to see what I was up to…a great start to a short play session I thought 🙂
First was a really nice liberty play with Storm, it is lovely for Bella to see me playing with him, he's so confident and calm with all the obstacles that it gives her confidence. Bella's online session was very good but it showed in our familiarisation with the stick and string over her back that I'd not done it for a while…..we need to have much more consistency doing this so really hoping the weather behaves itself soon. Here's some pics from today…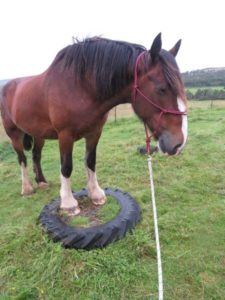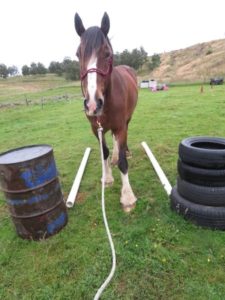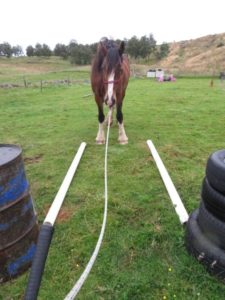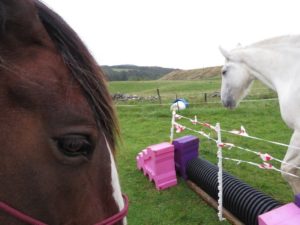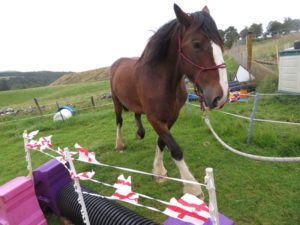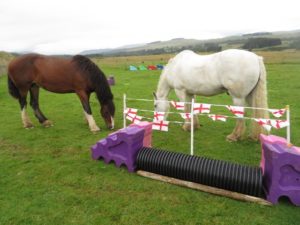 Mon 12th Aug
Today we had some nice weather during the day so Mark and I got ourselves together and out to Storm and Bella for some fun. I started out grooming Bella and then playing with the Agility obstacles online. She did really well and is starting to really understand my cues now…and my cues are able to get lighter now too 🙂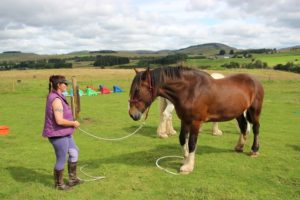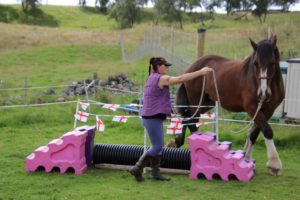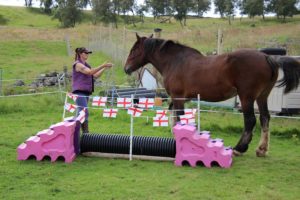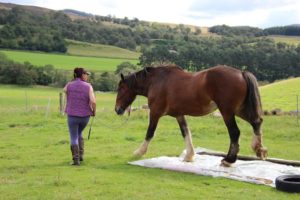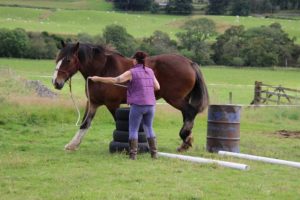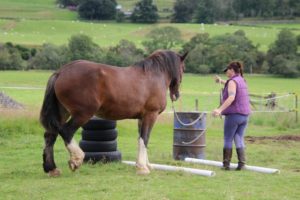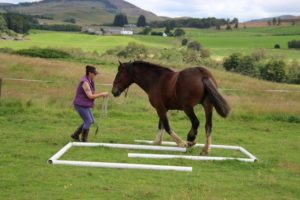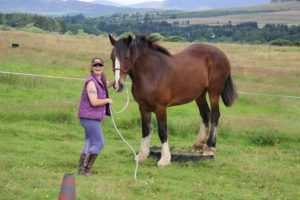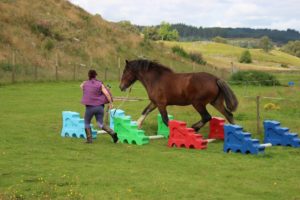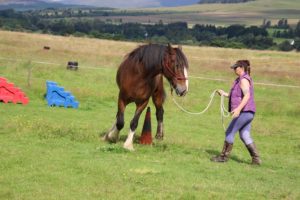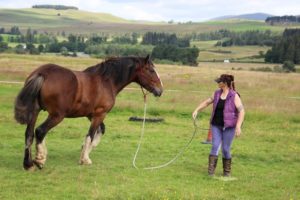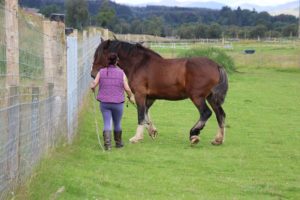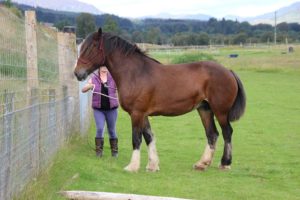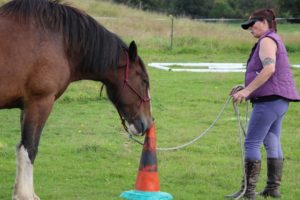 < Foot in hulahoop
Bunting lane >
< Draw through bunting
Bunting backup >
< Over tarp
Over tarp >
< Fig 8's
Fig 8's >
< Labyrinth
Labyrinth >
< 2 feet easily on ped
Back feet on ped >
< Trot poles
Trot poles >
< Fig 8's
Weave >
< Circles
Beginning sidepass >
< Sidepass
Touch it…>
It was a lovely session of Agility. We also walked in-hand up the field and hill while Mark rode Big stormy. She was calm, attentive and responsive to my breathing transitions, backing up off a light cue on the halter/rope and didn't worry or try to catch Stormy up no matter what gait he did or where he was in the field 🙂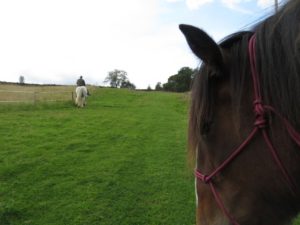 And in between Bella showed she can have a yeehaa when she doesn't understand something….but what a lovely yeehaa she had, engaged in her core and not in a nasty way at all…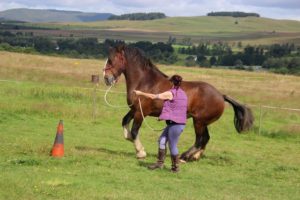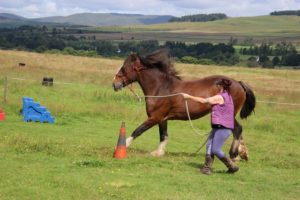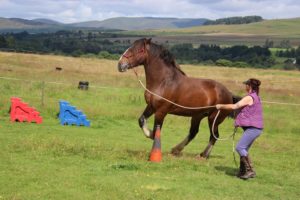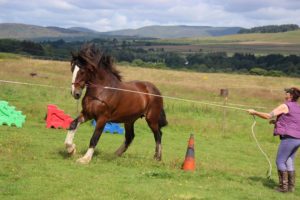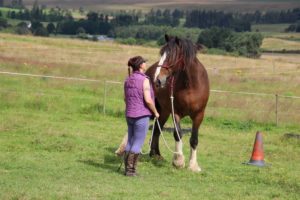 And last, but not least, we had a lovely calm session at the mounting block…here, most of all, I'm looking for her to find relaxation with me here. I will do this more and more and ask her to rest with me at the block…our 'sweet spot' 🙂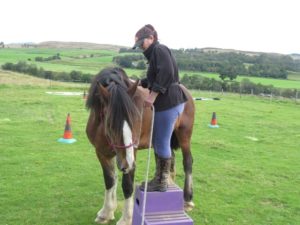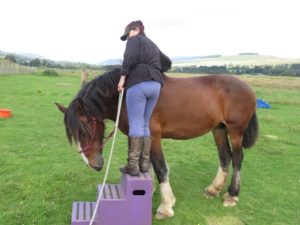 What a nice day, great that the weather allowed me to catch up on Bella's training today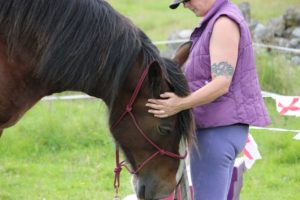 The 13th Aug
Bella and I need to do more undemanding time so thought we'd try to do more today. We went into a round pen for some 'together time' but I didn't realise how bonded Storm and Bella have become because as soon as Mark started riding Stormy round and about her total attention was on him and where he was! how interesting! LOL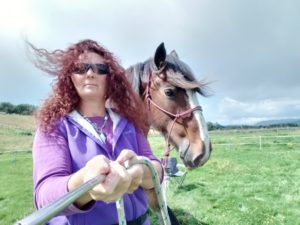 < distracted Bella
took 20 mins she lowered her head >
< Bella watching Storm's every move
Mark and Storm >
I think I need to do our 'undemanding time' when Storm is close by next time! LOL
Weds 14th Aug
Today I thought about trying some 'hanging out time' with Bella as tomorrow I'm away to teach a clinic in Dumfries & Galloway for 5 days SO it's time for some hugs 🙂 We started off at liberty in the round pen with me sitting in the centre but she just started grazing as there is quite a bit of grass in it SO…..I took her out on line and stood on the crate to give her some hugs and get her used to me being at her saddle area, on both sides. She was quiet and attentive and I loved our quiet time together today….must do more of it 🙂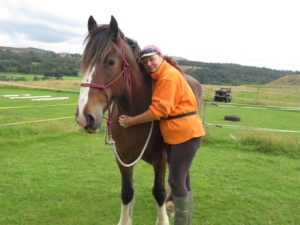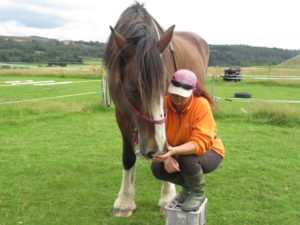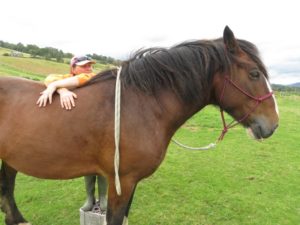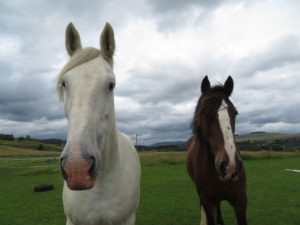 The Dynamic Duo
Weds 21 Aug
I've been away teaching over the weekend so today was my first day back with the herd, 6 days without any contact. Bella yesterday at dinner was sceptical if me like when she first came but it only took 5 mins to be back in her 'bubble' so today was as if I'd not been away 🙂
We started off with a bit of play in the agility area but with a bareback pad on, I need her to get used to moving with it on her back and a girth around her ribs.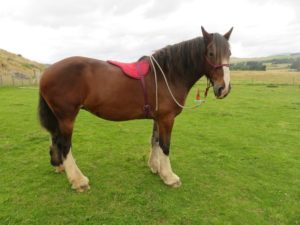 We also made sure her new 7′ rug fits well…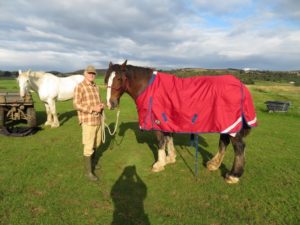 Both the pad and rug are familiarisation games which she took too well 🙂
Next Mark went out and rode Storm in the long grass of the field and Bella and I went and walked and played in that area too… She has not been out here yet so it was interesting to see if she was ok, which she was and we had a nice time.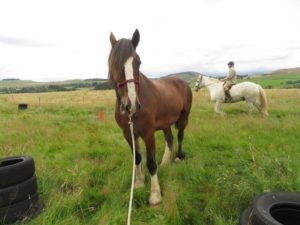 Fri 23rd Aug
Today Mark played with Bella, their first official play session together. She wasn't sure what was going on as Mark is the food man and I'm the play girl so at first, at liberty, she was a bit unsure of it all, but online she understood and they had a good, calm, quiet session which included half circles in a relaxed walk over the pole corridor, through the labyrinth, behind the flapping bunting which had a raised pole nearby, onto a pedestal and over the noisy tarp.
< pedestal
Relaxed 1/2 circle over pole corridor >
Weds 28th Aug
Today we had a couple of firsts but before that we did some nice S2M, circles, fig 8's and weave in the grassy part of our field, this is not where the horses graze regularly but our winter grazing section so Stormy is used to being out there being ridden but it's only Bella's 2nd time.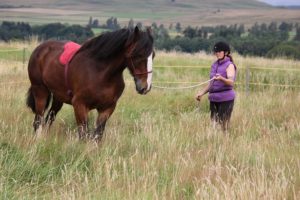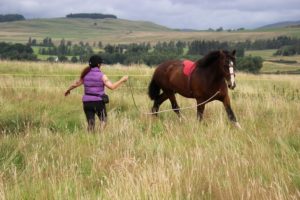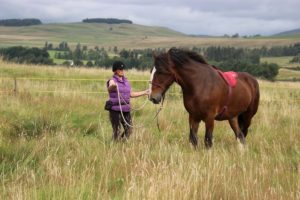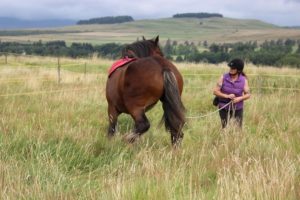 < Circles >
< More shape through circles >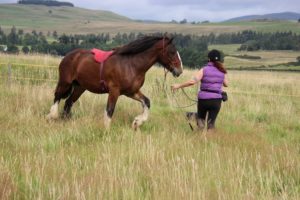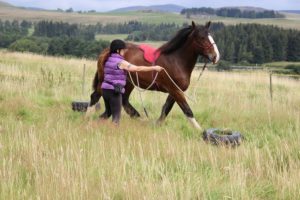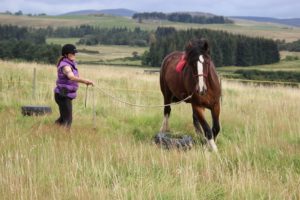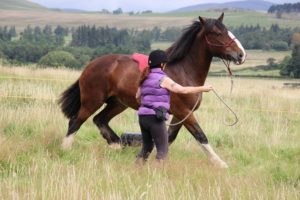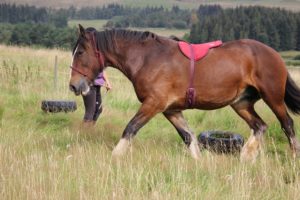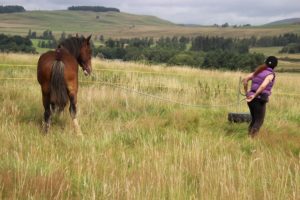 < Fig 8's >
< Fig 8's >
< Fig 8's
Circles >
We also had a FIRST with the start of flag familiarisation, I'll need to do a lot more to help her relax around it but it was a good start today 🙂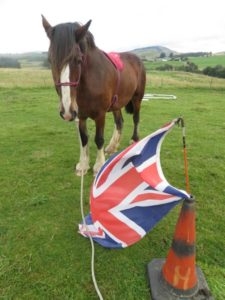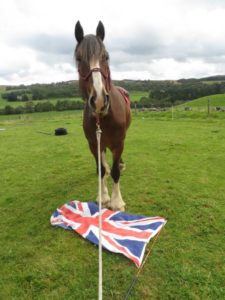 The 2nd FIRST today was teaching Bella to learn how to jump, nothing big but for her to learn how to get her weight onto her hq's and lighten her forehand to get over it and work her fronts and back legs together.
Final try jumping which worked out nicely
AND the last FIRST we did today was for me to put my weight fully on her back 😉 So pleased with her 😉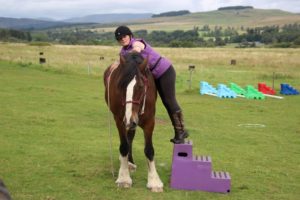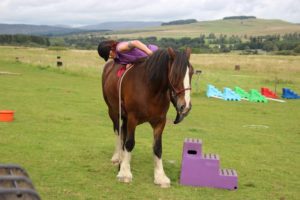 YEEHAA 🙂
Thurs 29th Aug
Today I played with Bella after her dinner because it had been drizzly all day up to then and I didn't want to miss the opportunity of a play session with her. We got some nice relaxed S2M over the poles with halt transitions on a breath out and the pole under her belly, we also got some nice half circles through the poles and some fig 8's around the tyres 🙂
Pole Transitions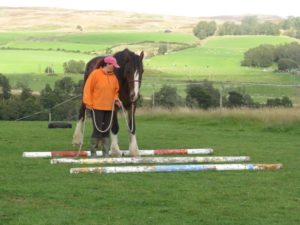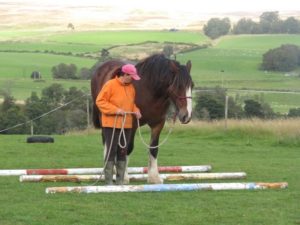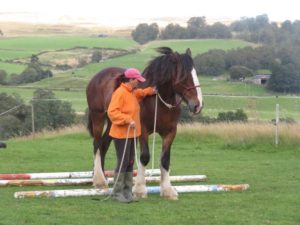 Half Circles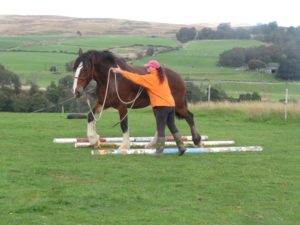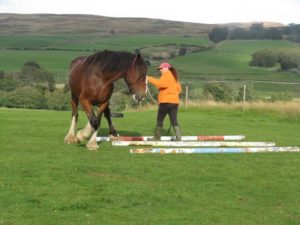 Fig 8's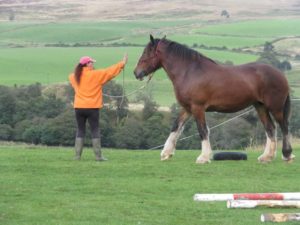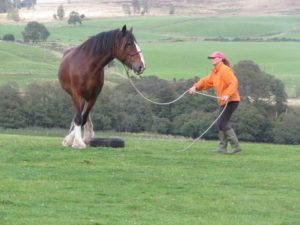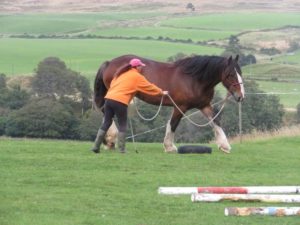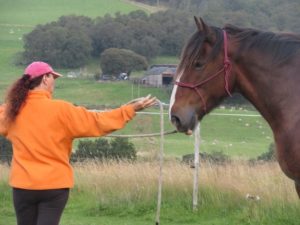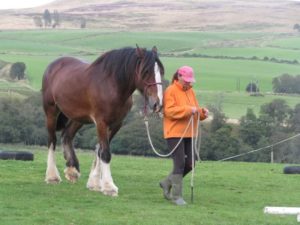 < Getting our Connection
Following me >
Friday 30th Aug
Today it wouldn't stop drizzing so we decided to try to keep the consistency of a bit of daily play…the rain started becoming heavier as we were playing but I didn't stop and ended on a good note. Today we did some regular games that she is getting used to but also put in some flag play which is new to her. I've helped this play by putting up a couple of flags in the field so that she can get used to their movement and noise 24/7 and as Stormy isn't worried by them he can help her become familiarised to them….AND because it was raining we also did the beginning of umbrella familiarisation, again with Stormy showing her how to be ok with it 🙂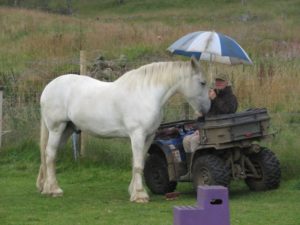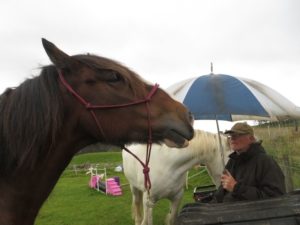 < Storm keeping dry
Bella learning from Storm >
< More familiarisation needed for tossing rope over head >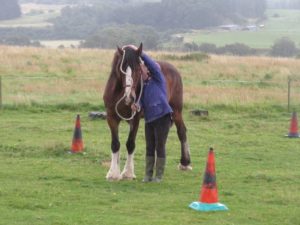 < Helping Bella learn familiarisation of the rope so we can do a spin later on >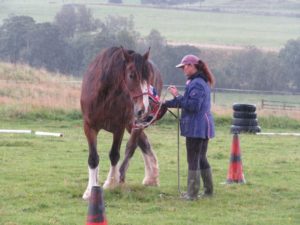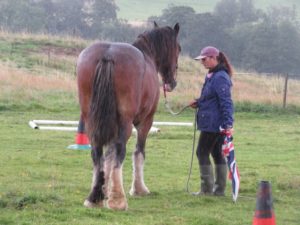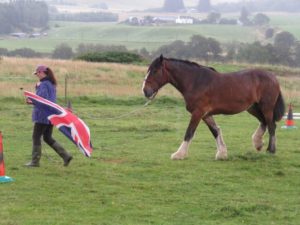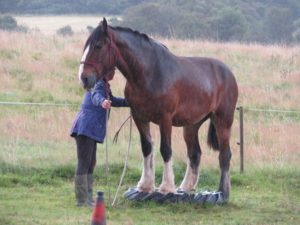 < Circling to the left
Circling to the right >
< Familiarisation with flag…she isn't sure of it on her body yet >
< slowly getting there with the flag, she's starting to learn that it goes away when she halts >
< following the flag goes well >
< flag familiarisation and she's finding some curiosity >
< Flag curiosity >
< Feet familiarisation with the pedestal, only 2 feet so far but working on all 4 as we go
2 feet in hulahoop >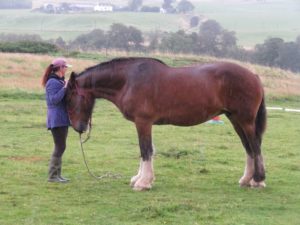 A couple of moments of bonding between games 😉
Sat 31st Aug
LOTS of heavy rain this morning but we managed to get out and play with Bella in the afternoon between showers and I'm so glad we did, we filmed her 2nd Lesson which shows her progress nicely and the video is up on the blog category 'Bella's Lesson Video's' 😉