Fri 6th Dec
Today Mark took the horses back to the big field, hopefully they will have 2-3 weeks more there before returning to the house paddocks for the rest of Winter. Mark rode Stormy bareback and lead Bella from him. They both were fabulous, calm, well behaved and happy to be returning to the space of the big field where they can stretch their legs, get exercise going up/down the hill for water and have more old grazing before it's hay and snow for a while.
Mark riding down the track with our beauties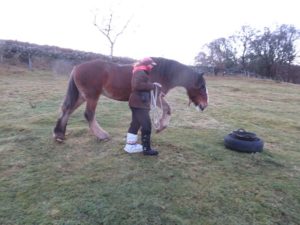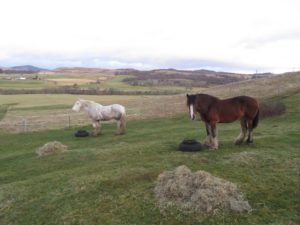 I got down there on the quad today and managed to walk Bella to her dinner bowl 😉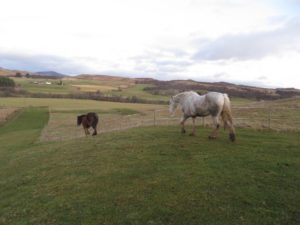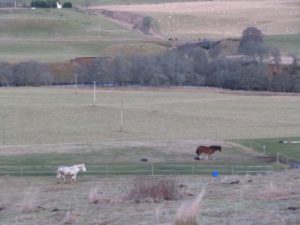 Bella's off…come on Stormy
what are you waiting for 😉
Sun 15th Dec
Well it's been over a week again since seeing the geegee's but today I got out and had a great wee session with Bella. She was very happy to see me and I took her into one of my main round pens, we connected by doing some S2M together and a bit of other games too but only to get her mind/energy and our breathing connected and not to go fast or anything. She was fab and after a very short time I decided to take her headcollar off and put the rope over her neck and work like that with S2M. She was SO connected that I quickly decided to just see how we could walk at Liberty together….I was surprised and very happy that she stayed connected to me with only one run off but with a great draw back. She seemed very happy to play with me and I think she's missing me as much as I'm missing her.
On a good note I am not using my 'moonboot or crutches' anymore and although my heel operation has been 6 weeks now it is still quite sore and my achilles and calf muscles aren't working fully still yet, that will take quite a long time with some serious physio over the next few months…BUT I'm happy to potter about more than before and to make sure I don't over do things.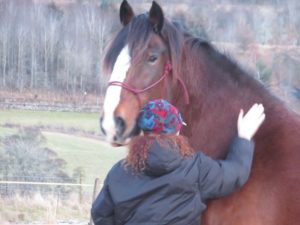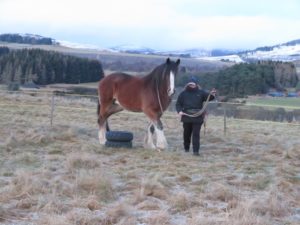 With rope over her neck
At liberty, S2M and close circling
LOVE that DRAW 🙂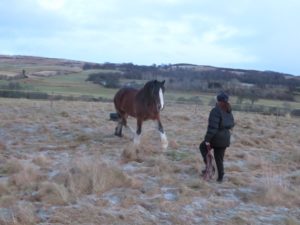 Here is a short video of us working for the first time on 'liberty close circles' 😉
Mon 23rd Dec
Today got out with the horses to take their rugs off and managed to have a small play session first at Liberty with Story in a roundpen and then online with Bella.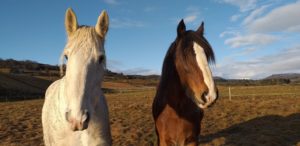 So LOVELY to see both beauties today…even the sun came out for us.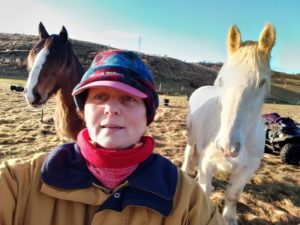 Happy to see me as I'm happy to be with them 🙂
I also managed to start working on some familiarisation, approach and retreat and treat training to help Bella start to tolerate and then accept the noise of Velcro. She really over reacts to it and it's everywhere nowadays, on rugs, gloves, jackets etc SO I really need her to get used to it. We did a short video showing our first session…
Weds 24th Dec
Well it's Xmas Eve and although we normally only bring the horses to the house when bad/snowy weather is forecast we decided that we normally have bad weather at this time of year and the horses have always been with us at the house by Xmas Eve so why change that habit. We really enjoy them being at the house and it makes it more Xmasy with them here with us SO we went and fetched them home this afternoon. Happy Xmas everyone….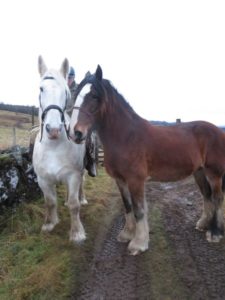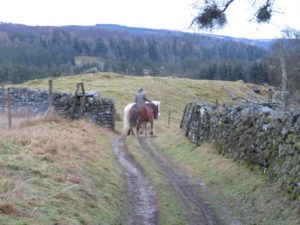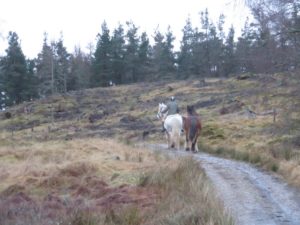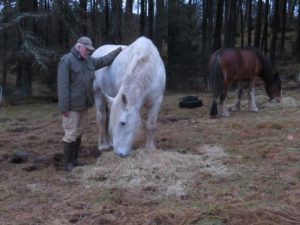 Sun 29th Dec
Today Mark, Storm, Bell and I went for a wee walk in the grass opposite our house. We've often taken herd members across here for some walking in-hand exercise, some agility fun and to graze but this was Bella's FIRST time over there and  first time really 'going out' for a walk with us. She was a big sceptical at first but then her curiosity got the better of her SO I spent time walking when she wanted to walk and then halting and waiting when she needed to stop and look about.
She was happy and calm with me, didn't worry where Stormy went and we managed to 'play' our normal games as we went about (which is how they're supposed to used). We did S2M transitions, me being on either side of her, backing up, half circles through gaps, grooming (familiarisation), moving her hq's when changing directions and moving her forehand when walking together for turns away. She was lovely and calm and it was lovely to take her out for an hour or so.
She didn't realise that she could graze in-hand either and wasn't really interested in the grass but when she spotted/smelled the heather sprigs she and Stormy tucked in big time 🙂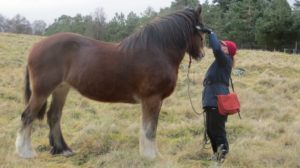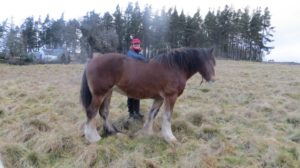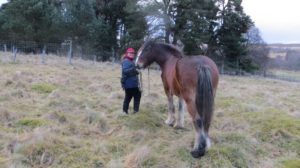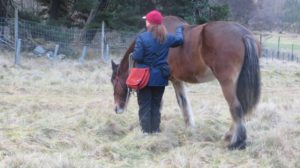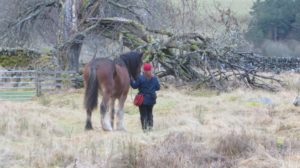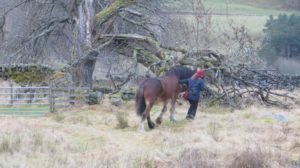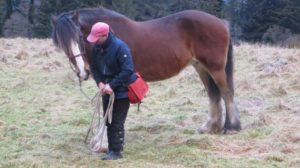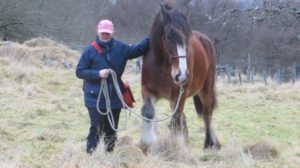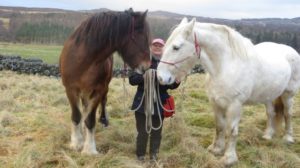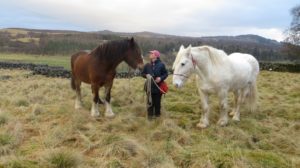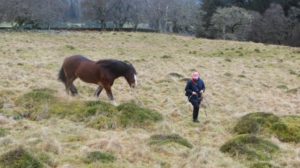 😉 And Mark had a good time with big Stormy too 🙂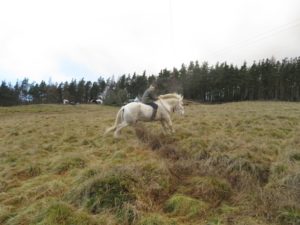 Tues 31st Dec
For the last day of the year and decade we take the horses back to their big field. They get more exercise searching for grazing there and there has been no rain or snow to keep them at the house now…we will bring them back when that happens…but for now they can enjoy the bigger freedom of the 10 acres with hill stream to keep them happy 🙂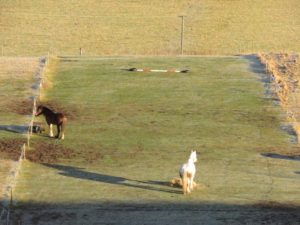 Mark riding Storm back to the field and leading Bella. They worked together very well, calm and easy. The whole field is open for them now including the steep hill, they will find some grass there.
Down on the flat part of the field in the glorious winter sunshine…and then eating hay together at dinner time 🙂
The end of 2019, missing all our horses that have passed, Fortune, Holly, Solly & Tara but looking forward to some new adventures in 2020 with Stormy & Bella  🙂