Sat 4th July
Not a bad day after some very wet and windy ones so decided to just go out for a bit of a walk out with Mark and Stormy. Was a lovely walk out and Bella was very well behaved.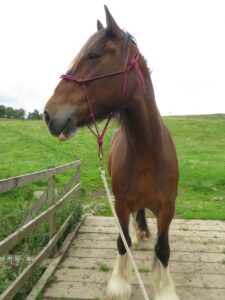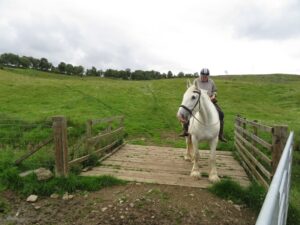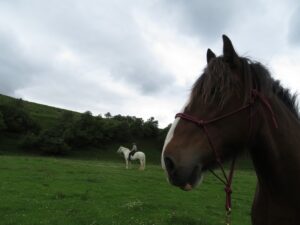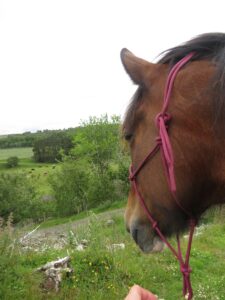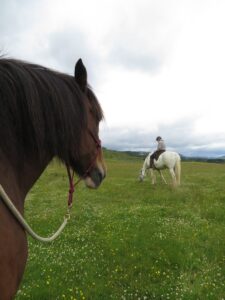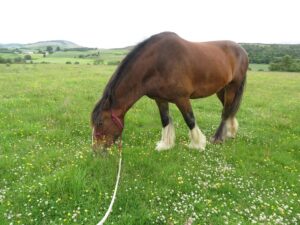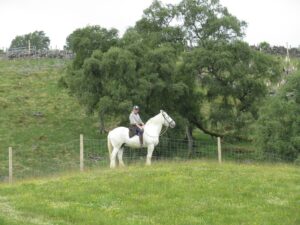 I then rode Bella for a bit in the agility area to work on my own balance and lightness and her flexibility and softness 😉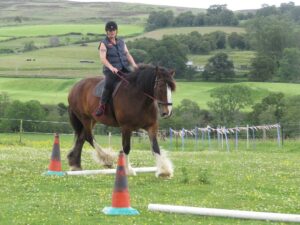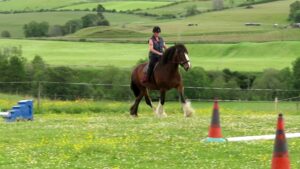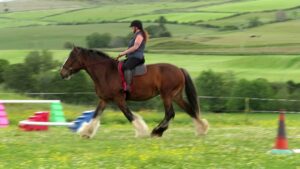 Sun 5th July
Tried to get out for a bit but it was really only a bit as the rain started up again once we'd groomed and had a wee bit of play….so much for the Summer this year so far 🙁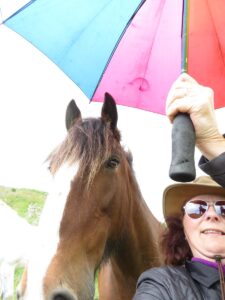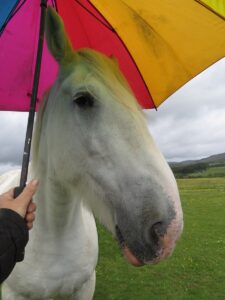 Did some really nice circle pole work and then she did some really lovely weaving on the same circle around the cones….I didn't really ask it but she decided it would be fun so I went with the flow. She then did a fantabulously energetic trot draw to me at the end of the game 😉 FAB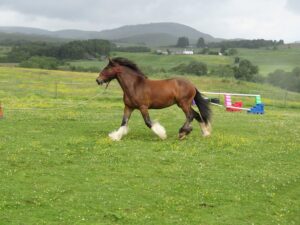 Mon 6th July
Sunshine today…but quite windy in the field so decided to get acquainted with riding out in the field again before venturing anywhere else. She was quite energetic and gave me a lot of her BIG trot which was hard to sit to and my balance was just off a bit rising but we managed to do some nice togetherness between those. The end session on the track found some nice lightness, softness and partnering up so we're getting there slowly 😉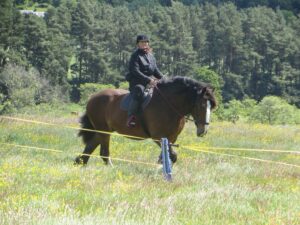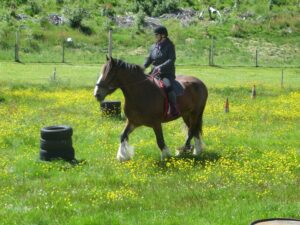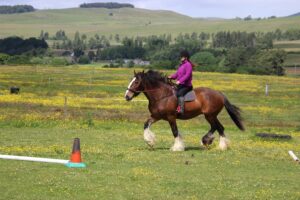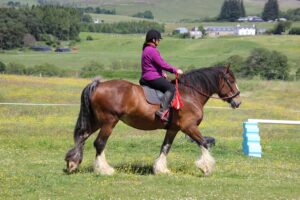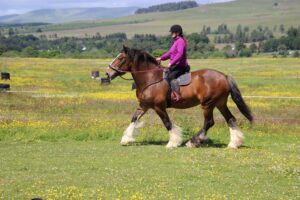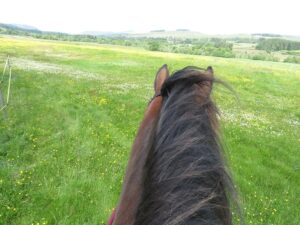 Tues 7th July
Well we had nice weather and we went out for a ride on the lower field (the Haugh), it was the first time I'd ridden in there with Bella and a big step forward and we managed some nice stuff BUT the clegs (horseflies) were SO bad I'm amazed wee Bella didn't have a gallop home, she was twitching and swishing, her head all over the place and she had huge trouble trying to stand still let alone concentrate on what I was asking her. I went with letting her walk or stop when or if she wanted and all I did was direct her in long lazy serpentines and circles thereby trying to find some relaxation. In the end there were so many horseflies on her I abandoned doing the hack out and jumped off, slapped the flies off her and walked her home to her field where the flies are less due to the track having short grass. It was a brave attempt but she is too sensitive to try to go out when the flies are that bad so will keep that in mind next time. I was so proud of both of us, her for being so good to not blow her top, and me, for staying on and figuring out some exercises to find relaxation. After that the next time will be easier 😉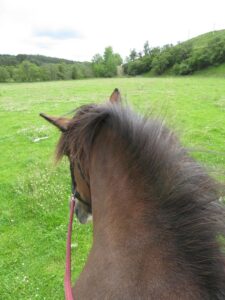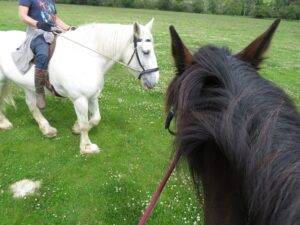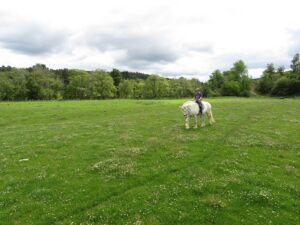 Weds 8th July
Got out to ride Bella and the weather was cool and with a lovely breeze…hardly a fly in sight..yeehaa 😉 We both enjoyed doing some patterns in the arena, RtR w/t, Fig 8's w/t and Clover leaf w/t .Nice to have a day of concentrated, relaxed riding. No pics as Mark had to be at home for a delivery so got these few pics off the video I did.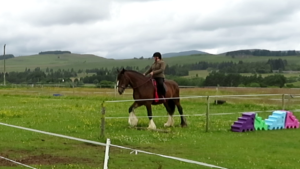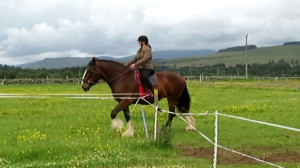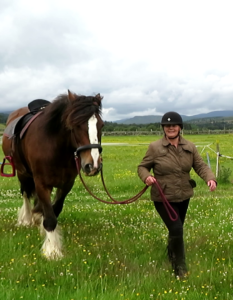 Sat 11th July – BELLA HAS BEEN WITH US ONE YEAR TODAY. Just love her to bits <3 
The horseflies are awful this year and poor Bella is really sensitive to them and it's very hard for her to concentrate on anything too much SO today I decided to just have a wee play with some 'speed' as this will keep the flies away 😉 Bella decided that canter circles would be fun and pretending the poles were jumps was a bonus! LOL 🙂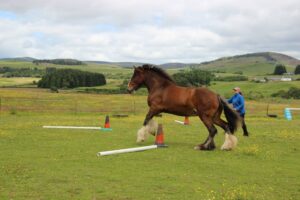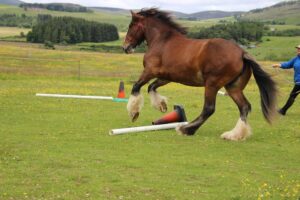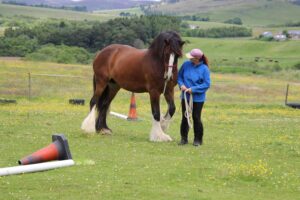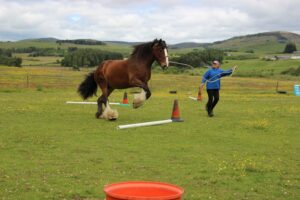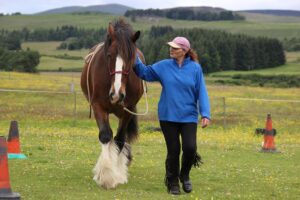 My Gorgeous Girl
Sun 12th July
Because of the 'Covid-19' lockdown there have been no horse competitions but this has worked in our favour as the 'Shire Horse Society' is doing an online competition with showing and ridden horse classes which we are going to enter. We'd not be able to enter normally so this is a fun thing for us to do with our beautiful horses. Here are the pictures we are entering 😉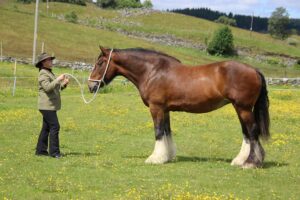 < Bella and me in 'Mare Class'
< Bella and me in 'Ridden Class'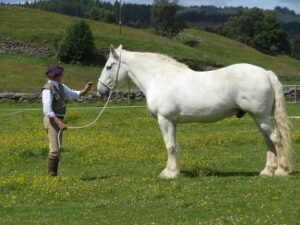 < Mark and Storm in 'Gelding Class'
< Mark and Bella in 'Ridden Class'
Weds 15th July
Nice breeze up today but horseflies bad too BUT I used some new flyspray on Bella and we managed to get about an hour of play/riding done without too much worry which was fabulous.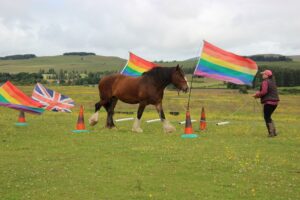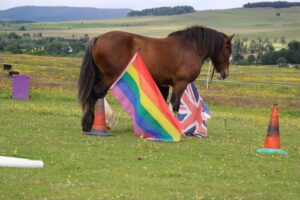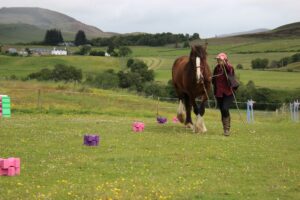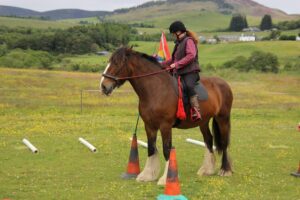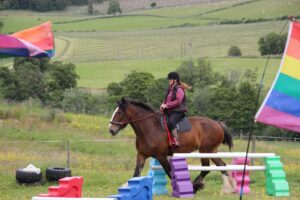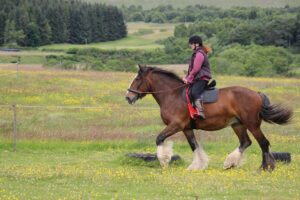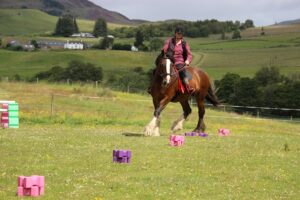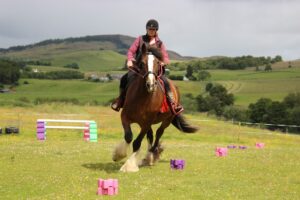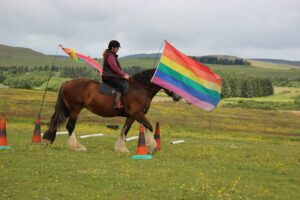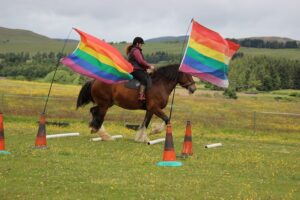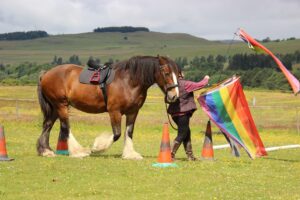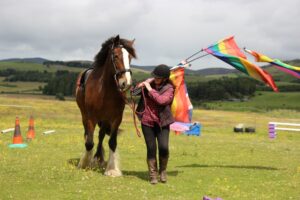 Thurs 16th July
Well finally today our field shelter arrives and is made. We ordered it just before the lockdown on the Covid pandemic so we've had to wait for supplies from Europe to come in and the company, Vale Stables, have been very busy so we waited patiently and it was SO worth the wait. Here's some pics of it being made and how our horses take to it 🙂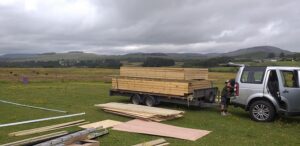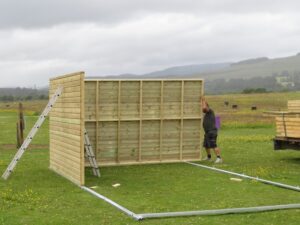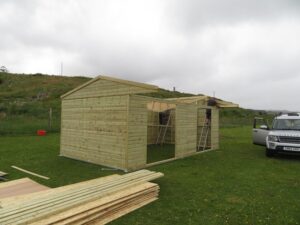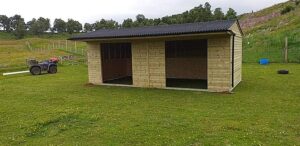 All finished in around 4 1/2 hours…very impressed and hope the horses like it 😉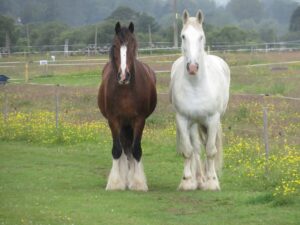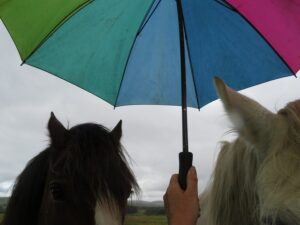 This is them watching their 'home' being made…then it started to rain a bit so we did some play with the umbrella 😉
Fri 17th July
Well we were quite worried about whether the horses would like or even use the shelter…..no need to worry at all 😉 We think Bella has been used to a shelter in a field as she strode straight up to it and went in followed quickly by Stormy. They find in there coolness, no flies and away from rain when it rains. They went in and Mark found them in there last night at dinner time and this morning…….THIS….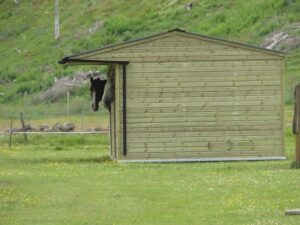 Looks like we've stabled them and they are always this way around, wonder if Bella changes to the right side sometime?? how interesting 😉 They LOVE IT 🙂
The pics above came from when we went down in the afternoon for a groom, play, riding session 😉 🙂 SO pleased they are using it well, I think they'll be in here most of the day and out grazing and moving about during the night 😉 fab 😉
SO…play and riding this afternoon was good, horseflies were a pain again but we got a pretty nice session after Bella calmed down and started concentrating on what I was asking of her.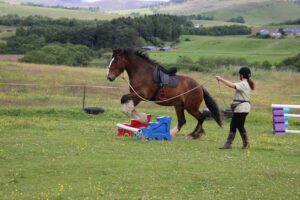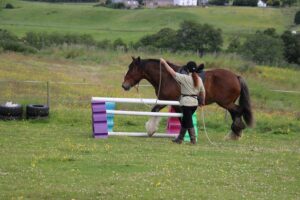 Nice jump and then half circles through a narrow gap where she was finding the gap and going through herself, would have been easy to go around it so was impressed 😉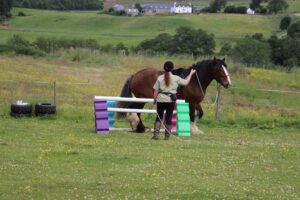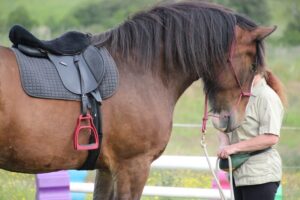 She had less treat stops which is good, slowly transitioning to more doing and less treating 😉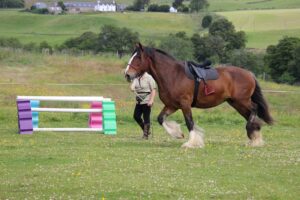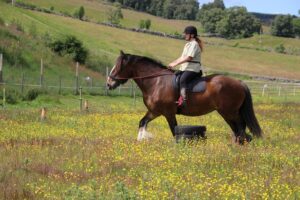 Nice circles once she started concentrating 😉
Went out into the big field for some riding, clegs were a bit of a problem so she decided moving was the best option…she was trotting everywhere 😉 lol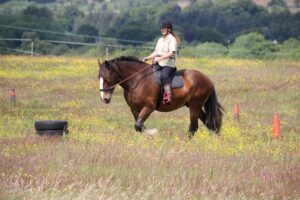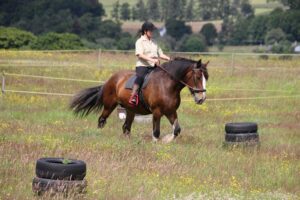 She had trouble listening for a while, going into trot all the time, which wasn't a problem, but I kept asking for circles until we got some communication working.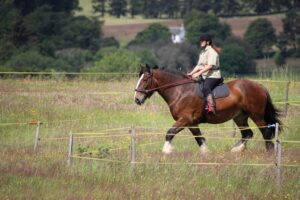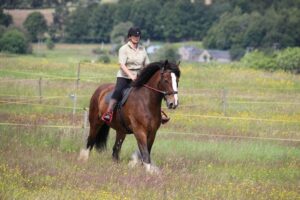 Eventually she was able to focus and there were some lovely high energy trotting circles and connection and on that note we finished the session 😉
Sat 18th July
Well today went really well…good play session, nice RtR around the main field and then Bella OFFERED CANTER and did a couple of strides going around a round pen so we went and did a longer canter bit up the small hillock in the field, she watched Stormy do it first and then just did it and it was as smooth as silk 🙂 YEEHAA…we now have 3 gaits 😉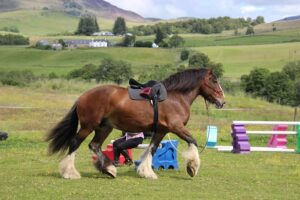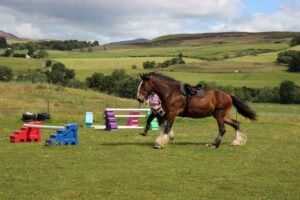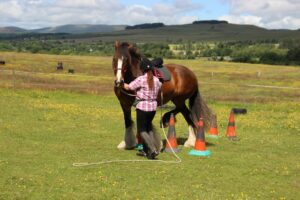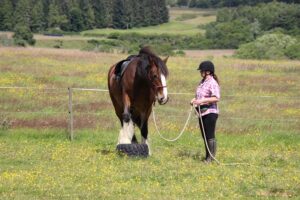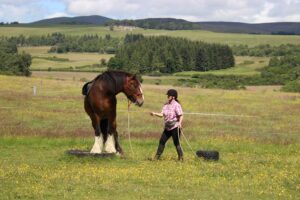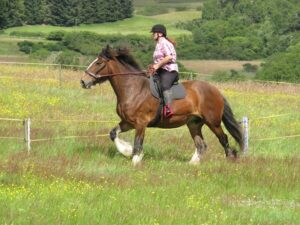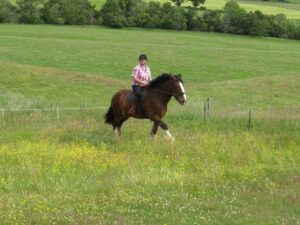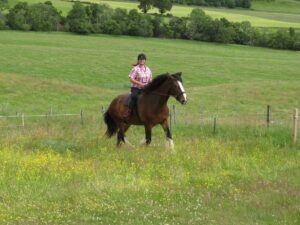 Nice trot and canter play
Lovely sidepass and then pedestal fun
Tried a bit of ponying Stormy…she wasn't sure about that but a nice first try 😉
THEN…CANTER…So happy she offered and then tried again for me 😉 yeehaa 😉
What a star she is 🙂
Sun 19th July
Went to maybe hang out with Bella & Storm this afternoon but Bella was laying down being watched by Stormy, then Stormy lays down too so we take the hint and do some ragworting instead. Sometimes, no every time, the horses always have a say in what we do. I try to listen to what they're trying to say to me and if they're tired and don't come to interact with me then I check to make sure they're not ill but then allow them to take a day off if they want…they always come to interact better the next time I go down so this interaction is invaluable 😉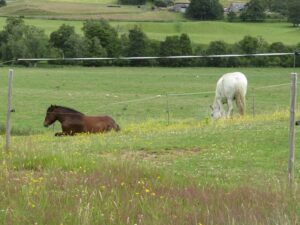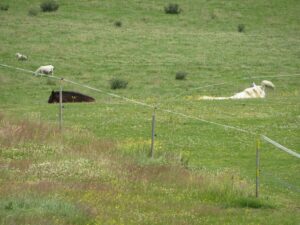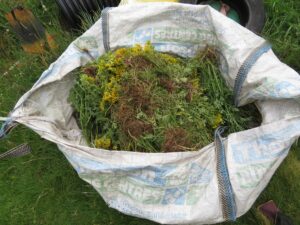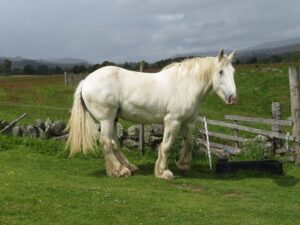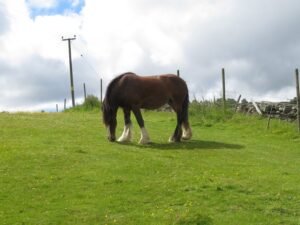 Mon 20th July
Having the weather to be consistent in training has really paid off. Today  Bella was relaxed and very balanced and gave me our 2nd ridden canter up the small hillock in our field. It was such a lovely, easy to ride canter and we rode the rail twice around the whole field in walk and trot with Stormy and Mark coming alongside between him cantering off and keeping busy.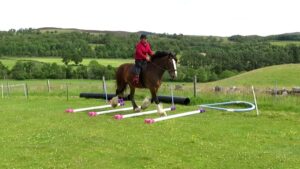 We finished on a really lovely trot over poles…she is SO good with her feet 😉
Tues 21st July
Giving Bella a rest from being ridden today and because the horseflies are out in force I decide to do a short video lesson, today we did Lesson 9 and it is on the 'Bella's Lesson' page 😉
Sun 26th July
I've not been able to get out and about to see/play/ride horses due to a very sore back and up until yesterday I've had to stay inside and mostly stay in bed and sleep or sit very still to try to get better. Today I am able to at least walk a bit so got down to the field and walked Bella in the big field, played a wee bit and thoroughly enjoyed just being in the field with them 🙂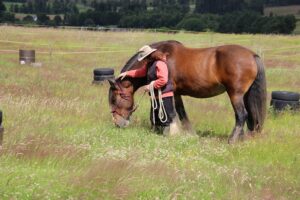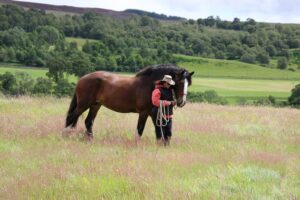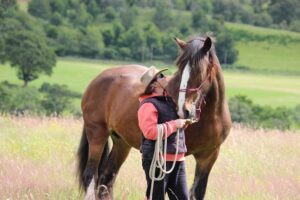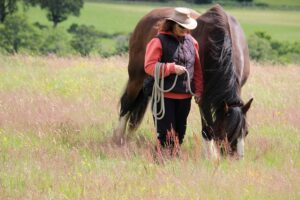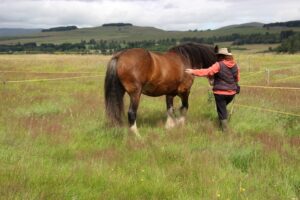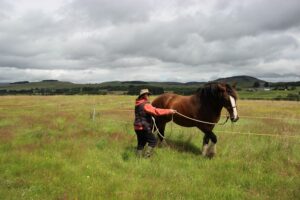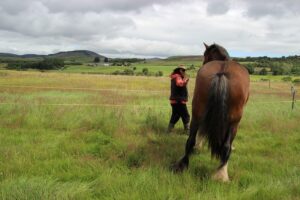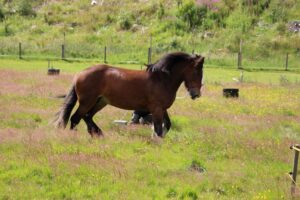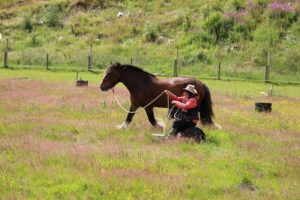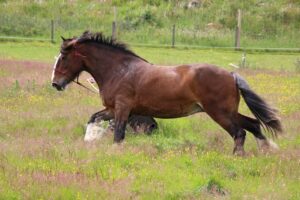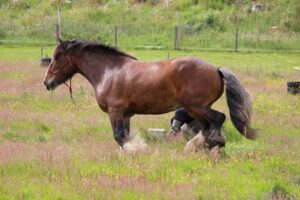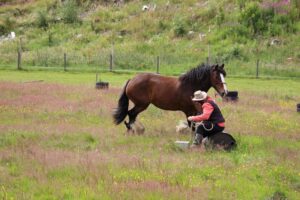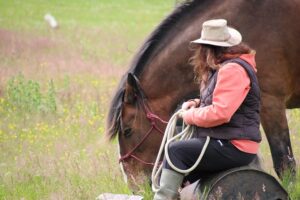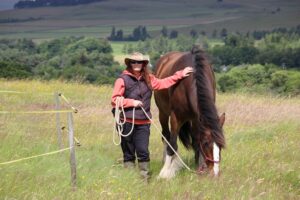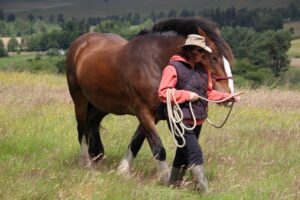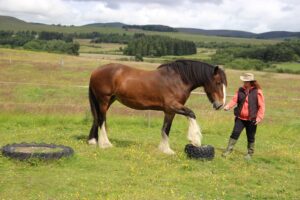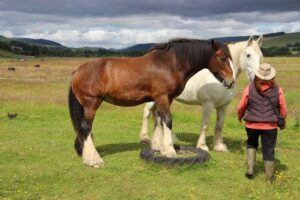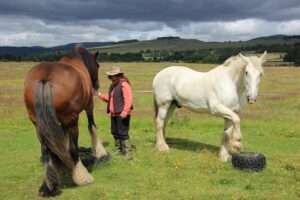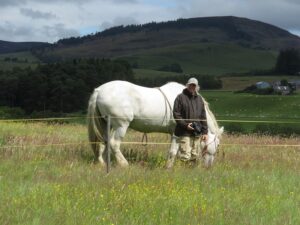 Mon 28th July
Well my back is feeling a lot better so time to go out and see Ms Bella and maybe have a wee play together 😉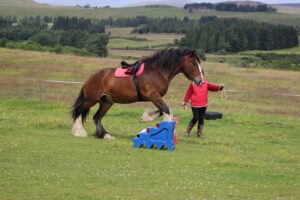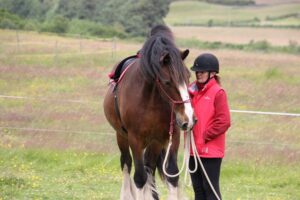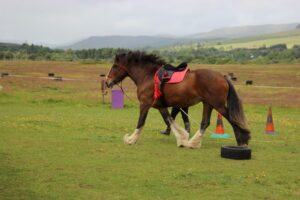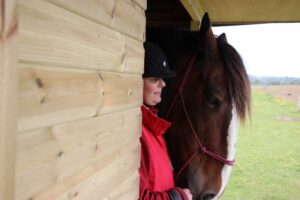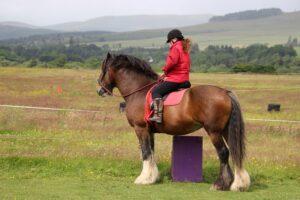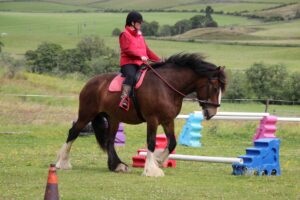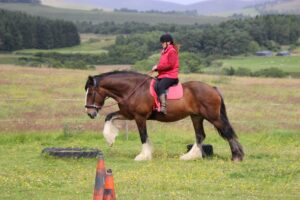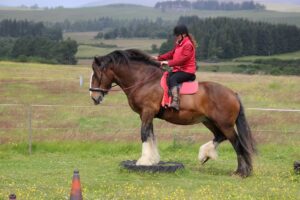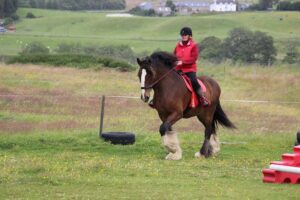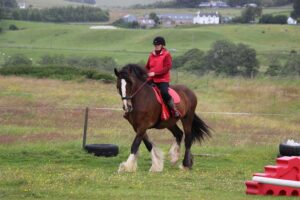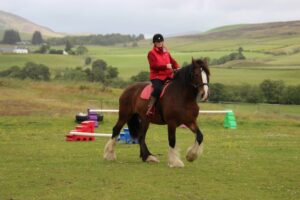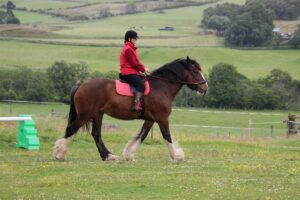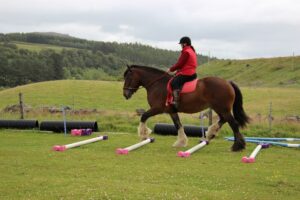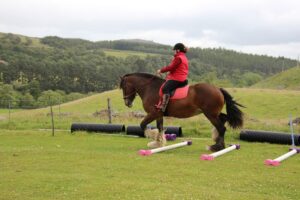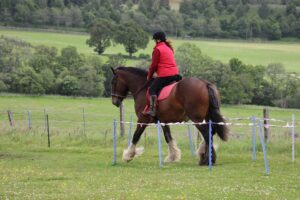 < Nice to see a low jump done well, could ride that now 😉
She's my perfect horse >
< Nice balanced, light trot
Hiding in the shelter when rain starts >
< Fab sidle to mounting block…perfectly done to help me
Soft, easy walk that is easy to just sit to >
< She loves the pedestal and is getting much better at walking over it now >
< Gathering her energy up and our first try on riding leg yields >
< Leg yield to left, harder
Nice and easy into trot, just thought about it and she was soft and easy on my back >
< Lovely and light over the trot poles >
< Trot through bunting lane and then through narrow lane and fab on a DHQ to finish 😉 >
Thurs 30th July
Today, between rainfall, I managed to get out and rearrange some of the Agility obstacles. Now instead of being in one smallish area I have spread them around the whole flat track area that the horses graze in all day. NOW we'll be able to have more transitions through walk, trot and canter and build up moving over larger areas. Today was a lot of fun following Mark and Stormy around the course. Here's some pics of me and Bella riding around some of the obstacles before the rain came down again and we called off play 🙂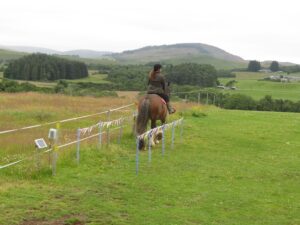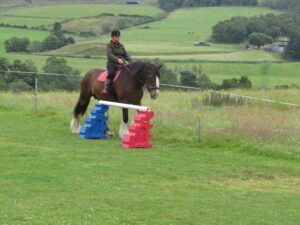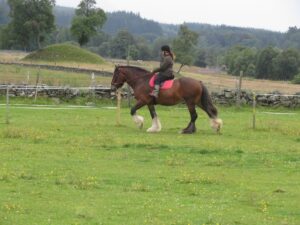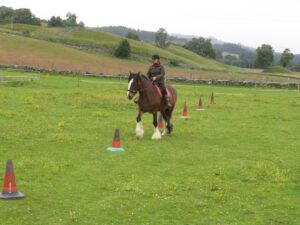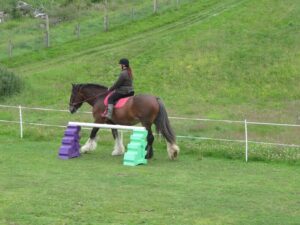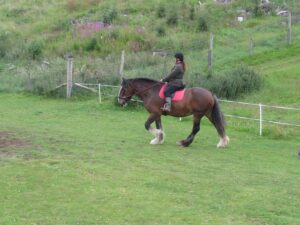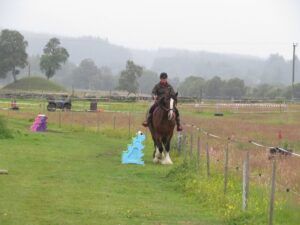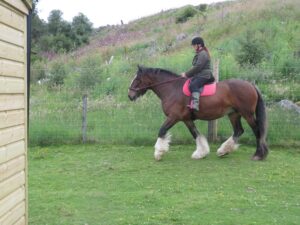 Fri 31st July
Well the last day of July is here already…..we were going to do a short hack to the house but the heat today was almost intollerable and the horseflies were making Bella find it hard to concentrate so we did a lovely short session around the Field Agility course again and called it quits. August tomorrow and it's been 10 months since I backed and started this gorgeous girl…how far she's come 😉 Fab <3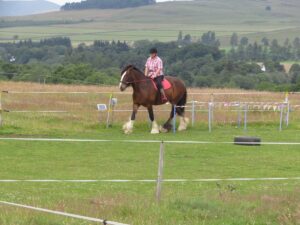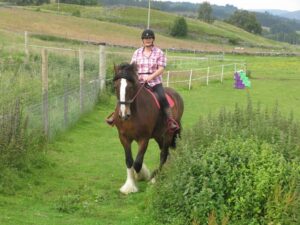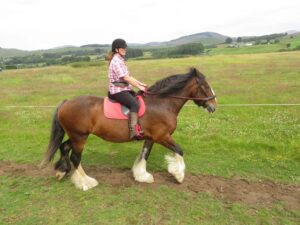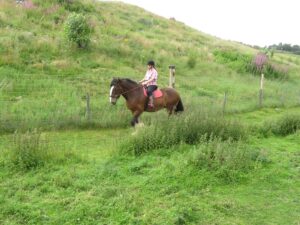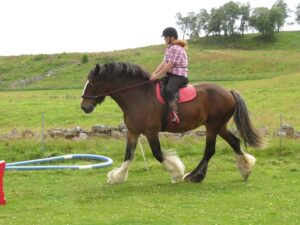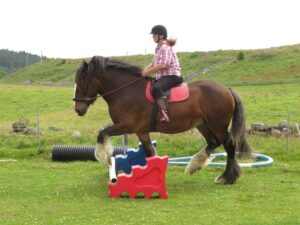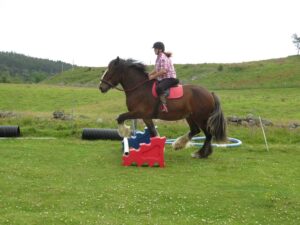 < Trot weave going really well.
Trot through bunting lane >
< Long weave through narrow lanes and then nettle patches the other side >
< We did a LOT of lovely easy to sit to trot today…around more nettle patches >
< Halt on the tarpaulin and then backing up off it before setting off again >
< Lovely big trot heading to the trot poles which she does so well now >
< Set up a very small jump and ask her to go over it with a high stepping trot >
< She has lovely high steps on her back legs too and it stays up well…more trot in a circle to give it another go >
< Very big trot coming into the pole/jump again and this time although still trotted over it you can see she has thought about taking her weight back onto her hindquarters…..thinking about jumping it next time. I didn't do it again, just praised her and got off as a reward for trying hard this time, next time she'll be thinking about more effort and when she's ready she'll do a wee jump I'm sure 😉
Be interesting to see what August brings, hopefully some cooler weather, a nice breeze and some nice short hacks out on the track.