Mon 1st Sept
Well can't believe it's September already…where HAS the year gone? But looking back over this last year I can see how much I've done with beautiful Bella and that on the 12th of this month, last year, was when I first sat on her and she didn't know how to move forward…how far Bella and I have come together in just a year of riding 😉
Today I was quite tired and wasn't sure I was going to play or ride her so just went down with the intention of giving her a lovely groom and some loving 😉 Once down there she really enjoyed her groom and I decided to put a bareback pad and bridle on her and see if she wanted to play….and maybe a wee ride? 🙂 Here's what we did….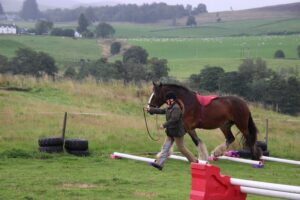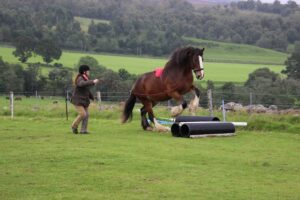 Lovely light trot work over the poles and some nice jumping…calm and knowing where her steps are and how much energy needed to jump without over doing it 😉
This is two drainage pipes next to each other which makes it the 'widest' jump she's done so far. Again she tackled it calmly and with the knowledge of where to push off, how wide it is and how to land nicely….a nice canter depart the second time.
She had fun with the pedestals too today 😉
And then I jumped on bareback, she came over to the mounting block beautifully and stood so still for me to get on. Then we did some really nice  walk around the agility arena with just a bit of emphasis on turns from my focus/energy/weight/leg aids which I was over joyed to find she really responded well to…clever girl…here's some pics….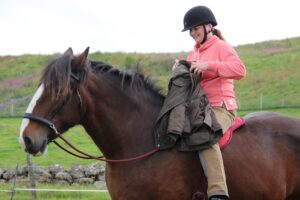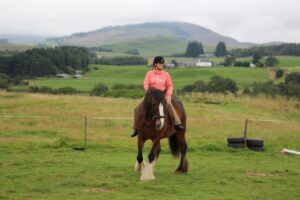 Familiarisation taking my jacket off was no problem….she's so good.
Learning to turn from my seat/leg/focus cues went so well and it was nice to be bareback with a loose rein, she enjoyed it too.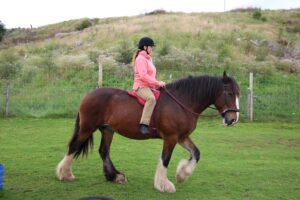 Nice soft turns, we managed to circle and fig 8 around a lot of obstacles in the agility area.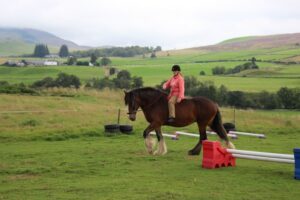 Focused turns….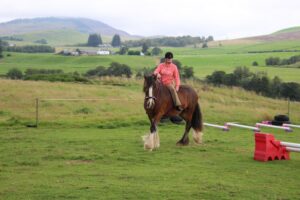 More focused turns 😉 felt very connected to Bella today
So lovely to be this connected…we have to do this more and also in trot more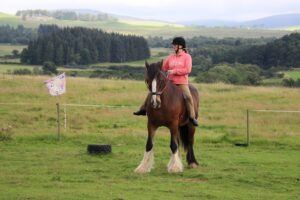 Sidepass to the right was really nice today….
…and managed to figure out how to help her go to the left which she was having trouble with…gently tapping her right shoulder with my hand….she did it really well so will continue doing this for both ways continuing with my voice cue of 'over', which is the same with ground work.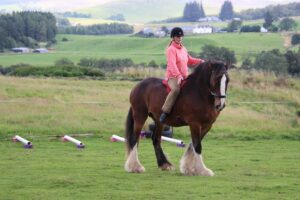 Such a clever girl.
One foot on the small pedestal ridden too 🙂 🙂
Bella thinking about the pedestal…..she also did a lovely sidepass AROUND the pedestal which was the first time doing this 😉
At the end we did some lovely soft, slow, easy to sit to trot work 😉 🙂 and then on the pedestal for a big treat 😉
Thurs 3rd Sept
Today was a day of familiarisation…I've sewn clips onto a pommel bag that was for a treeless saddle so that I can use it on my Wintec and it fits nicely now. Bella wasn't concerned at all about the bags or the one on the back of the saddle but I played with her as normal just to make sure.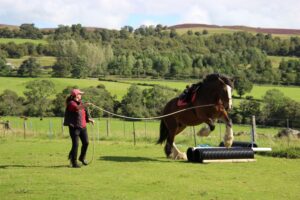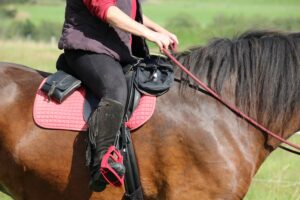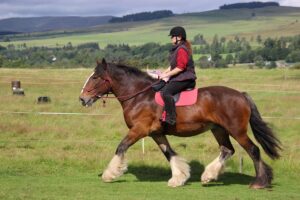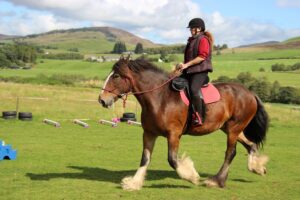 Pommel bags and back bag on and working well
jumping not a problem and then I attached my jacket to the top of the pommel back and that wasn't a problem either 😉
Then I rode with the bags on too and she wasn't bothered by the noise or that they were on her wither.
Nice trot with the bags bouncing around but no bother for Bella 😉
Fri 4th Sept
Today we had a nice ride in the big field with Mark and Stormy. We started off with a really nice RtR in walk on a loose rein and then we went into trot. We played with the concept of a slow, sittable, trot and then a faster, rising trot, trot. She did quite well and I will continue working on getting two speeds in trot with her 😉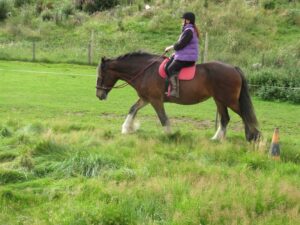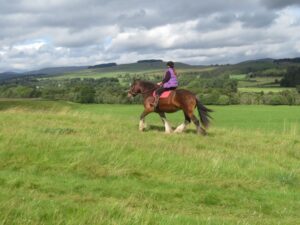 Loose rein walk warm up then into a nice steady trot.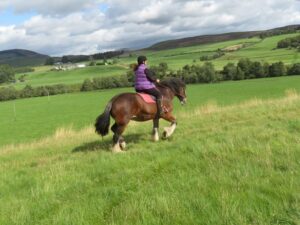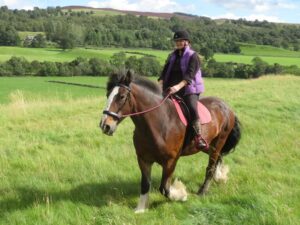 Lovely trot with two speeds now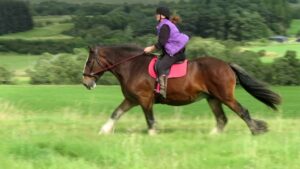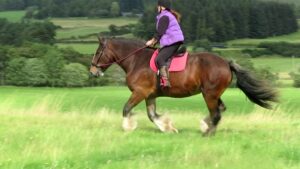 …AND CANTER….nice easy transition on the flat and we managed to canter almost the length of the field 😉 kool 😉
Sat 5th Sept
A really lovely day for a hack out towards the village….taking it a bit at a time for confidence and to build up strength and stamina….we go half way to the village, to the 'wooden bridge' and then back home. Bella did really well and apart from the first hill going down, where I walked with her, I rode the whole way and had some lovely calm walk, trot and out first hack canter on the last hill up to home 😉 So much fun 🙂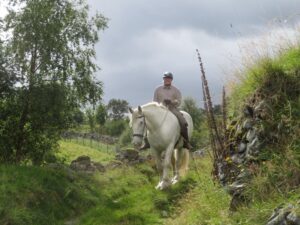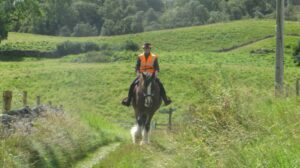 Mark and Stormy first started out riding,  I walked with Bella first and we led for a while and then Mark walked with Stormy for a while and I rode Bella.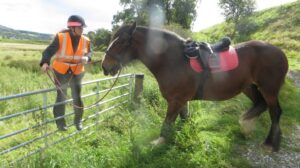 Nice calm walk along the track, walked with her down the hill and re-mounted from a gate, all that mounting work we've done paying off well now 😉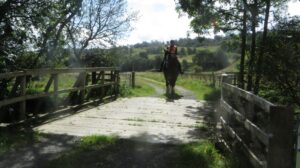 Following Stormy to the wooden bridge…they went over first and we rode over after without any problems 😉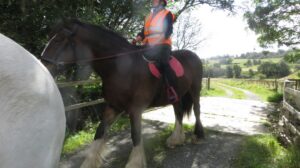 Nicely over the bridge, had some nice grazing after and then back home again…we ride the first big hill no problem 😉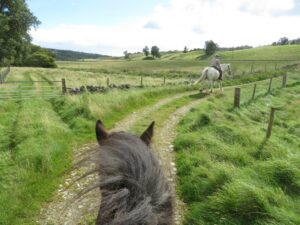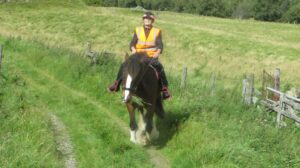 Following Mark and Stormy all the way home and  a lovely calm canter on the last stretch 😉
Tues 8th Sept
A bit tired today so go down without thinking of doing much apart from grooming but ended up exercising Bella in the big field which was a lot of fun.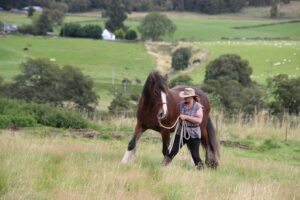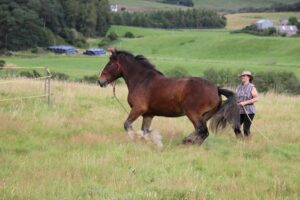 Lovely sidepass and we did a lot of moving circles where I walk around and she circles around me…she decided that canter would be fun….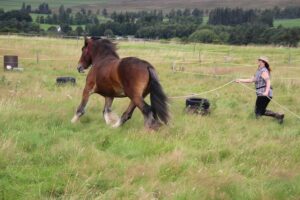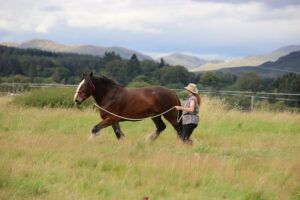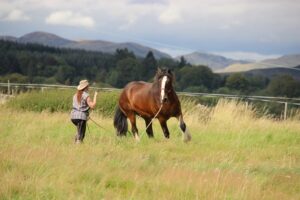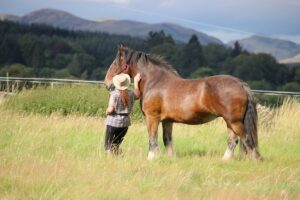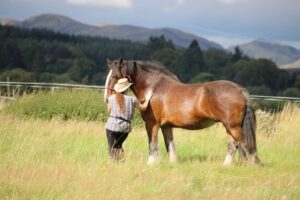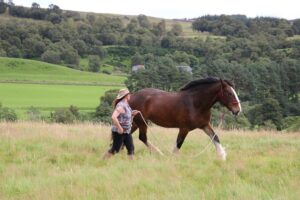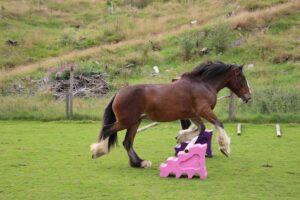 Weds 9th Sept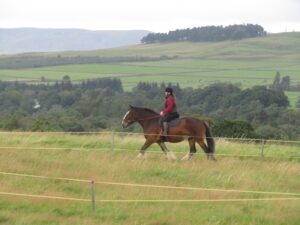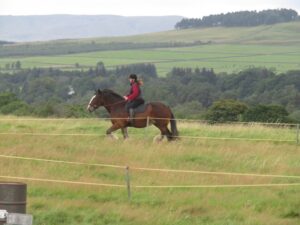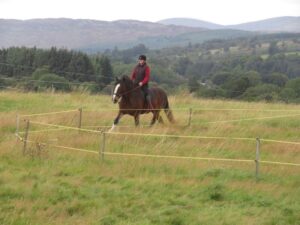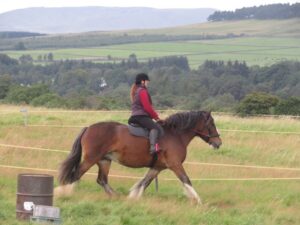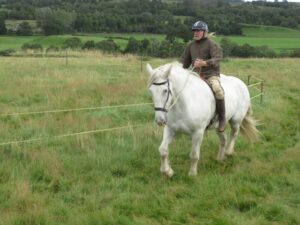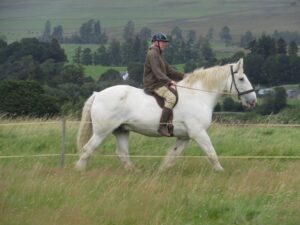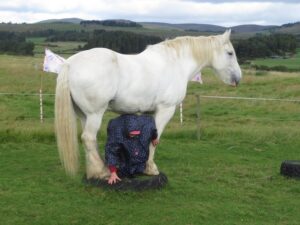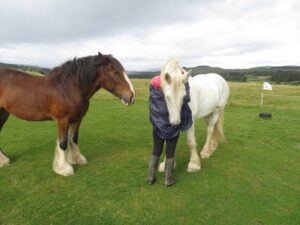 Bella and me, Storm and Mark rode together in the big field today.
Lots of walk/trot 'leap frog', some nice weaving around flapping flag poles and big canters up the small hill.
Then Bella did a great job of staying in trot the whole way around the round pens in a figure 8 pattern.
Lovely BIG trot, no stopping or slowing down just a nice consistent trot 😉
Mark then did it with Stormy too and he went really well too. I think the cooler, breezy weather suits them both well.
Played about with familiarisation with my noisy, flappy rain poncho  too…not a bother 😉
Lastly big hugs to both of them from me <3 <3
Thurs 10th Sept
Just out again for a quick walk/trot/ride with Bella, Mark and Stormy. Lovely leap frog game and a really long lovely canter up the hillock. We're not doing too much at the moment as the weather is rather changeable but we're getting some nice exercise and keeping fit 😉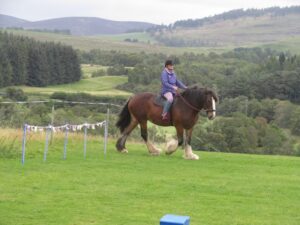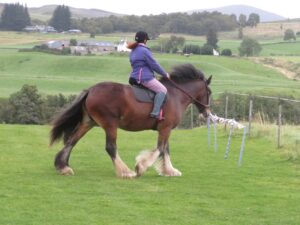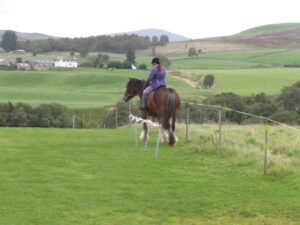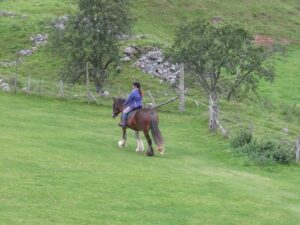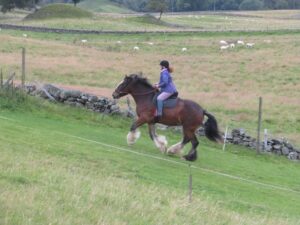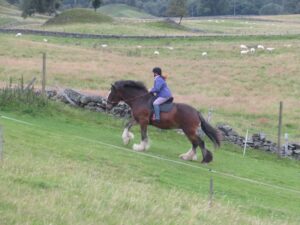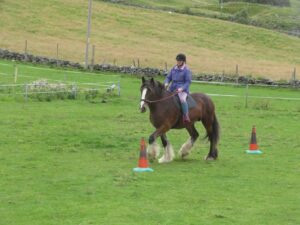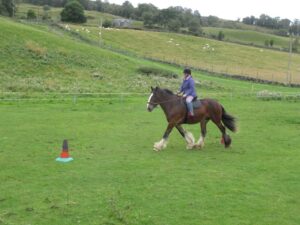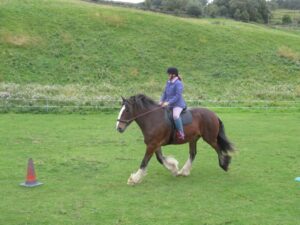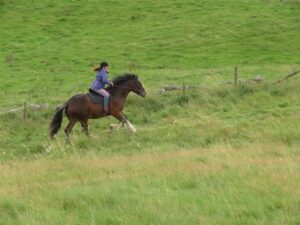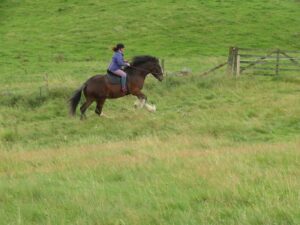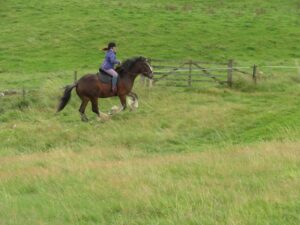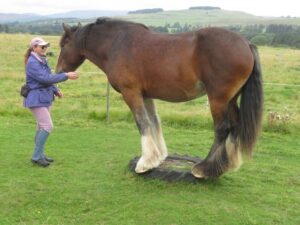 Sat 12th Sept
We had a day off yesterday but today is pretty special as it's a YEAR since I BACKED her. She started off having no 'go', no balance and no understanding of what was being asked but with patience and persistence we now have nice balanced walk, trot AND canter, she can pop a jump, do trot poles, go down hills and back up again, go out for short hacks (longer as we get fitter) and most importantly we have a fabulous 'breath out' halt. She is more flexible now and starting doing some basic sidepasses and leg yields. She rides with a loose rein or connected rein and is relaxed and willing. She is such a sweet, lovely girl and I am happy to ride her bareback or with a saddle 😉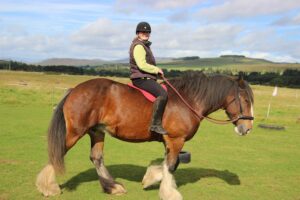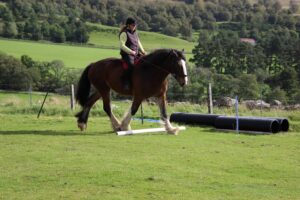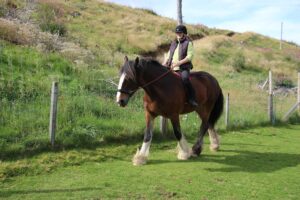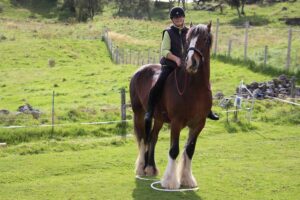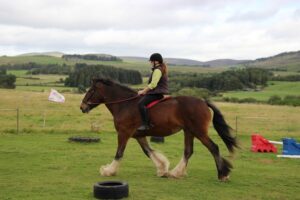 Sun 13th Sept
As we've been moving along with Bella's training I've been ticking off some Stage 2 Assessment tasks. She has done a lot of them already and today we did our fig 8's in trot on a loose rein task…here is the video of her passing this task…
Mon 14th Sept
Today is quite humid and stuffy so no riding today but a short play session with Bella and then Stormy too 🙂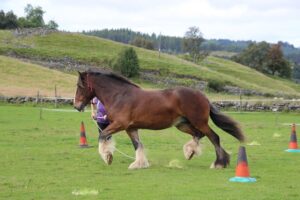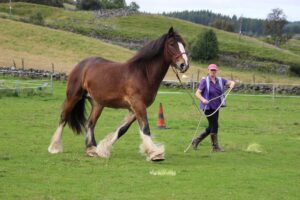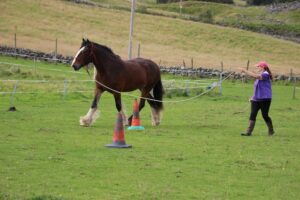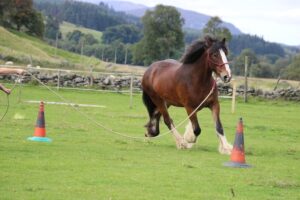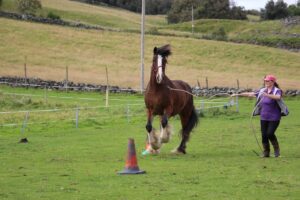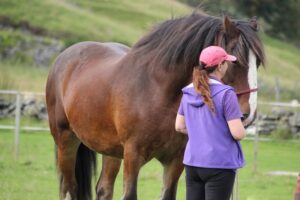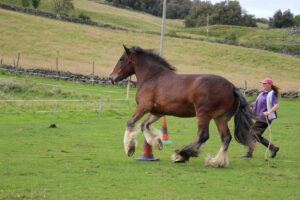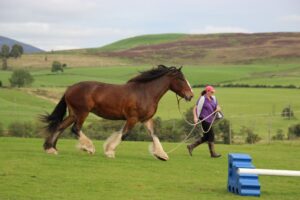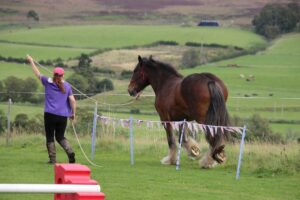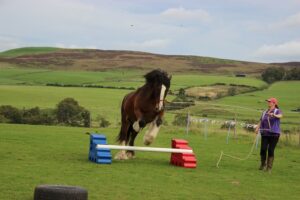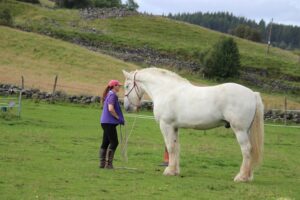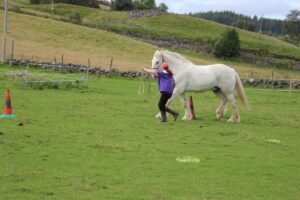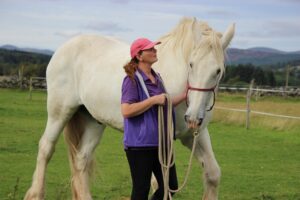 Some nice cone circle fun….circles in w/t..
Big circles w/t….
Weaving…she decided moving over meant front feet first, then back feet in a kinda hop over…
Nice relax between games…..then some weaving on the other side…
Some nice leg yielding….will use these cones to ride it soon……THEN….some fun fig 8's using the bunting lanes and around the jump….
THEN a couple of jumps with energy 😉
Storm did a great job too, he doesn't like humid weather so just did 'brain teasing' stuff rather than fast….Sidepassing over cone from a distance…he's looking GOOD at the moment, what a stunningly beautiful big boy he is….
A wee bit of trot weave…another break and treat 😉
Sidepassing away then we did towards too…what a fun session 🙂
Wed 16th Sept
Today the weather is cooler and both Mark and I thought…'hack out today maybe'…SO we went down, got them ready and went out. I walked the first hill down then rode the rest of the track we've already done (to the wooden bridge) and then I got off again and walked her a whole length of new track we've not done yet. I could feel she went through a threshold of concern as she was bumping my elbow with her nose as we walked, her head was up and it was when we were going into a place with more houses and noises such as a strimmer and kids on lunch break at the school.
SO…..instead of losing confidence we turned around and I walked her back to the wooden bridge then rode all the way home. I would normally walk with a horse on a new patch of ground the first time so this was normal and it felt good to get further than last time we went out. Walking with Bella not only gives her a break from being ridden but it helps keep her confidence when doing new things, it worked out well and the whole riding bit was calm, relaxed, happy and willing. We did some really nice walk but also a lovely relaxed trot too and she led a lot of the way there and back which was fab 🙂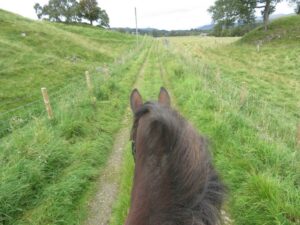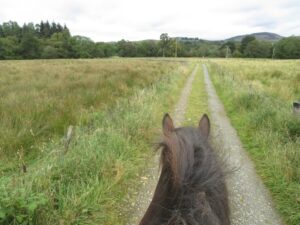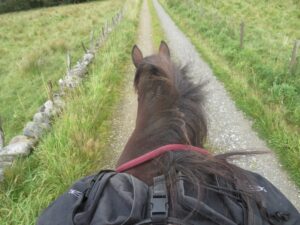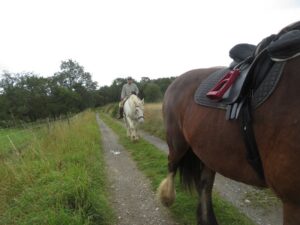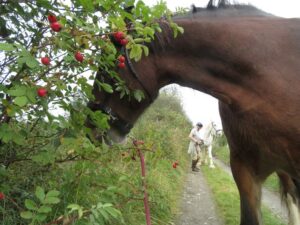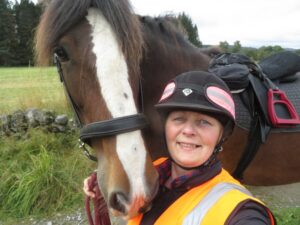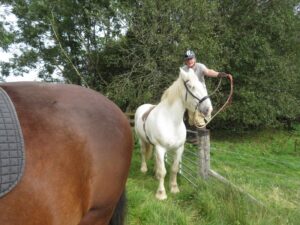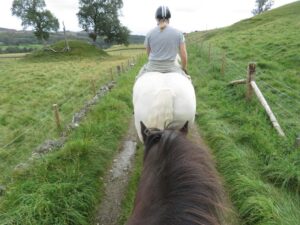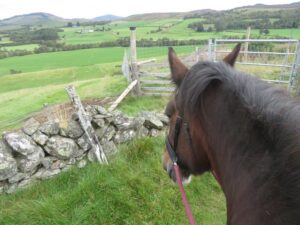 Thurs 17th Sept
A little bit tired today but went down and gave Bella a really good groom and then did some very small, slow bits for her Stage 2 assessment.
Lead by the leg…

2. Nose to tail….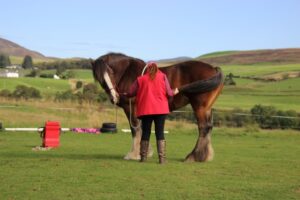 3. Bridle while sitting down….(tried it from the side but worked nicely from the front with cheek and noseband undone 😉 )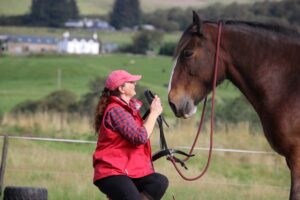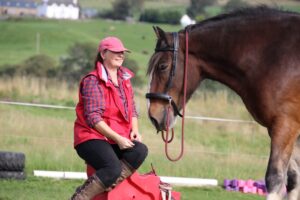 4. Familiarisation with rope throwing over Bella's back then walking about with it over her back (preparation for me throwing and bringing back a lasso and for Bella pulling a tyre from the saddle) 🙂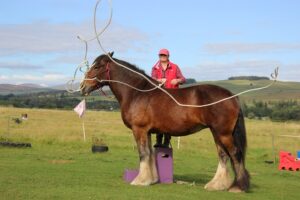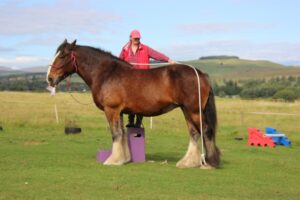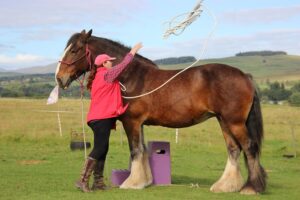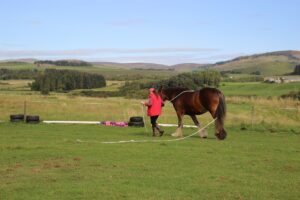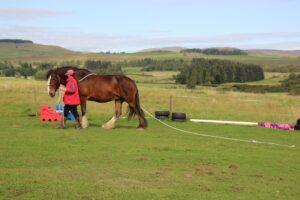 Fri 18th Sept
Another hot day up here so thought about taking yesterdays 'rope throwing' to the next step which would be slow and easy and not make Bella sweaty. She did really well, we started with pulling a tyre on the ground, then ridden rope throwing at a standstill, then pulling the rope walking around the arena. Final piece of the puzzle is to actually pull the tyre whilst riding 😉 🙂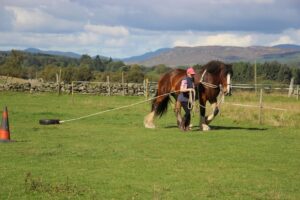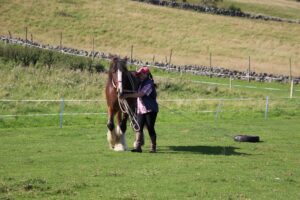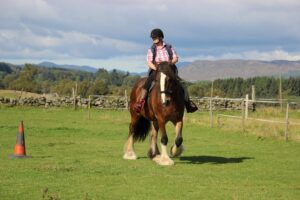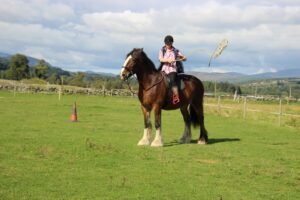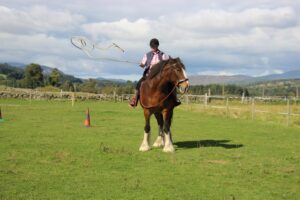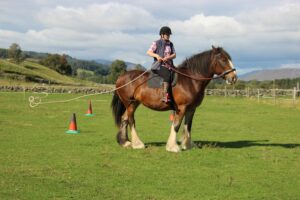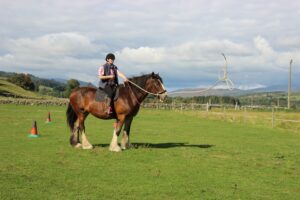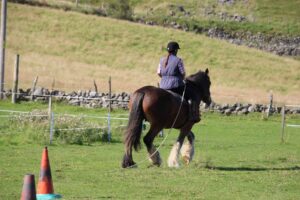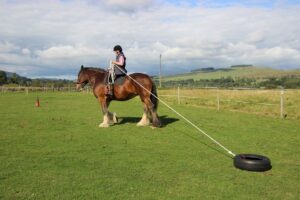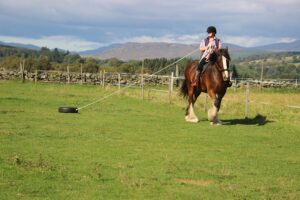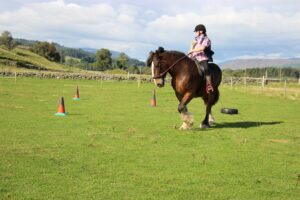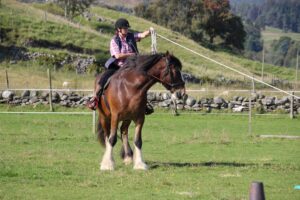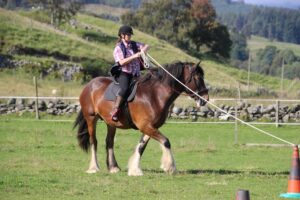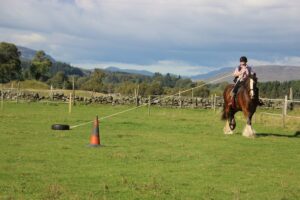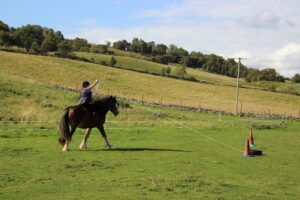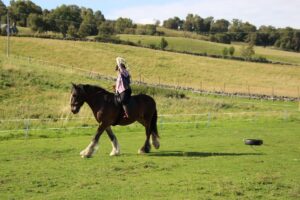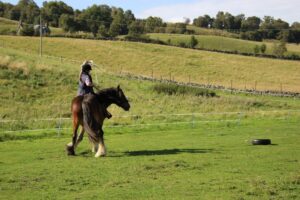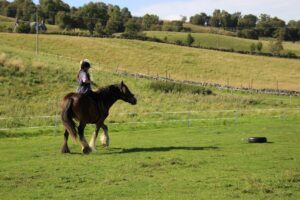 Sat 18th Sept
Well what a lovely day today was…..great weather, great company and a great hack out through three very large fields along a local river. Bella lead a lot of the way, was happy to go away from Stormy or let him trot/canter off in front 😉 She was a super star and am hoping to do this hack again soon 😉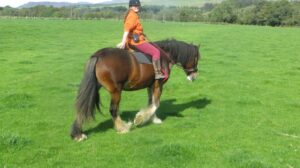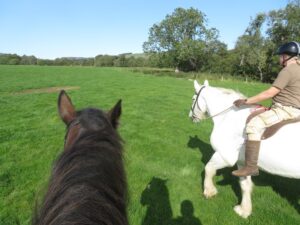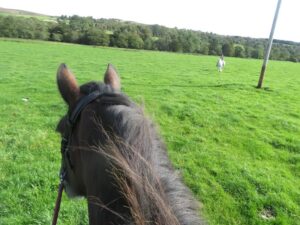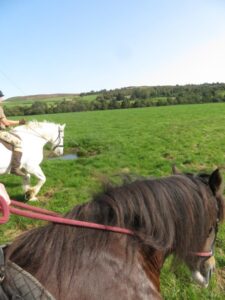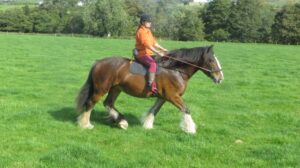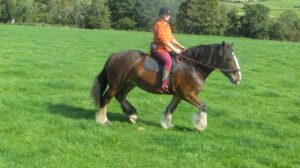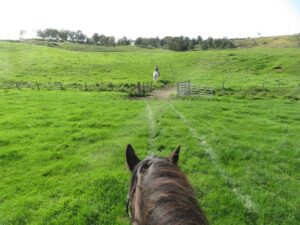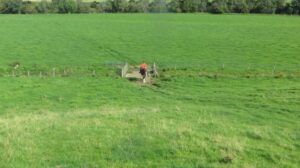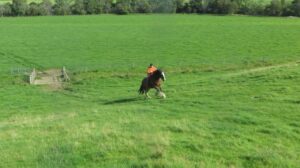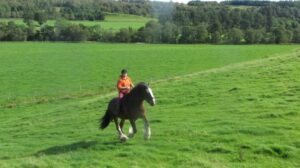 Sun 20th Sept
Set up an Agility course today in our large rectangular arena area….some fun things, all regular but in a different area which can always make a difference. I had fun with Stormy at liberty first, he showed Bella what to do and I think he really enjoyed it. Then I did the same course with Bella online 😉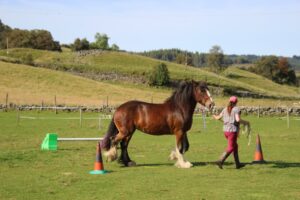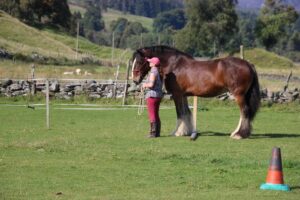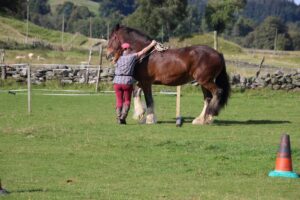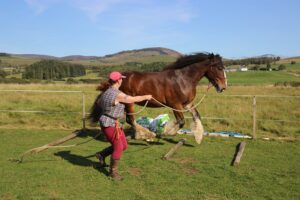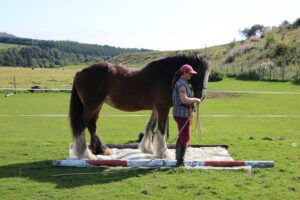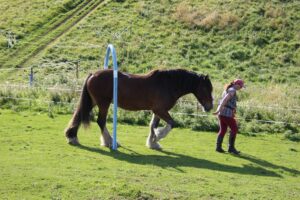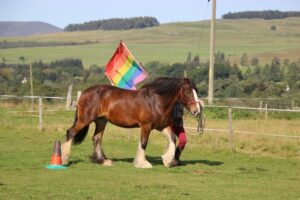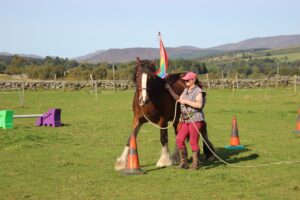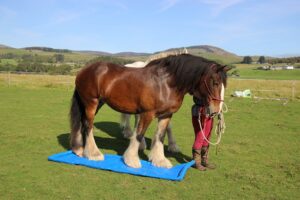 And then Mark rode Stormy around the course 😉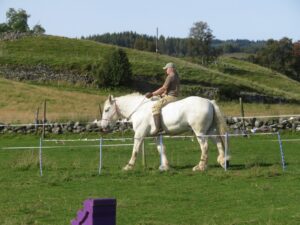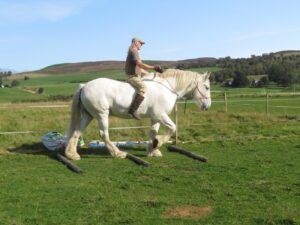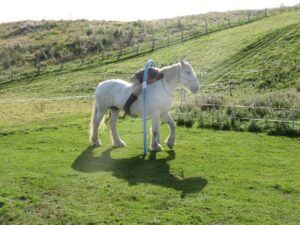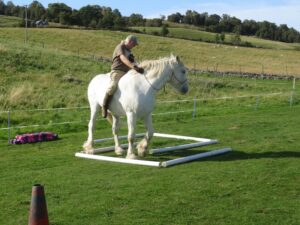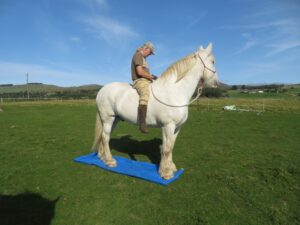 Tues 22nd Sept
Lovely day for a hack out onto the 'haugh' near the river. Bella was a super star leading quite a lot of the way. Really enjoying riding her out and about 🙂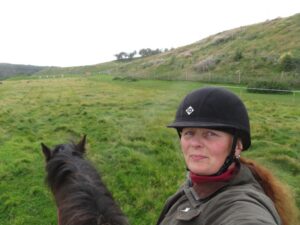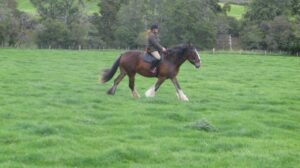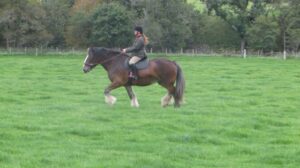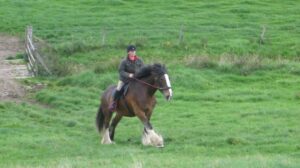 Weds 23rd Sept
Another fun session with the agility obstacles today, we did this 'almost at liberty' with a neck rope 🙂 Always good to change what we do to keep things fresh and fun. Bella did very well today, much calmer with the obstacles being in a different place this 2nd time around and she was definitely watching Stormy when he went around at liberty, watching and learning 😉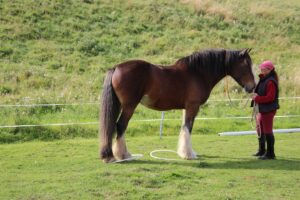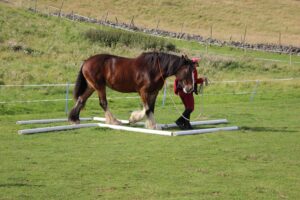 < Feet in hula hoop
Follow me through a zigzag >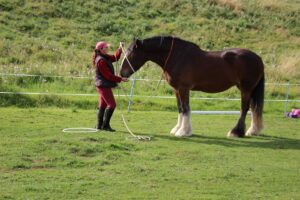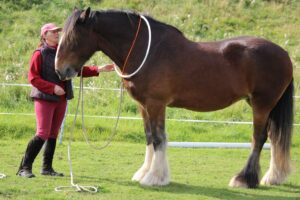 < hula hoop familiarisation around face and then over face onto neck >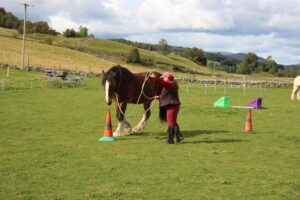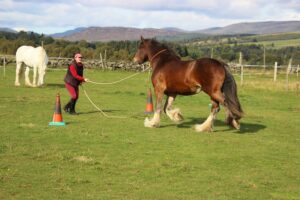 < fig 8's around the cone weave so we moved up the line each time doing multiple fig 8's
Fab draw to me >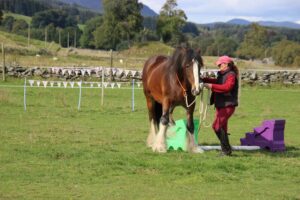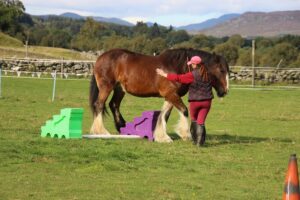 < Sidepass over green jump wing
Sidepass over purple jump wing >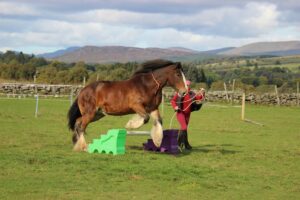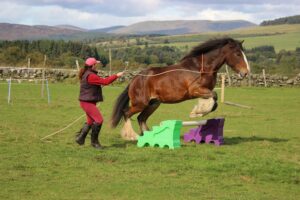 < really nice couple of jumps today >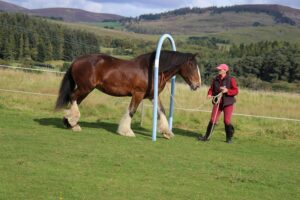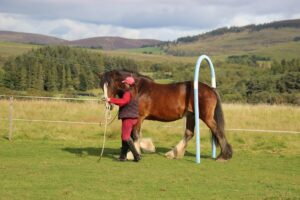 < Nicely under the arch way today, she was calm and followed me first then did it on her own >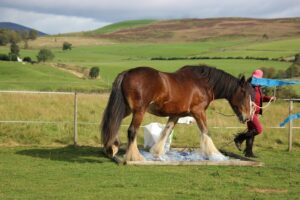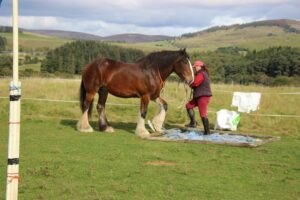 < Over the noisy bottle bank
Backed up over bottle bank too >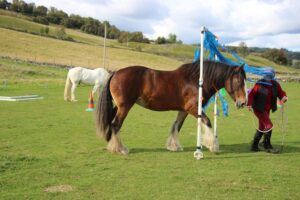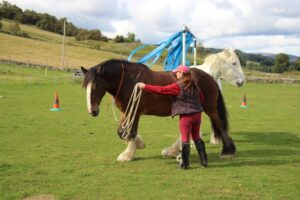 < Follow me through the curtain
Managed to go through the curtain on her own too >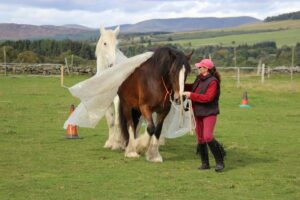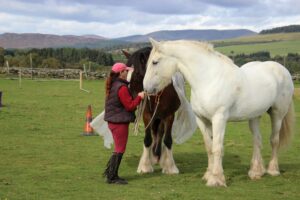 < familiarisation: Walked around with a tarp flapping around on her back….Stormy came to see what was going on too which was a help >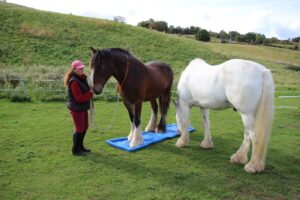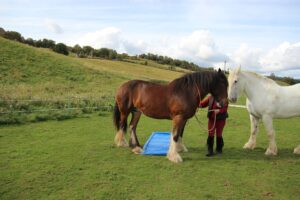 < Walk and halt on the water tray
Sidepass over the water tray >
Thurs 24th Sept
Another lovely day for a repeat hack on the 'haugh' and by the river. This was great, both horses even calmer and just plodding around the three fields we can ride there at the moment. Lovely ride 🙂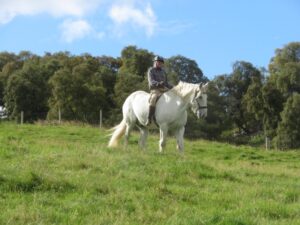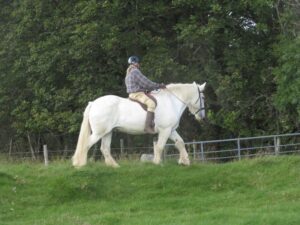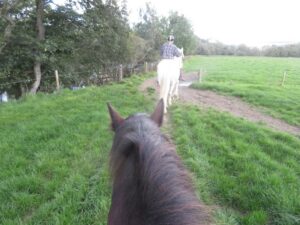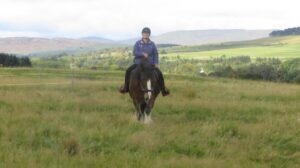 Sat 26th Sept
Today we went for a lovely hack, back towards the house, around a field we usually just plod along the track of, nearly at house and then up the hill behind the house and then back again. SO, some usual bits, some new bits but all in all a lot of FUN 🙂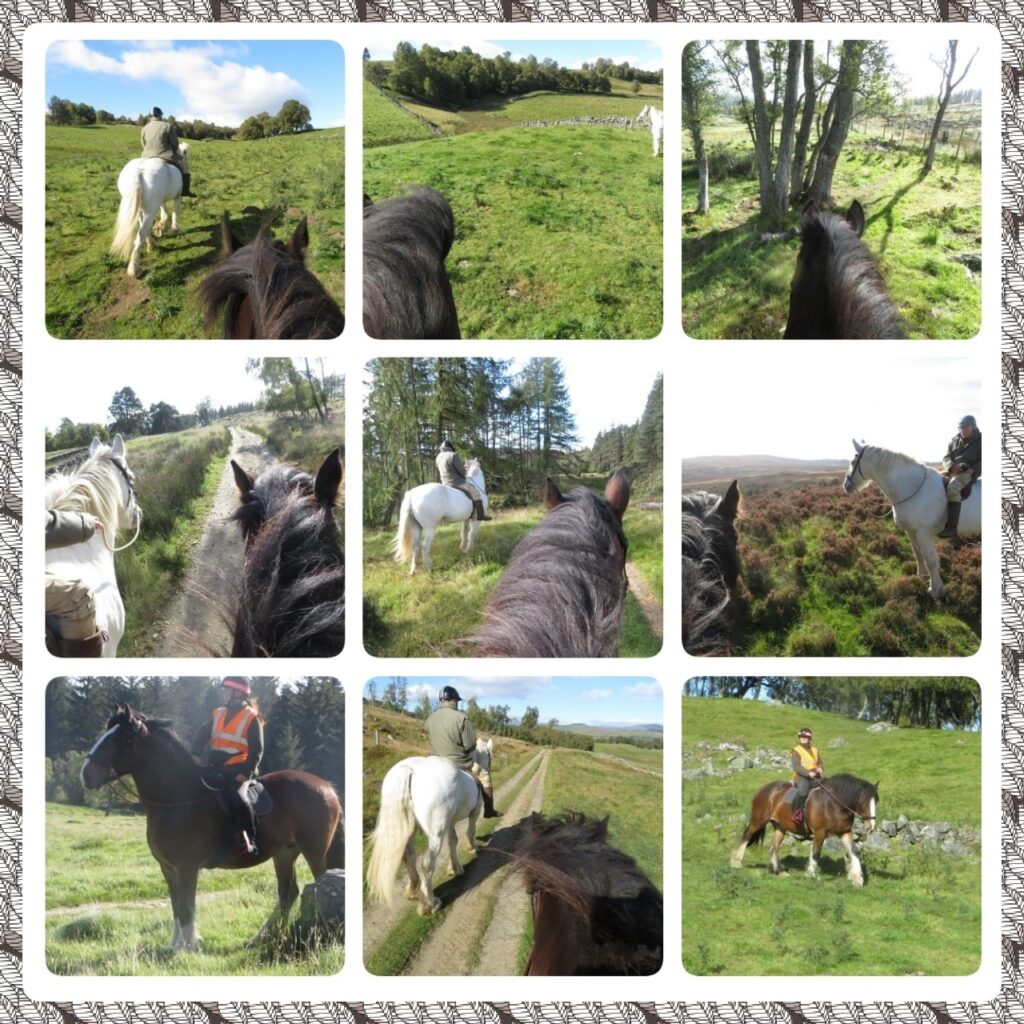 Sun 27th Sept
A lovely session of Liberty Agility today. This is not the first liberty session but it was certainly the FIRST CONNECTED SESSION of LIBERTY with Bella and it felt SO GOOD 🙂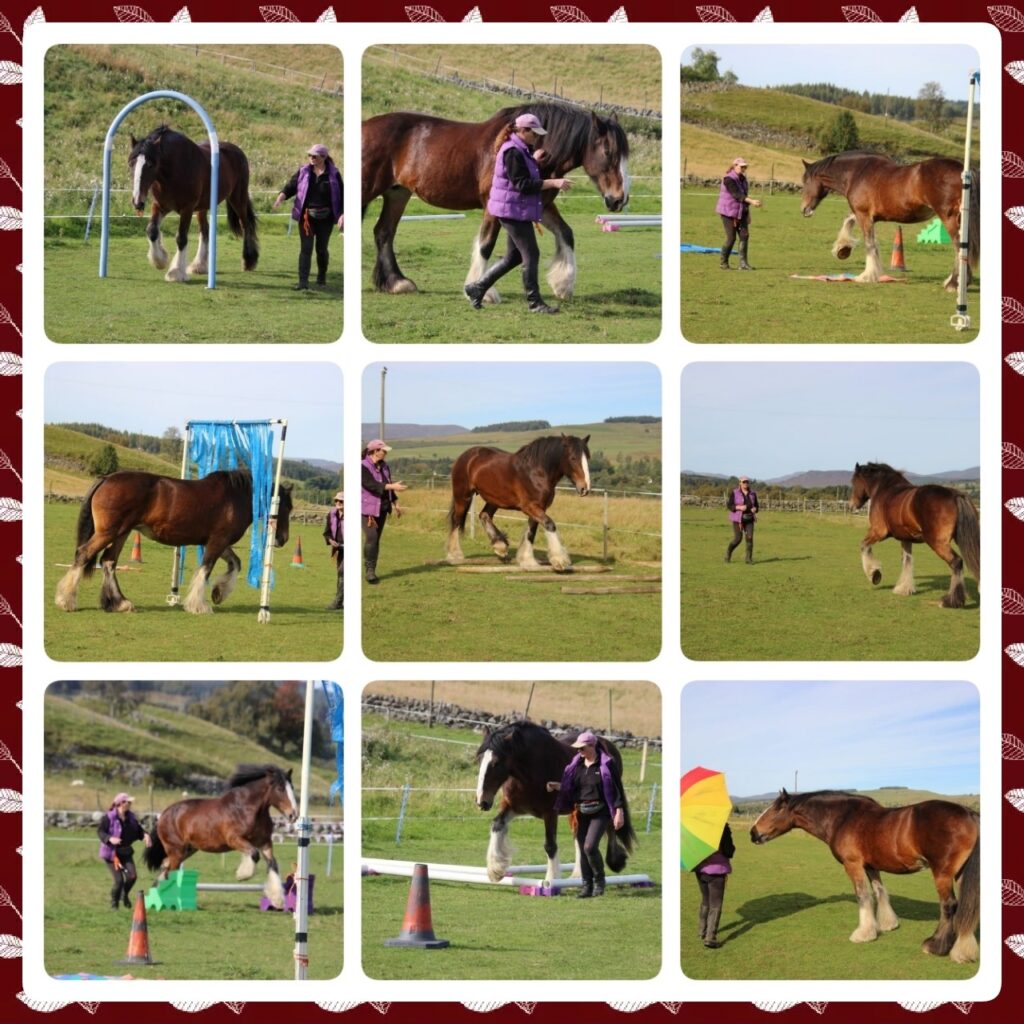 Mon 28th Sept
Another lovely hack out today, first bit was down onto the 'haugh' by the river (done before) then up a track into the cattle field, luckily no cattle around, and up this field (not done before) and onto the top track and then around the top field which we did the other day. Nice to put old bits of riding with new bits, she was a bit sceptical of the 'cattle field'…it did smell a bit of cattle poop etc but she did very well and followed Stormy nicely. Wasn't a long hack but introducing new bits regularly so we get a lot of hacking options as we go 🙂