Fri 1st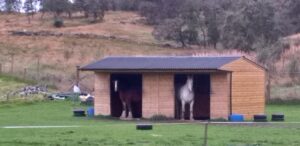 Well the start of October is a wet, wet, wet one. Both horses keeping dry in their shelter and today probably a no-go for play/riding but that's okay. Connecting when feeding and fussing is a good session as far as I'm concerned 😉 <3
Sun 3rd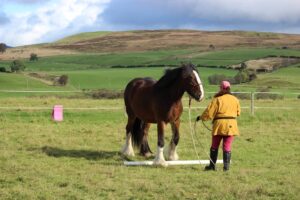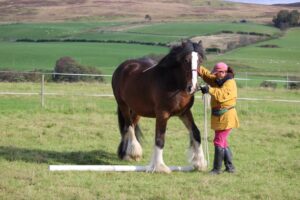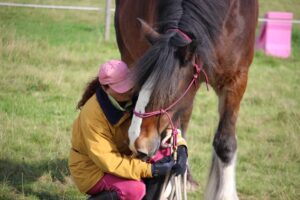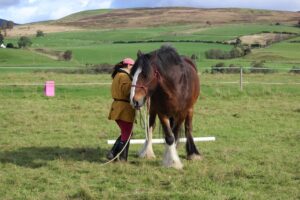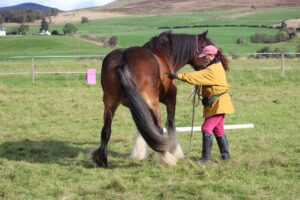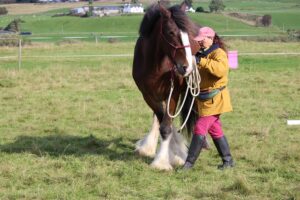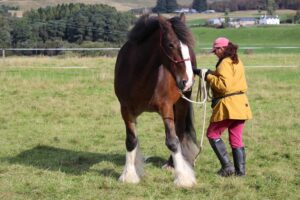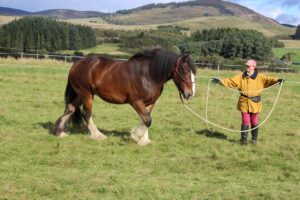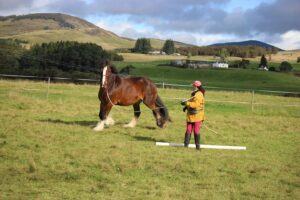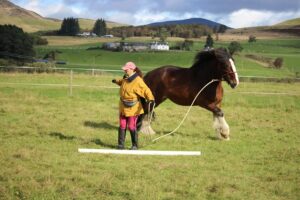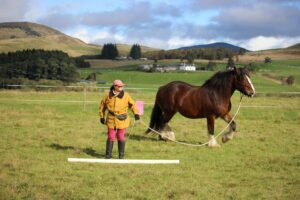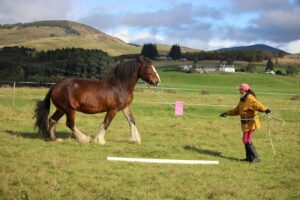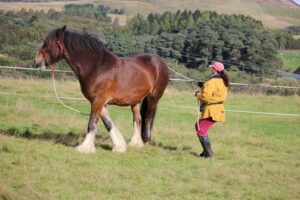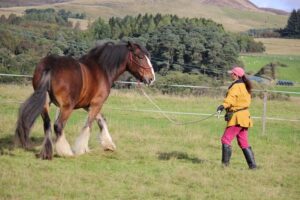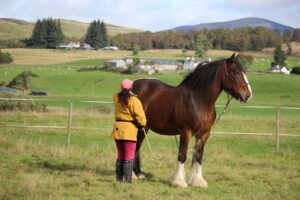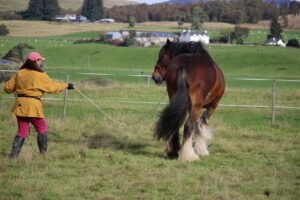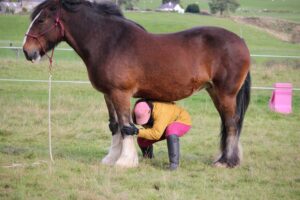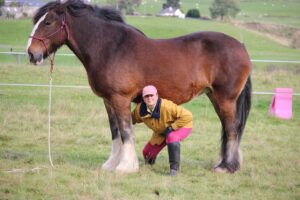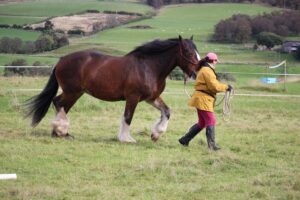 It's been raining for a few days here so it was lovely to get out with Bella today. I decided to just groom and connect through ground play and not ride, the ground is still a bit wet and squishy SO…started off with some backing and sidepassing over a pole.
Lovely head down with some kisses and then went into some sidepass into a hq move.
And we did this on both sides 🙂
After some treats, hugs and kisses we did some lovely calm walk circles with a calm, smooth COD between left and right circles.
Then we did some trot circles, she had a bit of energy so just let her blow that off which she did really quickly which was lovely. She's finding relaxation more and more now.
🙂
A break, some treats and kisses again then onto some rope around spins. She was so calm with the familiarisation toss of the rope over her head, the best she's ever done it and she remembered exactly how to turn her hq's towards with the rope pressure lightly on her quarters 🙂
Did this on both sides and she was fab on both sides 😉
Then we did some really lovely 'stand still' where I went under her belly
And to finish off we did some S2M teaching her our new thing of 'backups straight into trot' which she did brilliantly…will see how this goes with riding soon 😉
Sun 10th
At last….a nice day to be out and about with the horses. We've had a LOT of rain recently but today has an Autumnal crispness to it and nice 'riding' weather.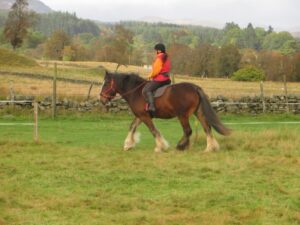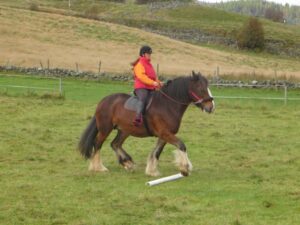 We had lovely sitting trot which says she's able to relax and go slower in her trot, hold her frame and same for me too.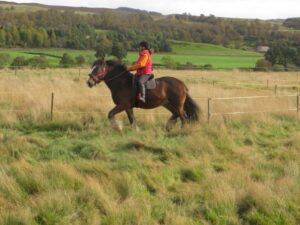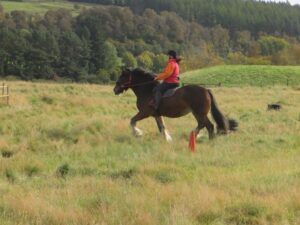 I set her up and then get out of her way so that she can trot the cloverleaf pattern.
My elbow to 'mouth' line and also seat to ear lines are much better today.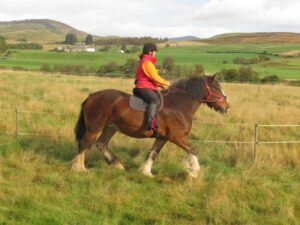 Even when I ask for a bit more energy in the trot we can still do sitting trot to it 😉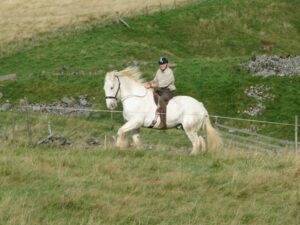 Mark and Stormy having fun together, think the horses have missed us.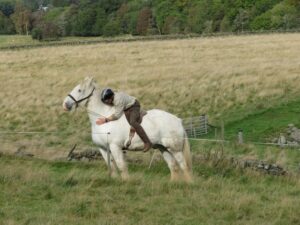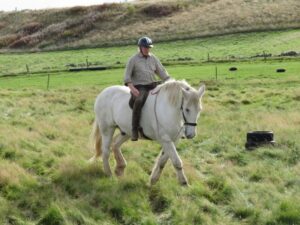 Big hugs for a big hearted horse 😉
Lovey soft, light end to our fun riding 😉
Mon 11th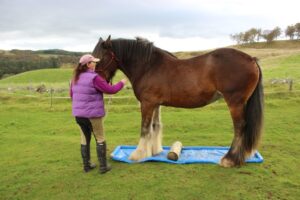 A nice crisp Autumnal day today and having put up a small agility course this morning we decided to try it out…first of all online 😉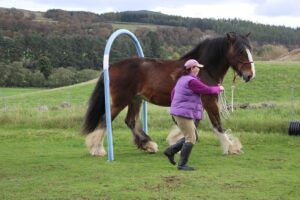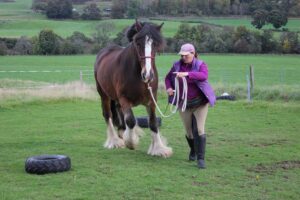 Did really well with the water tray and the pole labyrinth and a great trot under the archway and some controlled trotting weave too.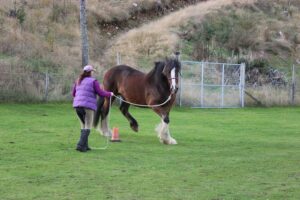 Then onto some fig 8's which went very well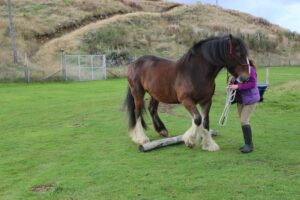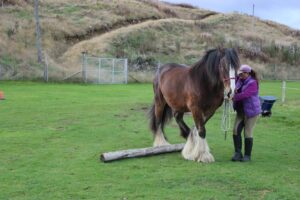 Then onto sidepass over a pole with a sidepass towards afterwards 😉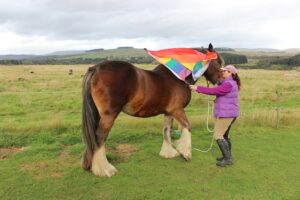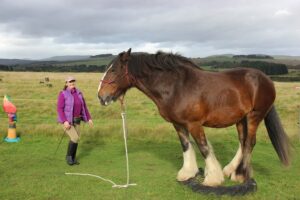 Onto some flag familiarisation, with some good flag sounds due to the wind blowing and then 4 feet onto the pedestal. Bella was light, calm and fun.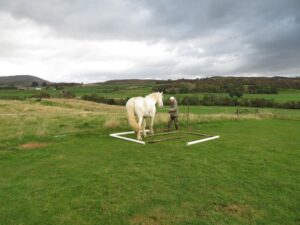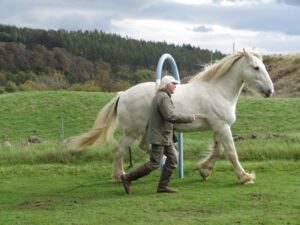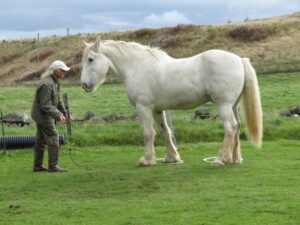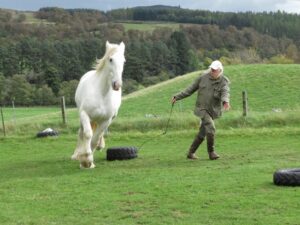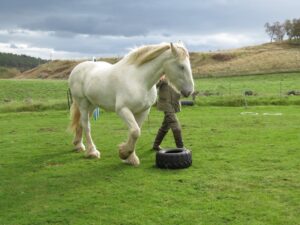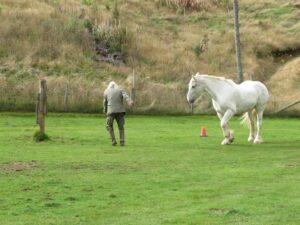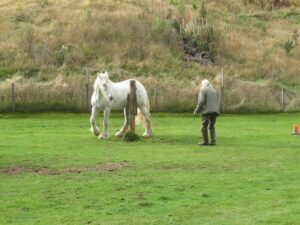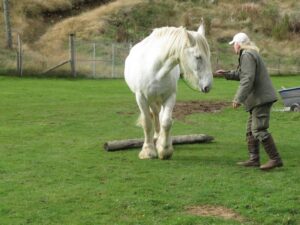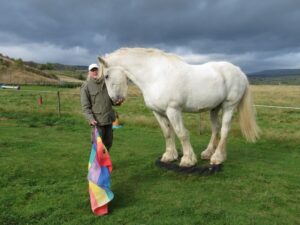 Bella and I take a rest and watch Mark and Stormy do the course at liberty. Bella watches and hopefully this helps cement how liberty work works 😉
Stormy did fab with the water tray and managed a wee jump too.
He did the labyrinth his own way which included some really nice sidepassing over some poles and then a fab trot through the arch way.
Putting feet into/onto hulahoops wasn't bad and trotting the weave was great.
Connecting with Mark with the weave. Continuing with fig 8's went very well, not the easiest for him but his draw and drive are great.
His favourite, 'sidepass', over the big log.
and no problems at all with the flapping flag…..popping up on the pedestal with all 4 feet easily for a reward treat 🙂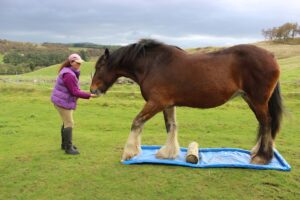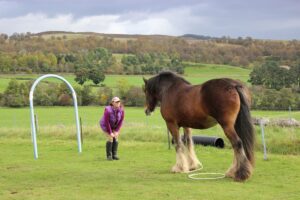 Finally Bella and I tried some liberty too. She follows quite well if I walk backwards, here with the water tray and from the hulahoops to the arch 😉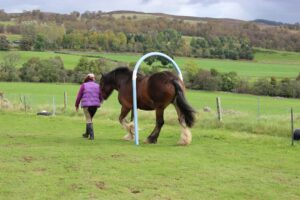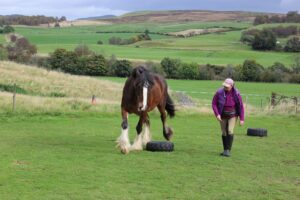 When we go from drawing to connecting side-to-side then her energy goes up and she often wants to move faster than me and play.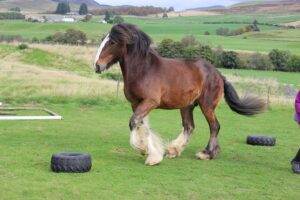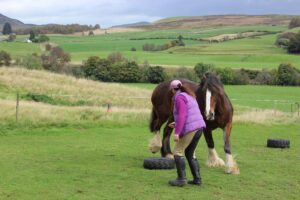 So I just wait, still connected to her, until she comes back to me 😉
When she settles back to our close connection I sort of follow her for a bit with some S2M w/t around tyres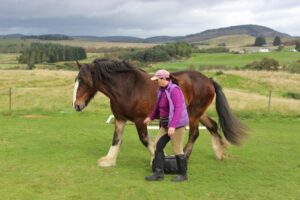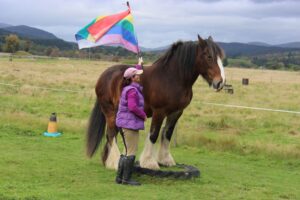 And then onto the pedestal with the flag.
She wants to have a bit of a yeehaa so off she goes kicking up her heels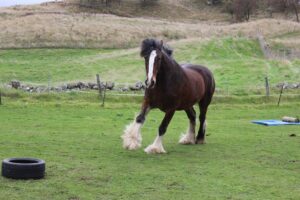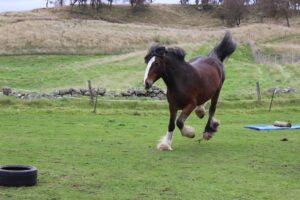 and enjoying herself.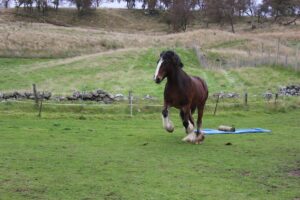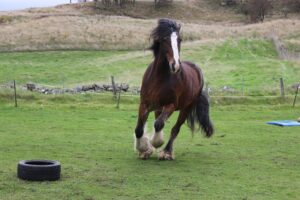 Lovely that she comes back to me and because I want to end on a note where we have a closer connection I put her back online for the last bit today 😉
And we end on some nice sidepassing over the drainage pipe….some draw/drive with fig 8's…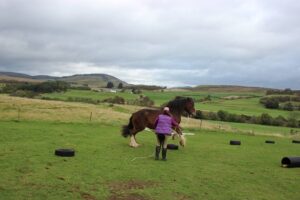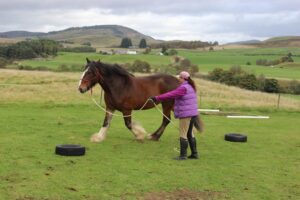 She has a bit of a jump over a tyre but settles into the fig 8's quickly and a nice note to end the session on.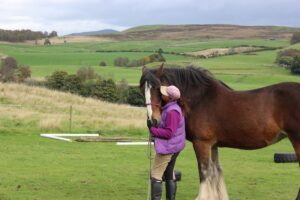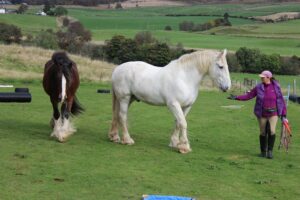 Nice hug session to end on and then both Storm and Bella hand out with me a bit while I tidy up from the session 😉
Fri 15th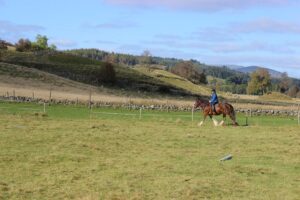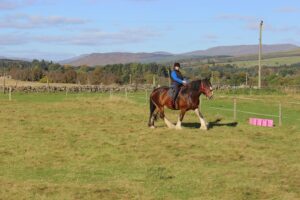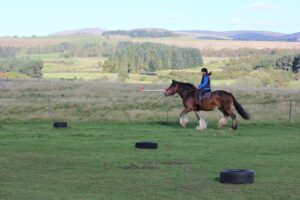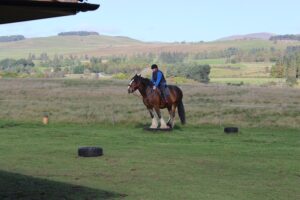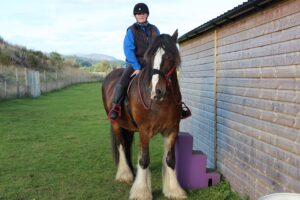 Today we just did a bit of arena training.
A few RtR in walk then trot and then onto some circles and fig 8's in trot.
Always looking for relaxation and a nice curve in the body which went pretty well today.
Ended with some lovely agility tasks, sidepass over things, weave, leg yields,  onto pedestal and most importantly to take me back to the mounting block to dismount 😉
Sat 16th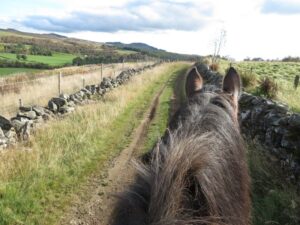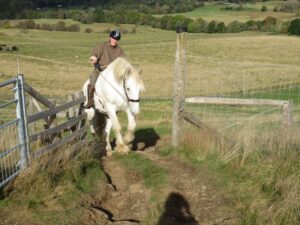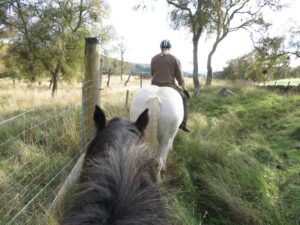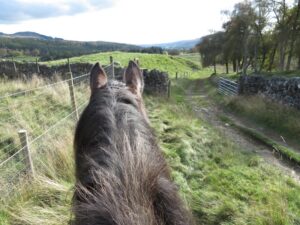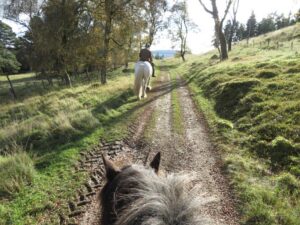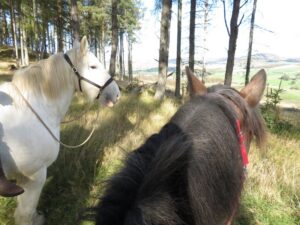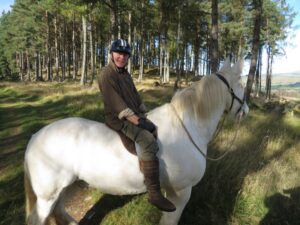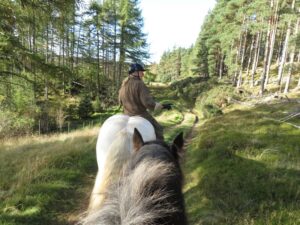 A chilly start to the day but some sunshine and blue skies SO …… short hack out with Bella, Mark & Stormy 😉
And we're off….
Along the track first with Stormy leading then Bella leading 😉
Nice to be able to ride side-by-side with Mark and Stormy on parts of the track.
Allowing Stormy to get ahead gave us the chance to catch up with some trot.
Lovely views for us to enjoy 😉
Mark & Stormy.
Near the middle of the hack…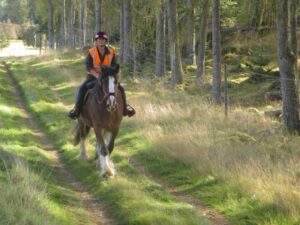 Bella doing really well, this is the big hill behind our house and she did a lovely big trot up the last half of it.
Loving this wee hack, it's a lovely track and the weather stayed with us all the way.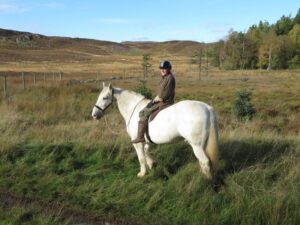 Mark & Stormy with Bella and me taking a rest and the turning point for home on the hack.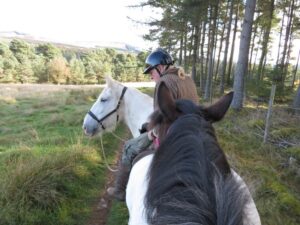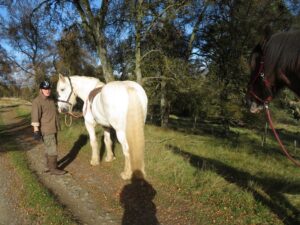 Bella was a very cheeky girlie…she saw Mark giving Stormy a treat so she shuffled up next to him and almost put her nose into his pocket to get one too!! LOL
We then got off and walked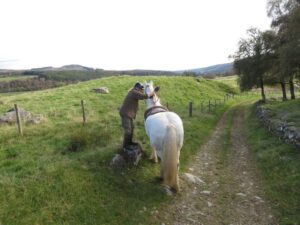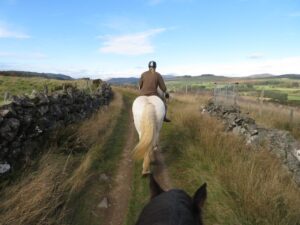 them in-hand for a bit to give them a bit of a rest from being ridden.
Always lovely to find a big stone to remount from 🙂
And then we were back to their field 😉
Thurs 21st
Well I've been busy out and about teaching Natural Horsemanship, Agility and Bitless riding but it was just lovely to be back home with Bella today. I think she has missed me as much as I missed her and today was super light, soft and connected to me, connected to each other 😉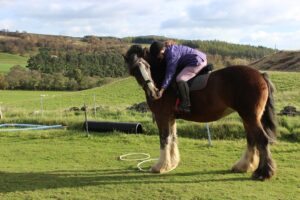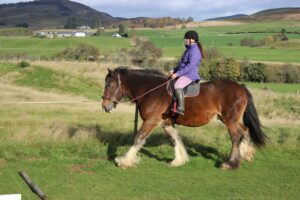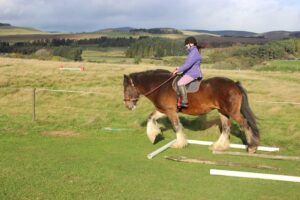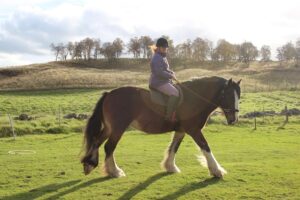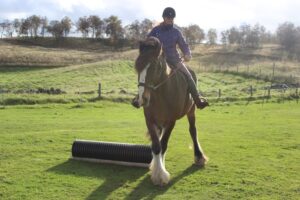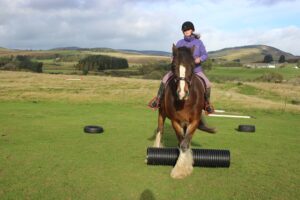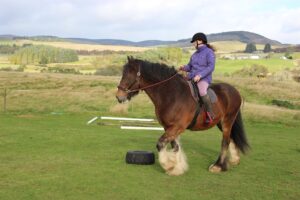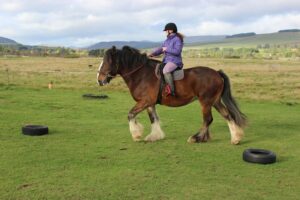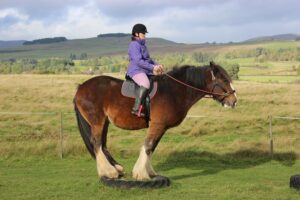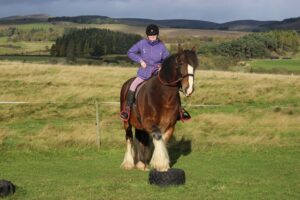 Easy feet into hulahoop
Nice long walk stride
Over pole and then nice soft DHQ
Sidepass to the left easy and soft
Leg yields through weave pattern light
One handed weave was really nice…listening to my seat weight and neck rein
Sidepass to the right wonderful
Tried sidepass over a pole long ways for the first time, this will later become a sidle over log 😉
One rein weave
One foot on small ped and then 4 feet on big ped 😉