Fri 1st
Well it's a chilly start weather wise to April…brrrrrr. BUT sorted out a new Agility course, I like to set up and practise a course that I'm going to use for my students at my Agility Clinic's…so that's up and ready to test. Also went back down around 1pm to have a short, walk and wee trot ride on Bella…just getting familiar with the 'dressage' test I put together for us 😉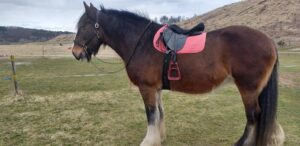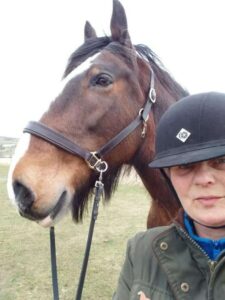 I actually changed a couple of bits on this course as thought it was a bit too ambitious for beginners SO, number 2 is now a fig 8 with just two blue jump wings and number 9 is a few jump wings making a narrow gap to back through 😉
Fri 8th
Gosh, it's been a wild, windy and rain/snowy week that's for sure…brrrrrr…big coats, hats and thermal jods back on. BUT today, although still windy and chilly, we go out to hopefully do SOMETHING with the neddies 😉 Well, it was windy and colder in the horses field than at home but we managed to give them both a good groom (much needed as Stormy is really really shedding his winter coat) and then I play with Bella then Stormy around the agility course that I set up (see above pic) 🙂 Here's some pics from today: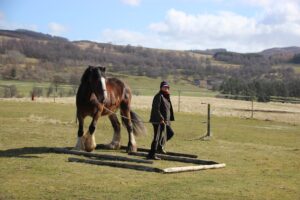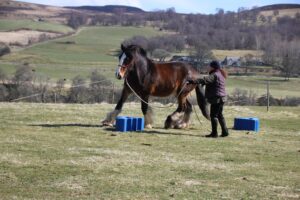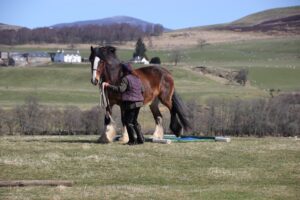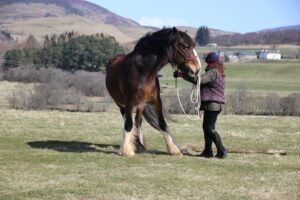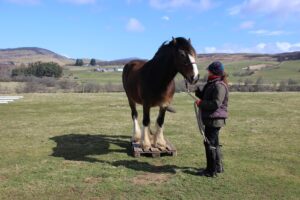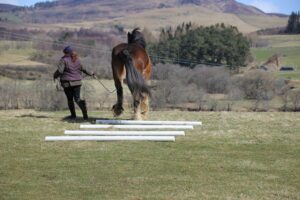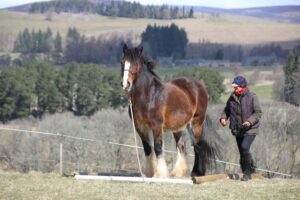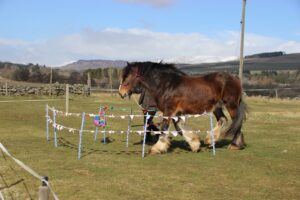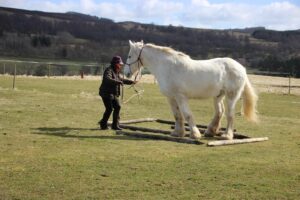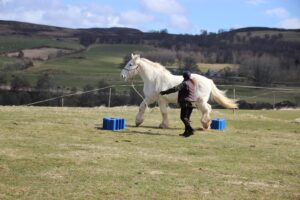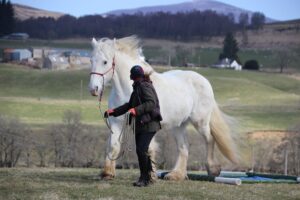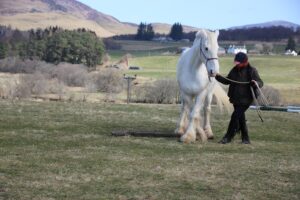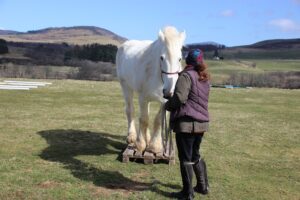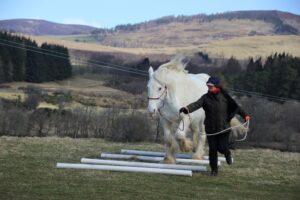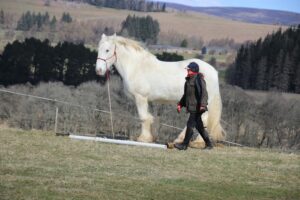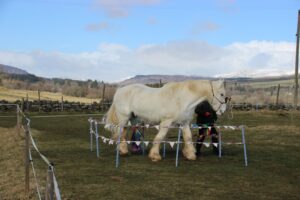 Sun 10th
Finally the wind, drizzle and snow has stopped today and it was quite pleasant being out and about. Managed to put bum to saddle too with a short 'mosey' about with Mark and Stormy after I trimmed Ms Bella's hooves 😉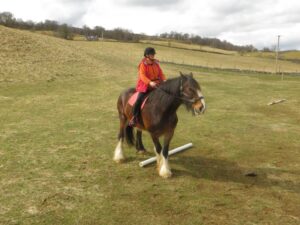 Nice, slow mosey to start off
Lovely sidepass when Mark and I played 'follow the leader' 😉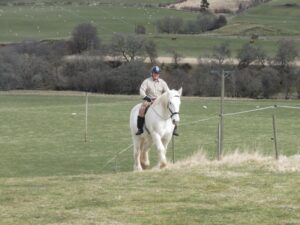 Great to get a more consistent trot now even after a week off.
Mark and big Stormy doing well on 'walking up hills' and not rushing them
Following Stormy for a bit and then doing our own thing for a bit. It was just lovely being out with the horses enjoying some nice weather 😉
Thurs 14th
Absolutely FAB to get out for a wee hack to the house and back. Had to get off and walk a bit as the HUGE timber logging machine was up on the hill near house and I wasn't sure how Bella would take it SO better safe than sorry 😉 She was high headed and a bit snorty but they both Stormy and Bella did very well going past it.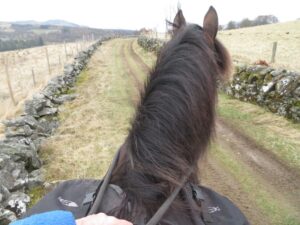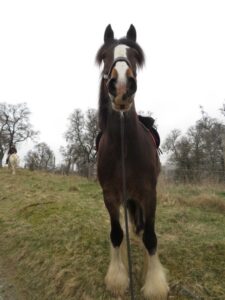 Looking at the machine
Nice cool puddle drink for them both 😉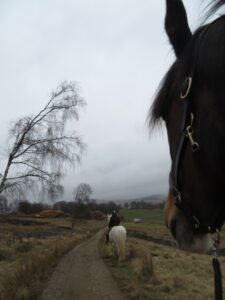 Big machine near the track, we wait for a bit and it moves off after a while 😉
At the house 😉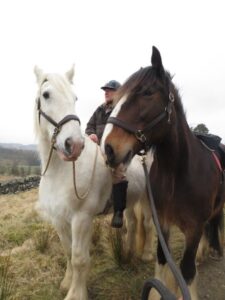 Waiting for machine to move off away from the track
Last leg of hack out
Fri 16th
Repeat of yesterday but I didn't get off and walk today 😉 🙂 🙂 Big timber machine on way out on the hill and on way back near track but off 😉 Bella calm and confident <3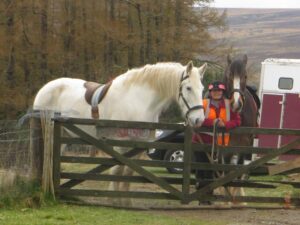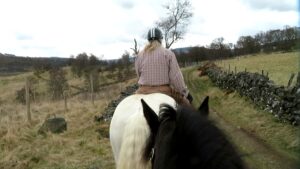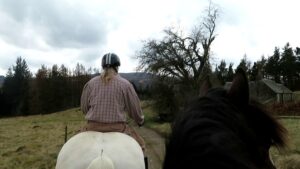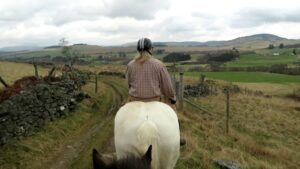 Tues 19th
Agility day today 🙂 🙂 🙂 STORM and MARK go first….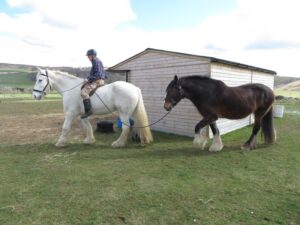 Mark rides/leads to the agility arena
Storm and Mark bareback and bitless….
1) The S'bend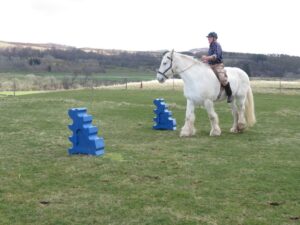 2) Fig 8's
3) Over water tray
4) Sidepass
5) Over pedestal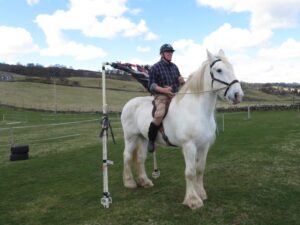 6) Under/halt with curtain
7) Trot poles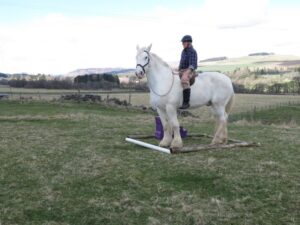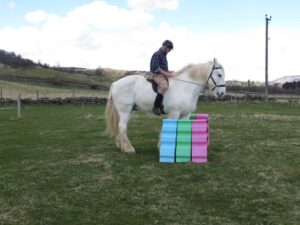 8) into box/halt
9) Back through narrow gap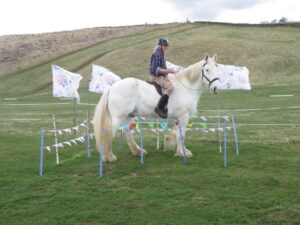 10) Scary corner
and finishing happy 🙂
AND BELLA….
1)  S'bend
2) Trot fig 8's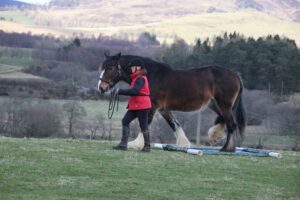 3) Water tray
4) Sidepass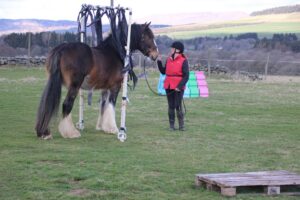 5) Halt on pedestal
6) Under/halt curtain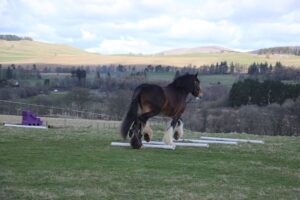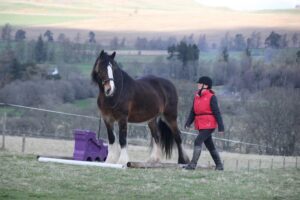 7) Trot poles
8) Halt in 'box' while I walk around both ways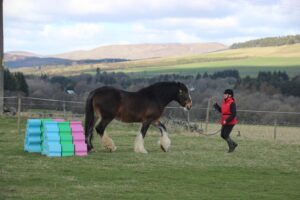 9a) Back through narrow gap
9b) Draw back at trot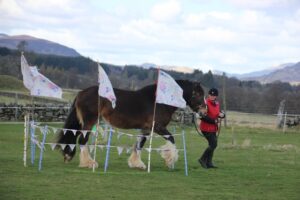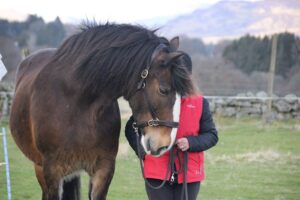 10) Through scary corner
Such a good girl, she doesn't forget anything <3
AND…Bella did it ridden too….
Weds 20th
Today was nice and warm with a lovely breeze so we rode around the field for a bit of muscle stretching together with Mark and Stormy 😉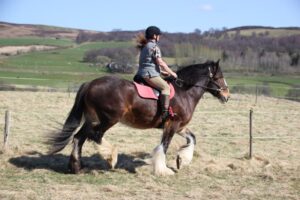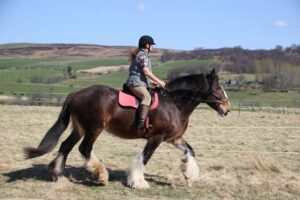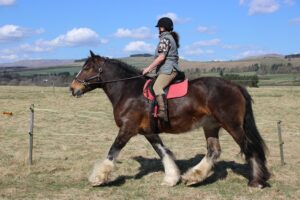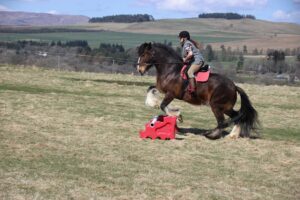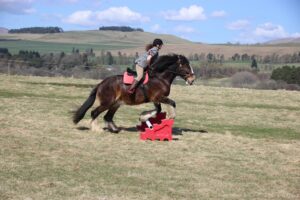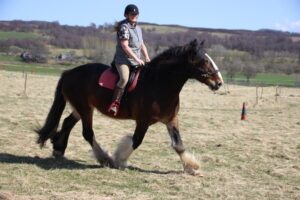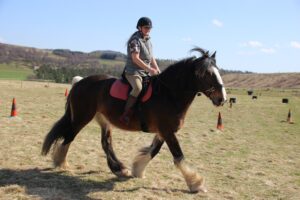 Thurs 21st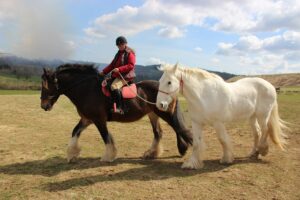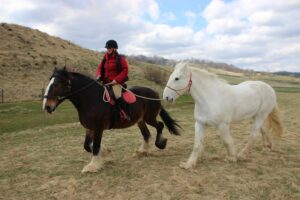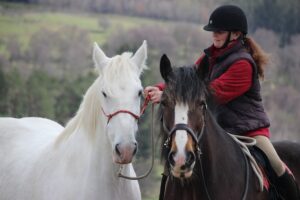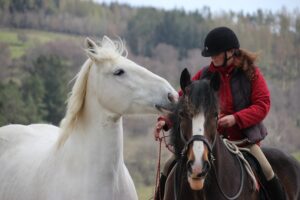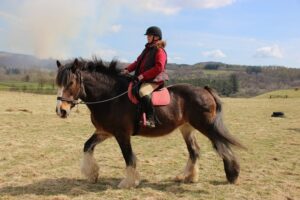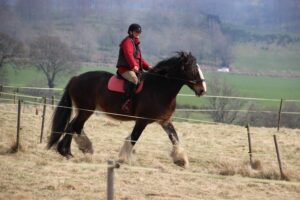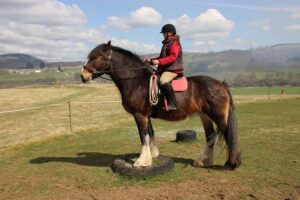 Another lovely day with the horses…started off with leading Stormy from Bella. We've not done this much but today it was the best we've ever done it 😉
I then got Bella into position to take Stormy's halter off and set him free so we could do a bit more solo riding.
Really good walk and trot today. They were burning heather on the opposite hill to the field and we kept getting swathes of smoke over the field SO didn't do much as it was horrible to breathe in.
Ended on a good note with asking for more trot between two cones…this will be our canter line later on so a good place to finish.
oh…and standing on the pedestal is always fun <3
Tues 26th
I love going to the horses at different times than they're used to. This morning I walked Beau, our dog, to the horses about half an hour earlier and they were grazing on the big hill, which we don't see often AND this afternoon I went down to play/ride Bella half an hour early too and this is what I found….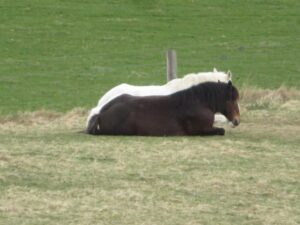 …awe sleepy heads <3
…and flat out together 😉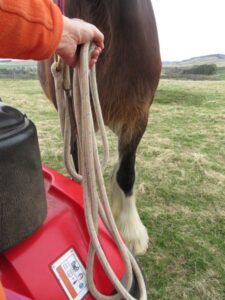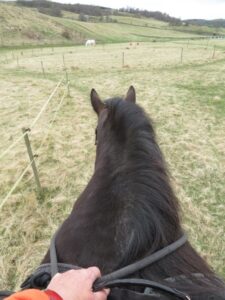 So, I didn't want to disturb them so I sneaked down into the field and put together a new agility course by which time B&S were up and came over to see what I was doing.
I took Bella around the course online for a bit of fun, she did pretty well and showed up some things we need to work on which I always enjoy 😉
Then I took her over to where I saddle her up by leading her off the quad bike which was fab and then I rode her. Today we did freestyle cloverleaf patterns.
Freestyle riding is:
Where I have a totally loose rein (on the buckle) and we work on consistently looking for lightness by going through the same focus and body cues until the horse starts to 'feel' the lightest/first one and doesn't need the others so much. SO, my cues are to look in the direction I want (eyes), to turn my shoulders then belly button that way, to open up my ribs on the outside of a turn (the same way I want my horse to do it), to then put a small bit of extra weight into my but cheek that's outside of the turn, then put my outside leg/heel on, hold with the inside leg or open a bit for early clarity and finally to pickup the reins in one hand and use a gently bump cue with the inside rein to direct the horses head.
Bella started to get this after the 2nd circle on each direction which was good.
Cloverleaf pattern is:
4 large circles put two next to two, so they'd fit into a square and the riding pattern is that we start in the centre and pick a direction, say left. Then we'd do the first left circle, go straight through the centre and do the 2nd left circle and do that until all 4 are ridden and halt in the middle. With some horses I'd continue that left way until I see/feel a change that the horse is getting the pattern and I'm doing less cues with my reins. With Bella to keep her from being bored I do one set of the pattern left and then I change to the right. I do this twice SO left one set, right one set, left 2nd set, right 2nd set. She really started to get lighter and I hardly used my reins towards the end.
This pattern really helps to get freestyle riding going well, it helps the human to trust the horse and allow them to find the pattern and become lighter and stops the rider continuing to micromanage their horse, it also helps to bring lightness into the connected rein work as you progress 😉
Thu 28th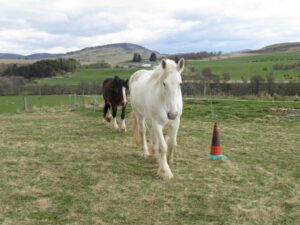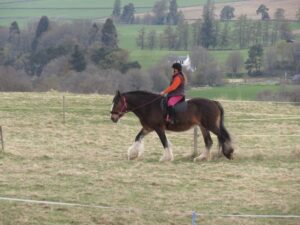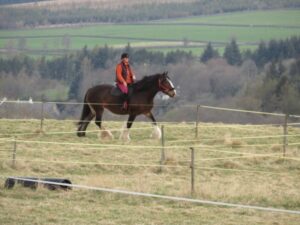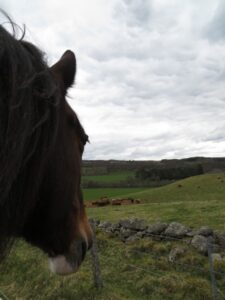 Lovely to see B&S dozing in the field together <3
They came over after waking up and Mark took Stormy to trim his feet whilst I took Bella to be groomed and tacked up.
I then rode the 2nd session of Freestyle riding the Cloverleaf pattern. A bit all over the place and then disturbed by shouting from local farmer at his sheepdogs and sheep BUT I just sat there, waited and reconnected to her and she calmed ok. I then resumed the pattern and went to doing a bit of a loose rein to help her connect.
She finds having rein support easier but I want her to respond to my focus/seat/leg aids and not rely on the reins so much if possible…I think it will really help her to have self-carriage and become straighter 😉
Afterwards we spent some 'undemanding time' together watching the cows and calves in the field next door 😉