Weds 5th
Well, HAPPY NEW YEAR to you all. Today I decided to give both Bella and Storm some mild exercise so rode Storm bareback and lead Bella from him so a 2 for 1 😉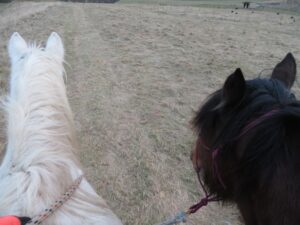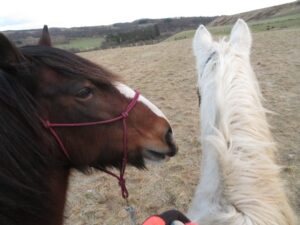 It was a lovely, calm, walk around and I changed Bella's side depending on which way were going, to keep her on the inside 😉
Thurs 6th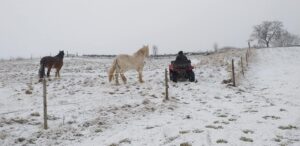 Snow falling and not sure when it's going to stop SO bringing horses home will be good for them and us. Mark led Storm up on headcollar and lead rope from the quad bike with Bella following loose behind them 🙂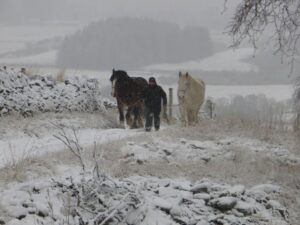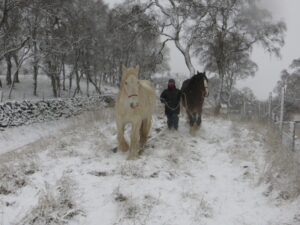 I then took over and walked them home.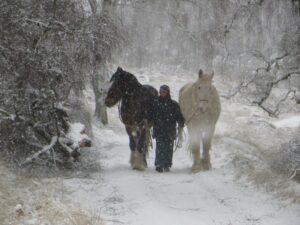 We went slowly as it was still snowing and it was a bit slippery, which is why I didn't ride home.
And then at home they settled in quickly and got stuck into the hay.
Thurs 13th
Finally the snow has gone and most of the ice off the tracks too so it's time to get the horses back to their big field so they can stretch their legs and have their lovely shelter back 😉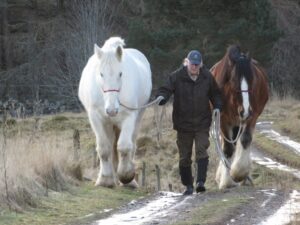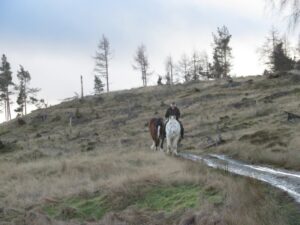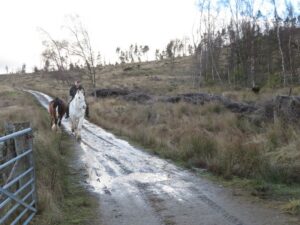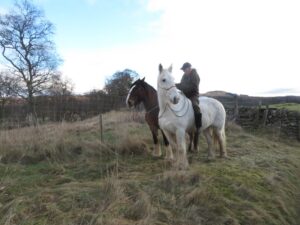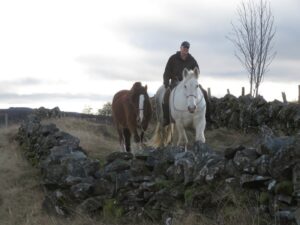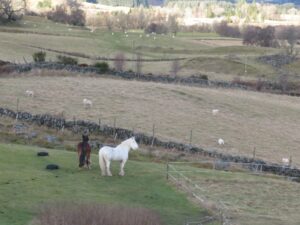 Mark started off walking Storm and Bella
But soon decided to just jump on Storm's back and give his own legs a rest 😉
Both horses were up for going back to the big field
Think they're happy horses <3
Sun 16th
Been quite a while and it's the first proper ride of the year. Just did a short ride with Mark and Stormy but great to put bum to saddle 😉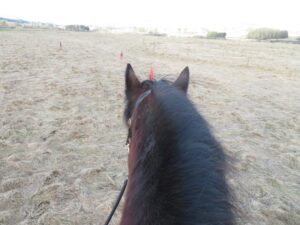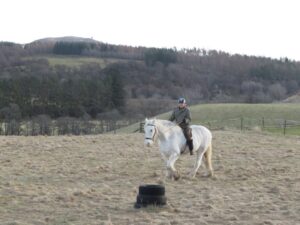 Mon 17th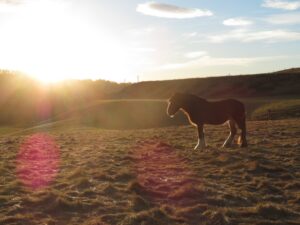 Lovely morning doing horses breakfasts then poo picking the field. Sunshine gave us some lovely shadows and I gave Bella a wee massage on her neck, shoulders, spine, back and sacral. Think she enjoyed it 😉
Wed 19th
As still officially Winter and the ground is quite hard I've decided to try and put more foundation onto Bella in the form of online and liberty play. She is still a wee bit worried about Familiarisation noise (Energy, motion, noise) in certain area's with certain things (ie. flag in front of her chest, things at her nose etc) So this is a great opportunity to get that better with some fun play 😉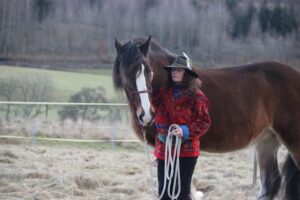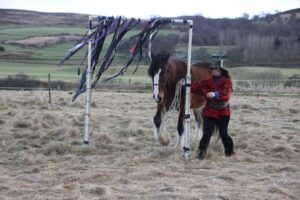 Start our session in the round pen online. Normal games of under the curtain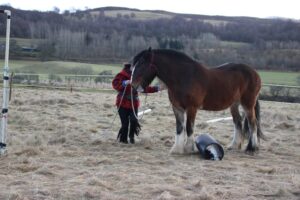 …sidepass over the pipe etc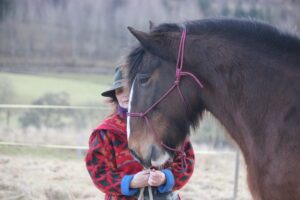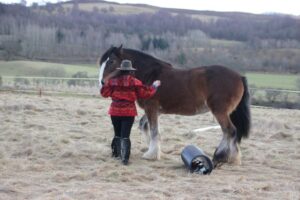 I then take off the rope and then the halter so she is at liberty. She does some really lovely sidepass…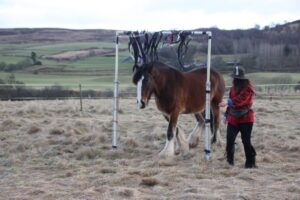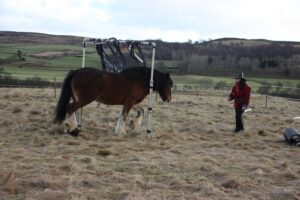 …under the curtain is no bother now, even in the wind 😉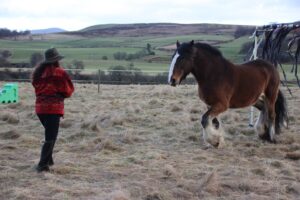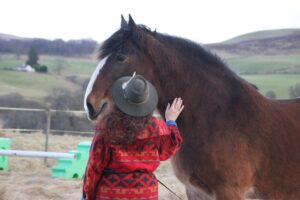 Lovely draw towards too. I settle her with relaxed breathing out and some strokes on her neck.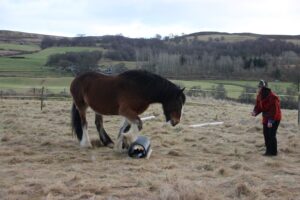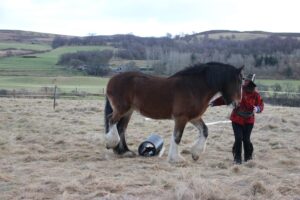 She had a wee run around, came back and asked to step over the pipe which I encourage, I then ask for a sidepass off it 😉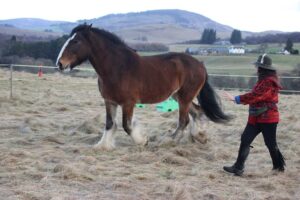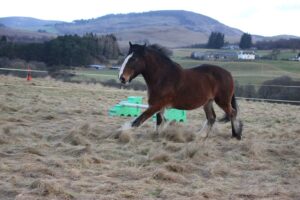 She often gets her energy up, this is something we need to work on…to let her know it's okay to have bigger energy but to be able to find relaxation in, through and afterwards too….her canter today is very balanced and controlled which is lovely.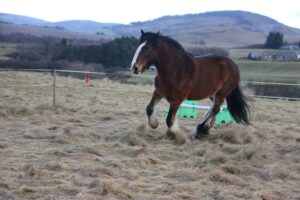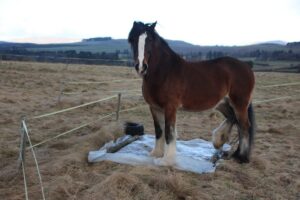 She finally figures out that standing on the tarp is a good place to stop and figure out how to relax back down again 🙂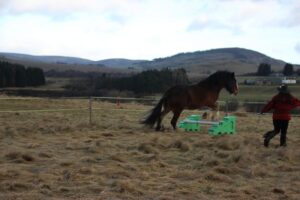 She is also getting better at thinking at a faster gait and she does the wee jump with calmness and thought 😉
Thurs 20th
Today I go down early, feed breakfast and poo pick and then ask Bella to come and play. Doing things in the morning is good as she is connected due to feeding but also leaves the rest of the day for other things (ie. cutting the trees that fell in storm Arwen at the house) 😉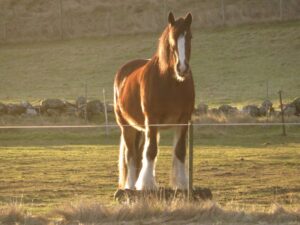 Whilst poo picking I realise Bella has tried hard to get my attention….she is standing on the pedestal 🙂 LOL
I call her over and she, with Stormy, starts to walk to me.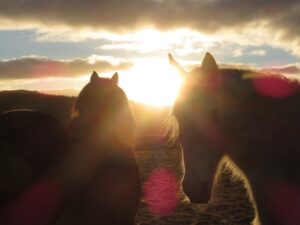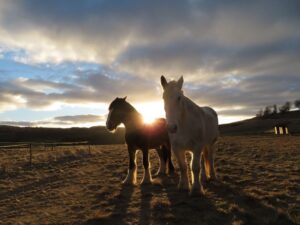 The sun was just coming up and there was a stunning sky 😉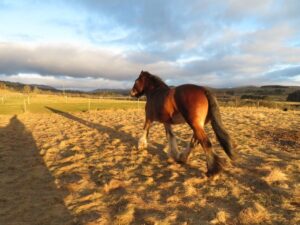 As I'm going around the field with the quad bike they both follow me, then go past me as they trot and canter together 😉 Bella really stretching out which was lovely.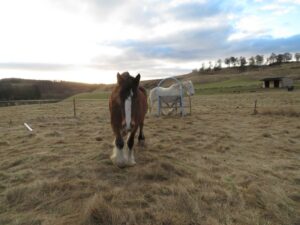 Such lovely horses.
After I'd done the poo picking I ask Bella into the roundpen at liberty for some more play 😉
Fri 21st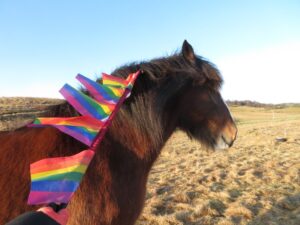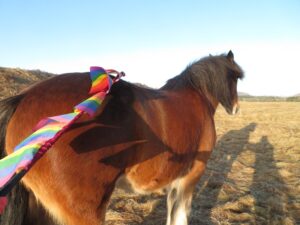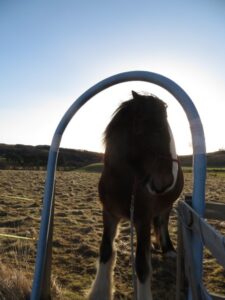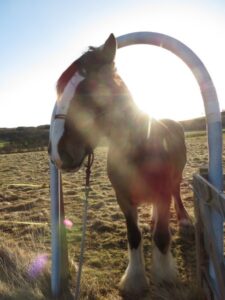 Another early morning liberty play session with Bella. Slowly she is getting calmer at trot and canter going over the poles and low jump 😉
Using the archway at the gate is very useful, she does some nice squeezes under it and back and then through a bit and backing up away from it was really good too 🙂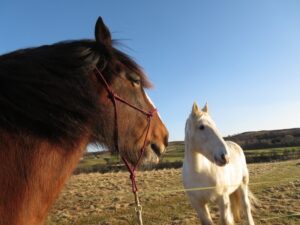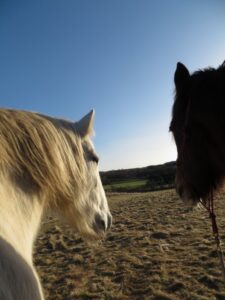 To end the session I put her back online and did some walk/backups/trot transitions S2M around the round pens. We were lucky to have Stormy join us with this at liberty which was very kool 🙂
Sun 23rd
Lovely day today as I was out in the morning with the horses for breakfast, poo picking and then a lovely play session with Bella in the round pen. She was calm and did lovey circles with COD's over the 4 obstacles I have around the pen (two sets of trot poles and two low jumps). Bella did them really well, with balance, controlled energy at trot and her changes were great and included the fact that when she went from anti-clockwise to clockwise she stayed in trot and didn't go into a unbalanced canter which she has been doing since we started her journey 🙂 KOOL 🙂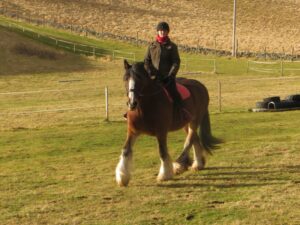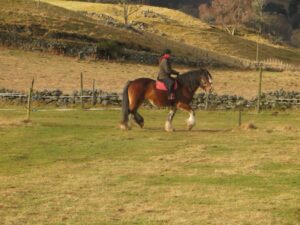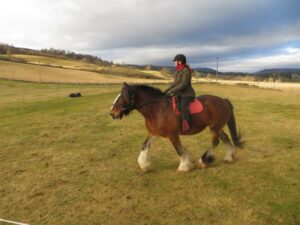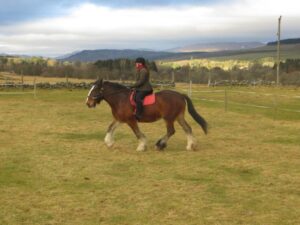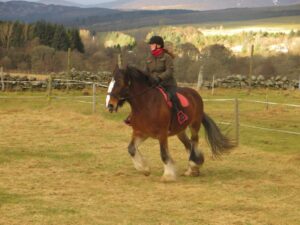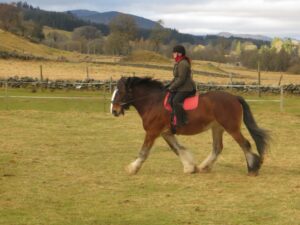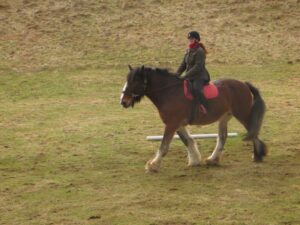 This afternoon I went down and did a bit of work side by side with Storm and Mark.
Then we did a bit on our own, working on circles, fig 8's in trot with me finding some nice balance in the saddle to help her keep a lovely spinal arc under me 😉
Bella had lovely energy and a bit controlled trot today too.
Really enjoyed our session and to end it we did some turns around cones and tyre stacks with a loose rein and working on focus/weight/leg cues 😉
Lovely session for a mild January day 😉